Intel has promised that they will have several mainstream phones using their x86 low power chips by 2013 and they delivered – we've already seen the Orange San Diego and Motorola RAZR i in Europe and XOLO X500 in India, and they've proven to be quite the competitors – especially since they're oriented towards the affordable niche, where Intel's Medfield CPUs are faster than most single and dual core budget platforms from other manufacturers.
And this year, Intel announced their new Lexington chip, which promises to deliver better battery life while not skipping on the performance – it also has several unique features that will no doubt prove useful: support for dual SIM, Intel Wi-Di and a dedicated image signal processor that allows you to shoot and play Full HD videos at no expense to overall system performance (so you can output 1080p to your TV while browsing the Web on the phone, for example), as well as shoot full size photos at 5 FPS, with a very fast autofocus and shutter action – if it reminds you of HTC's ImageSense, that's because it's pretty much Intel's version of it.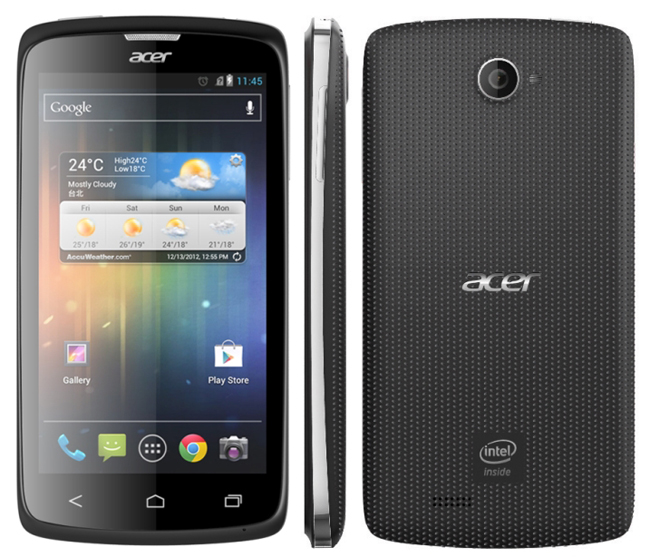 The first phone to feature the new chip is the Acer Liquid C1 – a nice midrange smartphone that will be released in Thailand and Malaysia at first, and which we hope to see in our side of the world soon. Let's take a closer look at it.
Design
On the outside, the Acer Liquid C1 looks quite sharp – definitely not worse than any other Android phones. The build quality is also great, so in the end you get a good package for your money. The phone is 10mm thin, weighs 140 grams and is made mostly out of plastic, but it's the sturdy kind – if you want to compare, it's a lot like the above mentioned RAZR i and its ARM-bearing twin brother, the Droid RAZR M.
On the front there's a strong scratch resistant tempered glass, the phone is surrounded by a strong frame on all sides and on the back you can find an easily removable cover with a textured finish a-la Nexus 7, which hides a removable battery – a nice surprise for all of the people who like to carry a spare unit with them so they never run out of energy.
Hardware features and performance
The Liquid C1 is well specced for a mainstream phone, although it's not as good as some of the newest products from other manufacturers. The display is a 4.3 inch IPS LCD unit with a 960×540 pixel resolution, excellent brightness and viewing angles and good contrast – it's more than enough for any kind of work, although the image is not as sharp as on a HD display.
The smartphone is powered by Intel's new Atom Z2420, and while it's not all that impressive, it does not disappoint, either. The Z2420 is technically a single core processor, however with the company's Hyper-Threading technology it looks and acts as a dual core chip, and its performance matches that of competing dual core ARM processors, just like its relative the Z2460. With 1024 MB of DDR2 RAM and the PowerVR SGX540 GPU, the performance should be enough to handle most of the current apps and game without much trouble, although the platform isn't particularly future-proof.
The other specs are similar to what you'd find on any other modern smartphone: there are 4 GB of onboard storage space along with a micro SD card slot for expansion, an 8 MP camera on the back that is capable of shooting 1080p video and a 1.2 MP front facing unit, Wifi N, Bluetooth, GPS, micro USB and HDMI out, all the usual sensors, and support for 21 Mbps HSDPA and 5.76 Mbps HSUPA – the latter is one of the reasons why Intel stated they would stay out of markets with high speed data requirements (i.e. 42 Mbps HSPA+ and 4G LTE) for the time being, although 21 Mbps/5.76 Mbps is still plenty enough for most tasks.
The above mentioned battery is a 2000 mAh unit (which looks as big as it should), it's quoted to last up to 9 hours and is easily replaceable – pop the cover, take out the battery and insert a new one, just like most cellphones of the past decade. A second battery is also cheaper and much smaller than a portable charger, which makes it a great choice if you need more battery life.
Technical specifications
| Specifications | Acer Liquid C1 |
| --- | --- |
| Display | 4.3 inches, 960×540 pixels, IPS LCD, 256 DPI |
| Processor | Intel Atom Z2420 x86 CPU, 1.2 GHz single core with Hyper Threading |
| RAM | 1024 MB |
| Graphics Adapter | PowerVR SGX540 |
| Storage Space | 4 GB of onboard storage space, micro SD card slot for expansion (microSDXC cards supported) |
| Camera(s) | Back – 8 MP camera with 1080p video recording; Front – 1.2 MP camera |
| Connectivity Options | Wifi N, Bluetooth 3.0, GPS, micro USB with HDMI via MHL, 21 Mbps HSDPA, 5.76 Mbps HSUPA |
| Sensors | Accelerometer, gyroscope, magnetometer, light, proximity sensors |
| Battery | Li-Ion, 2000 mAh, up to 9 hours of continuous use |
| Dimensions and weight | 127.3 x 65.5 x 10 mm, 140 grams |
| Operating System and Software | Android 4.0 Ice Cream Sandwich (with OTA update to 4.1 Jelly Bean) |
Software
Acer will be shipping the Liquid C1 with Android 4.1 Jelly Bean – it's not the latest version, but it's still a much better experience than Ice Cream Sandwich – not because the latter is bad, but because Jelly Bean offers an amazingly smooth and fast UI, which is on par with iOS, plus the customization options for the home screen are staggering. Acer did not change the default skin, at least not by much, which is definitely a good thing since Android is perfectly fine as it is.
Price and Availability
The Liquid C1 will resell for $335, unlocked and without a contract – an attractive price, however the phone would have a hard time competing with the Nexus 4 wherever it is available, which is probably why Intel and Acer will be releasing it in Thailand and Malaysia at first. Still, if they do release it in the west for under $300, it will be a great choice for anyone wanting a good budget phone or people who want to get their hands on an x86 powered smartphone (the possibilities for developers and modders here are simply awesome).