Apple's iPad has been an immense success, and they're still the market leaders even though there are over a dozen alternatives out there that are technically better in every way. But Apple has started to deliver less innovation and more of the same, milking their existing products to maximum. As proof, look at the difference between the iPhone 3GS/iPhone 4 and iPhone 4S/5 – the former has brought in numerous improvements, while the latter was just another small update.
Now they're doing the same with the iPad – the latest iPad 4 is nowhere near as much of an upgrade as it should have been. If anything, it could be a downgrade if you have a lot of accessories using the old port – the new one is of course incompatible with them… without an adapter that Apple will happily sell for $30 (and even then there are plenty of issues left).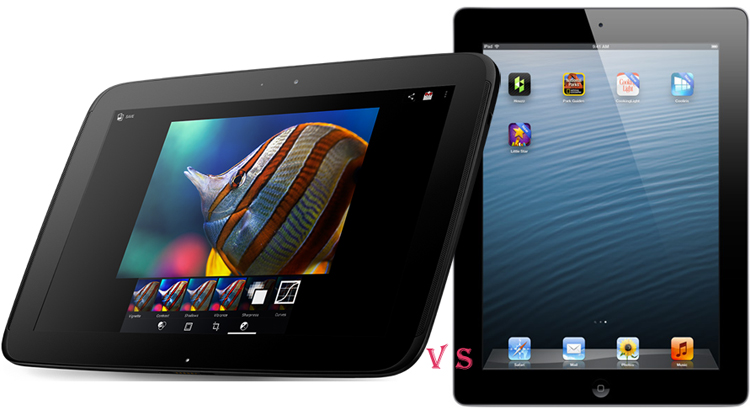 On the other hand, Android tablets have been getting progressively better with every passing year, and the latest models are so good you'd wonder if it's a mistake to buy an iPad. Google's latest device, the Nexus 10, is particularly interesting – it's one of the most advanced tablets on the market, and it can easily compare and outdo the iPad 4. Since both devices are on the market and choosing is harder than ever, let's put them head to head to find out just which one is better for you.
Design and build quality
Apple iPad 4
Everyone's already acquainted with the iPad 4's design, even if they've never seen it. That's because it looks exactly like the iPad 3, with only very minor differences setting the two aside. The most important of those is the new Lightning connector, which is supposed to make more room on a device and be easier to use – in practice, it doesn't really add much to the experience, especially on a tablet. You'll just have to sell all your current accessories or buy the Lightning adapter, which is pretty uncomfortable to use with docks and such.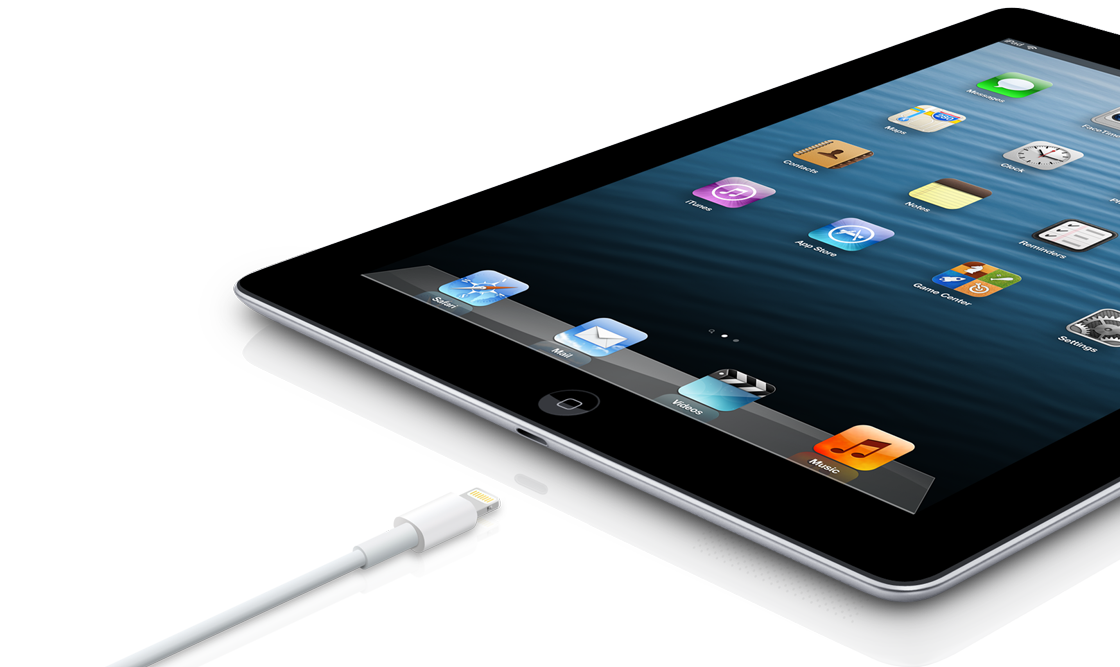 The rest remains unchanged – the new 4th generation iPad has the same thickness, weight and dimensions as the iPad 3, with the same display + home button on the front and aluminum cover on the back. It's a great, durable and time tested design, but it's already getting old – I wish Apple would at least offer it in several color variations like the iPod Touch or iPad mini (a titanium gray back cover would look fantastic, for example).
Google Nexus 10
Unlike the Nexus 7, the Nexus 10 is Google's flagship tablet and it's targeted at the high end market. That becomes clear once you hold the device in your hand – it feels more solid than the Asus-made Nexus 7, and it's very comfortable to use as well. Samsung went for plastic with a soft touch finish on the back and a metal frame around the body, which is plenty strong for everyday use, especially with the Gorilla Glass 2 sheet on the front.

Hardware
Display and Cameras
Apple iPad 4
The iPad 4 uses the same 9.7 inch IPS LCD display with a massive 2048×1536 resolution – it's Apple's pride and joy after all, and it definitely is one of the best displays you'll ever see on any device. The combination of IPS technology, high pixel density and very small distance from the surface makes the picture very nice to look at and the tablet a pleasure to use. Everything from text to pictures to HD video looks crisp and clear – Apple doesn't call it a Retina Display for nothing.
As for the cameras – the situation is just slightly better on the iPad 4 compared to the previous model: while the back facing camera is still the same 5 Megapixel unit with a back illuminated sensor and advanced optics, we've got a new 1.3 Megapixel camera on the front, which is definitely an improvement over the 0.3 MP unit on the iPad 3. Both cameras let you film in HD resolution (1080p and 720p for the back and front unit, respectively) and they take some good still shots, as well.
Google Nexus 10
The Nexus 10 brought along one of the best kept secrets of 2012 – a true competitor to Apple's Retina Display! Not only is the new 10.1 inch display able to match (and even outmatch!) the iPad 3 and 4 with its 2560×1600 pixel resolution, but it also does it at no expense to the picture quality – Samsung's own PLS LCD technology provides the same quality and viewing angles as the IPS LCD on the iPads. The pixel density is an astonishing 300 DPI (the iPad 4 is 264 DPI), which makes the individual pixels indistinguishable no matter how hard you look.
The cameras are nothing special, though – Google and Samsung opted to use the standard 5 and 2 Megapixel combo on the back and front. The back facing camera can shoot 1080p video and has an LED flash (unlike the iPad 4!), while the front facing unit can only shoot 720p and only has the display backlight as help in dark conditions.
Connectivity and Battery Life
Apple iPad 4
The iPad 4 has everything you'd expect of a tablet connectivity-wise. Apple has two versions on sale, Wifi-only and Wifi+4G, but aside from the 4G modem, GPS and the amount of storage onboard, they both have the same specs. Wifi N, Bluetooth 4.0, HDMI out and a variety of sensors are all present on the iPad 4. That's really no different than the iPad 3, which has all of that, as well.
The battery on the iPad 4 is the same one used on the iPad 3 – a 42.5 WHr (= 11665 mAh) unit that is quoted to last up to 10 hours of use. The Wifi model definitely gets those 10 hours, but if you're constantly connected via 4G and with the screen on, it falls short by about an hour or two – still plenty enough for getting through a day's worth of work.
Google Nexus 10
The Nexus 10 also has a good complement of features when it comes to connectivity: Wifi N, Bluetooth 4.0, GPS/GLONASS, NFC, DLNA and all the normal sensors are there. If you compare the Nexus 10 with the Wifi-only iPad 4, the former gets ahead thanks to the GPS/GLONASS radio and NFC, but if you need 3G/4G, the iPad 4 is your choice since Google doesn't even offer that option with their tablet (they probably will in the future, seeing as the Nexus 7 with 4G has been released).
The Nexus 10 has a smaller battery than the iPad 4 – a 9000 mAh unit, but it's quoted to last up to 10 hours, and according to tests it actually does. That's good news for anyone thinking of getting the Nexus 10 and using it intensively throughout the day. With intermittent use, the battery is more than enough for 2 or more days!
Technical Specifications
| Specifications | Apple iPad (4th generation) | Google Nexus 10 |
| --- | --- | --- |
| Display | 9.7 inches, 2048×1536 pixels, IPS LCD, 264 DPI | 10.1 inches, 2560×1600 pixels, PLS LCD, 300 DPI |
| Processor | Apple A6X, 1.4 GHz, dual core | Samsung Exynos 5, 1.7 GHz, dual core |
| RAM | 1024 MB | 2048 MB |
| Graphics Adapter | PowerVR SGX 554 | Mali T604 |
| Storage Space | 16, 32 and 64 GB onboard (varies by model) | 16 or 32 GB of onboard storage space (model-dependent) |
| Camera(s) | Front: 1.2 MP with 720p HD video; Back: 5 MP with 1080p HD video | Front: 1.9 MP with 720p HD video; Back: 5 MP with 1080p HD video |
| Connectivity Options | Wifi N, Bluetooth 4.0, GPS, HDMI out, 4G LTE or HSPA+ | Wifi N, Bluetooth 4.0, GPS, HDMI out, 4G LTE, HSPA+, NFC, DLNA |
| Sensors | Proximity, accelerometer, gyroscope, magnetometer, light | Proximity, accelerometer, gyroscope, magnetometer, light, barometer |
| Battery | Li-Ion, 11665 mAh, up to 10 hours of continuous use | Li-Ion, 9000 mAh, up to 10 hours of continuous use |
| Dimensions and weight | 241.2 x 185.7 x 9.4 mm, 662 grams | 263.9 x 177.6 x 8.9 mm, 603 grams |
| Operating System and Software | iOS 6 | Android 4.2.1 Jelly Bean |
Performance
Apple iPad 4
Compared to the iPad 3, the iPad 4 got quite a boost in performance – Apple claims it's twice as fast as the previous model, however benchmarks beg to differ. The iPad 4 is still plenty fast with its new 1.4 GHz A6X dual core processor, quad core GPU (a custom unit based on the PowerVR SGX platform) and 1024 MB of fast DDR3 RAM. Apple's iOS 6 definitely helps things, as well – it's very efficient when using system resources, and it feels very fast and smooth, just like the previous versions.
Google Nexus 10
The Nexus 10 uses Samsung's all new Exynos 7 platform, which is both faster and more energy efficient than the previous generation. Google opted to go for a fast dual core instead of a quad core on the Nexus 10 and I believe they made the right choice. The 1.7 GHz dual core CPU lets you breeze through any apps and games, and the 2 GB of RAM and quad core Mali T604 GPU help keep things smooth even in very intensive tasks.
Unlike iOS, Android was lagging behind in the UI smoothness, but all of that changed with Android 4.1 Jelly Bean. With the latest 4.2.1 update that comes pre-installed on the Nexus 10, Android firmly establishes itself in the same zone as iOS and Windows Phone when it comes to native UI performance. Not only is everything very smooth, but there's also no lag and the animations are very beautiful – Google worked very hard to achieve this and it definitely shows.
Software
Apple iPad 4
The iPad 4 comes with iOS 6 pre-installed, just like the iPad 3. There's really not much I can say about the OS – it's fast, it's stable, it works with all the apps on the iTunes Store and it can do everything you expect it to do. The user interface is getting old, though it's still perfect for beginner users and it does the job perfectly fine – it's just not as refined as Android's latest UI, which is just more elegant and customizable.
Thanks to the fact that Apple allowed Google Maps back on the app store, you won't have to put up with Apple Maps, either – let's face it, they need a lot more work before they're actually usable. The number and quality of apps on the iTunes Store is still unbeatable – you can find pretty much anything for any purpose, and you won't have to worry about viruses or other malware, either.
Google Nexus 10
As I already mentioned, Google ships the Nexus 10 with the latest version of Android – 4.2.1 Jelly Bean (yes, 4.1 and 4.2 are both named Jelly Bean). The new OS brings a lot of good improvements and new features, although the changes are not as extensive as they are between versions 4.0 and 4.1. The user interface has been polished to near perfection – it's still not that simple for new users to get adapted to, but it strikes a perfect balance between newbie friendliness and customization options and features for advanced users.
Android 4.2 brings along multi user support, a new advanced camera app, easy support for Wireless Display, advanced notifications with instant actions and of course, the butter smooth and lag-free interface that 4.1 became known for. Along with the thousands of amazing apps on the Google Play store, that makes Android a force to be reckoned with. No user is left behind – anyone can find whatever they desire – just like is the case with iOS, for that matter.
Upgradeability and Hackability
Jailbreaking/Rooting and custom ROMs
Most people don't know that there are plenty of customization options beyond those that are officially offered by the OS – in the case of mobile devices that's custom ROMs, as well as rooting and jailbreaking for Android and iOS, respectively. But if you're an advanced user who isn't afraid to experiment with their software/hardware, you should definitely consider these options, especially when they can significantly improve the performance of your device, as well as the overall experience with it. The risk is extremely minimal these days, so there's really not much to be afraid of.
Apple iPad 4
Apple has been traditionally very strict with their devices and what the user can and can not do, and the control has only tightened up in the past year. iOS 6 on the iPad 4 is still able to be jailbroken, however, and that gives you some great options/features that you wouldn't be able to use otherwise. With a jailbroken iPad, you can install a lot of useful apps from unofficial stores that can extend the tablet's functionality by a large degree. You could have free tethering, a much more customizable home screen, custom themes, advanced folders, advanced Windows-like multitasking, and more.
As for custom ROMs, the iPad 4 is sadly not able to accommodate that – the good news is that you don't really need that, since Apple tends to keep their devices updated to the latest software for several years – more than enough to switch to a new phone or tablet. You still won't be able to squeeze the last drop of performance or usefulness out of your iPad 4 say, 5 years from now, though.
Google Nexus 10
The Nexus 10 ships with Android, but seeing as there's a new version out every half a year, it won't be long before both Android Jelly Bean and the Nexus 10 are obsolete. Thankfully, with rooting and custom ROMs (both of which work perfectly on the Nexus 10), you'll be able to keep your device current for a very, very long time – potentially well after the battery has completely died (in which case you can replace it or use the tablet as a desktop replacement).
Rooting lets you install a lot of useful apps and unsupported apps and games, while custom ROMs from the hyperactive community will give you features you didn't even think were possible, the latest version of Android for years to come and even a whole new OS if you so wish (Ubuntu and Firefox OS are quite great – and you'll probably be able to try them on a Nexus 10 within a year).
Overclocking and Undervolting
Overclocking and undervolting is a hardware modification made possible by software means, and it's an extension of the ability to install custom ROMs. With an overclocked processor, graphics adapter and/or RAM, you can get the most performance out of your tablet, while undervolting lets you achieve the longest battery life (sometimes by a massive amount – hours of continuous use). Needless to say, that is a good thing in the mobile market, where every year is like 5 years in the PC market.
Apple iPad 4
Sadly, no one has been able to overclock or undervolt an Apple product, and that is even more unlikely to happen now that Apple holds the blueprints to the processor/GPU/RAM platform. That's a sad situation for developers, modders and tinkerers, but thanks to the efficiency of iOS and the well thought out hardware, the average user won't need to overclock or undervolt their iPad 4 in order to keep up with the times – it should be good enough even half a decade from now.
Google Nexus 10
Technically, a Nexus 10 will also be good enough as it is 5 years from now, however there is a lot of room for improvement with this device, so if you're up to the task, you'll definitely benefit from it. The Nexus 10 can be overclocked and undervolted pretty easily and if you're not tech savvy enough to do it, you can always just flash a custom ROM that someone else prepared.
The processor goes up to 2 GHz without any stability issues, and the GPU is also able to run at an increased frequency without problems. But the 1.7 GHz Exynos is more than enough for now, so you'd benefit more from an undervolt, which will give you another hour or so of battery life – not bad for a few hours of your time.
Summary
Notable features
| Apple iPad 4 | Google Nexus 10 |
| --- | --- |
| IPS Retina Display with a 2048×1526 resolution | 2560×1600 pixels resolution PLS display |
| Attractive and sturdy aluminum housing | LED flash for the back facing camera |
| iOS 6 is perfect for beginner users | Android 4.2.1 is great for advanced users |
| 4G cellular modem option | NFC, GPS/GLONASS radios on all versions |
| 64 GB version for those who need a lot of space | Very strong Gorilla Glass 2 on the front |
| 11,665 mAh battery gives a lot of usage time | Very fast processor, GPU and 2 GB of RAM |
Pros and Cons
Apple iPad 4
| Pros | Cons |
| --- | --- |
| High resolution display | No camera LED flash |
| Long battery life | No design changes |
| 4G option | New port connector needs adapter for old accessories |
| Newbie friendly OS | Marginal performance increase |
| Sturdy metal housing | No NFC |
| | No GPS in Wifi-only model |
Google Nexus 10
| Pros | Cons |
| --- | --- |
| High resolution display | Plastic housing may seem a bit cheap |
| Practical design | Poor availability (devices are often not in stock) |
| GPS, NFC radios on every model | |
| Free support for third party ROMs | |
| Two front facing speakers | |
Who is the tablet made for?
Apple iPad 4
The iPad 4 is a great tablet for anyone looking for a durable and attractive device, however it's not really the best choice for those who already own an iPad 3 or people who want the freedom to be able to do whatever they want with the hardware/software they bought. If you have an iPad 3, I'd say paying for an iPad 4 is not worth it, especially since you'll need to adapt to the new Lightning connector.
Same thing goes for those who like to tinker with their devices: you won't really be able to do anything with the iPad 4 beyond installing apps and jailbreaking it – pretty much any Android device will be better in this regard. With the iPad 4 you're still surrounded by Apple's walled garden, and this time they're installing an electric fence, as well.
Google Nexus 10
The Nexus 10 is a perfect choice for most people, although users who are new to tablets or even computers should prepare for a steeper learning curve. If you are a developer or tinkerer, the Nexus 10 is a gold mine – not only is it chockfull of the latest hardware, but it also lets you play with it however you see fit – you can even break it if you want (warranty will be voided, of course!).
The ability to fully customize the software is also very attractive – it will let you keep your device fast and smooth for years to come. I don't think it will have any trouble running Android 5.0 when it finally comes out.
Price and Availability
Apple iPad 4
The iPad 4 has been out for a while, of course, and you can buy it online on Apple's website or in stores around the world. The pricing is very similar to the iPad 3 when it was launched – you can get the most affordable model for $499, with the most expensive 4G+Wifi 64GB model running you a whole $829 – that's the price you pay for the perceived king of tablets.
Google Nexus 10
The Nexus 10 definitely has a more aggressive pricing, with the 16GB model costing you $499 and the 32GB model going for $599. That's on par with the Wifi-only iPad 4, and considering you get more features for the same money, it's pretty hard to choose the iPad 4 over the Nexus 10.
Both the iPad 4 and Nexus 10 are great tablets, however compared to the devices they're intended to replace, the Nexus 10 is the winner – it's a new Android flagship with a lot of unique features for the platform, while the iPad 4 looks like an attempt to milk as much money as possible out of the current design and iPad users. If you need the cellular modem and you don't already own an iPad 3, the iPad 4 is a good choice – otherwise the Nexus 10 makes a lot more sense.