Despite Steve Jobs saying that 7 inch tablets will never take off, Apple did have to face the truth and admit that 7 inch tablets are a serious contender on the tablet market, taking up almost half of it already. And with Google's Nexus 7 lowering the price bar even further for a high quality compact tablet, it became clear that the company needed a smaller version of the iPad if they wanted to stay at the top of the sales charts. The resulting iPad mini has been a phenomenal success – almost as good as the original iPad, which speaks volumes about it.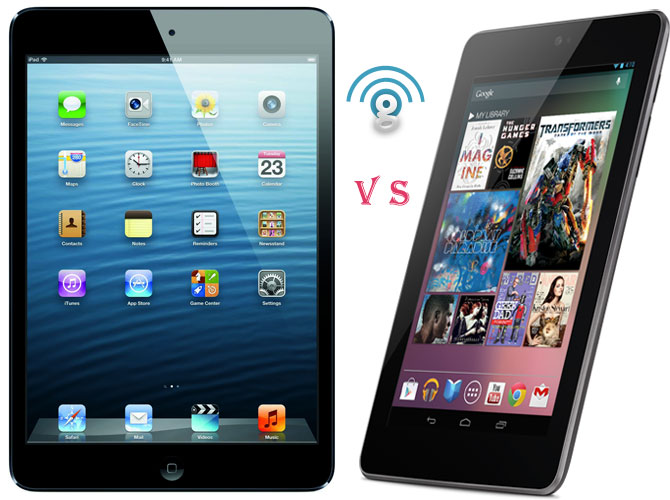 In this extensive review, I will try to answer the questions, how does the new compact and affordable version of the iPad hold up to its main competitor, the Nexus 7, and which one you should choose if you're in the market for a new tablet?
Design and build quality
Apple iPad mini
The iPad mini is very similar to the iPad when it comes to the exterior – Apple's tagline "every inch an iPad" describes the device perfectly. Of course, it's smaller in size and lighter, but the overall design and style remains the same. The iPad mini has only the display and the home button on the front, right beneath the strong scratch resistant sheet of Gorilla Glass and an aluminum carcass that covers the back and all sides, making it a very durable and sturdy piece of tech. On the back, you can notice the camera, and on the sides, you can also see the volume control buttons, power button and the wireless toggle. The bottom side is home to the speakers – this is the first Apple tablet to have a pair of them (they also provide stereo sound, as opposed to the dual mono on some Android tablets with dual speakers).
Google Nexus 7
The Nexus 7 definitely looks and feels cheaper than the iPad mini because of its plastic shell, large bezel and thickness. Thankfully, the sturdiness was not compromised – the plastic is strong and the front is covered by Corning's Gorilla Glass, and to be fair the device is indeed cheaper than the iPad mini. There's really nothing much to be said about the exterior – it's pretty basic, with a textured back and a glass covered front that is taken up by the display (no external OS controls here, only the power and volume buttons on the side) and the barely visible camera.
Hardware Specifications
Display and Cameras
Apple iPad mini
Unlike most of its non-10.1 inch competition, Apple's new iPad mini features a 7.9 inch, 4:3 format display – in a way, the company stayed true to Jobs' word, since it's technically not a 7 inch tablet. The display does indeed offer some benefits over the usual 7.0 incher, even though the resolution is lacking. The 7.9 inch IPS LCD unit has a good picture quality – it's better than the iPad 2 thanks to the pixel density, but it falls behind pretty much all of the major competition. The viewing angles are great, the brightness is also on a high level, but you notice the pixilation right away, especially when compared to the beautiful Retina Display on the iPad 3 and 4.
The situation is slightly better when it comes to the integrated cameras – the iPad mini has two of them: a 1.2 Megapixel unit on the front that takes some pretty good photos and can shoot 720p HD video (perfect for high quality video chat), and a 5 Megapixel camera on the back, which has a great picture quality and can shoot 1080p HD video, but unfortunately does not have an LED flash – still, the photos taken in low light conditions are good thanks to the backside-illuminated sensor.
Google Nexus 7
The Nexus 7 has a better display than the iPad mini – no doubt about it. Not only does it use the same IPS LCD technology, but it also has a higher 1280×800 pixel resolution while being physically smaller by almost a full inch in diagonal. That translates to a crisper picture, although it's obviously smaller than the iPad mini's. The trade is fair, in my opinion, but a lot of people find 7 inches just slightly outside the comfort margin, which is why the iPad mini has become as successful as it is so quickly.
The Google Nexus 7's main competitor was supposed to be the Kindle tablet (and it was for a short while after the release), and being a budget device, you really shouldn't be surprised when you find that it has no camera on the back. It does, however, have a decent 1.2 MP camera on the front that can take quick self-shots and even shoot 720p video at a watchable frame rate. If you're one of the many who don't like taking photos of anything with an oversized device, you'll probably never even notice the lack of a back facing camera.
Connectivity and Battery Life
Apple iPad mini
Apple's iPad mini mirrors the larger iPads when it comes to the connectivity features – there are six total models whose only differences lie in the amount of onboard memory and the presence of a cellular modem and GPS radio. You can get both the Wifi-only and cellular+Wifi+GPS models with 16, 32 and 64 GB built in storage space – the rest of the features remain the same. The absence of a GPS radio on the Wifi only models is considered a mistake by many, but we really shouldn't be surprised, since the iPads have always been configured this way.
The battery life on the iPad mini is around 10 hours – the same as with the larger iPad 3 and 4, and more than enough for going through a day's worth of work. Of course, the Wi-Fi only model will undoubtedly last longer than the cellular one, but the difference is only around 1 hour in most cases.
Google Nexus 7
Google's Nexus 7 also comes in different versions that differ in the amount of storage space and presence of a cellular radio. Fortunately for those who want a cheap in-car navigator, even the $199 16GB version of the Nexus 7 has GPS, although I'd actually pay the full price for the cellular 32GB model for the most comfort. The other connectivity options are similar to any other tablet on the market – Bluetooth, Wi-Fi, all of the usual sensors – however compared to the iPad mini, the Nexus 7 trades HDMI out capability for an NFC radio, which for now seems to put it at a disadvantage since HDMI out is quite a lot more useful than NFC.
The battery life of the Wi-Fi only model compares to that of the iPad mini – it's around 10 hours, and of course the cellular version will last less, especially if you use the data connection a lot. The battery life is still more than enough for any tasks and will get you through a full day without problems.
Technical specifications
| Specifications | Apple iPad mini | Google Nexus 7 |
| --- | --- | --- |
| Display | 7.9 inches, 1024×768 pixels, IPS LCD, 163 DPI | 7 inches, 1280×800 pixels, IPS LCD, 216 DPI |
| Processor | Apple A5, 1.2 GHz, dual core | NVidia Tegra 3, 1.3 GHz, quad core |
| RAM | 512 MB | 1024 MB |
| Graphics Adapter | PowerVR SGX series | NVidia GeForce ULV, 12 core |
| Storage Space | 16, 32 and 64 GB onboard (varies by model) | 16/32 GB (Wifi-only model) or 32 GB (cellular model), no micro SD card slot |
| Camera(s) | Front: 1.2 MP with 720p HD video; Back: 5 MP with 1080p HD video | Front – 1.2 MP camera with HD video support |
| Connectivity Options | Wifi N, Bluetooth 4.0, GPS (only cellular version), HDMI out, 4G LTE or HSPA+ | Wifi N, Bluetooth 4.0, USB, NFC, GPS (all version), HSPA+ |
| Sensors | Proximity, accelerometer, gyroscope, magnetometer, light | Gyroscope, accelerometer, compass, light, proximity |
| Battery | Li-Ion, up to 10 hours of continuous use | 4325 mAh, Li-Ion, up to 10 hours of continuous use |
| Dimensions and weight | 200 x 134.7 x 7.2 mm, 312 grams | 198.5 x 120 x 10.45 mm, 340 grams |
| Operating System and Software | iOS 6 | Android Jelly Bean 4.2 |
Performance
Apple iPad mini
The iPad mini is not the best tablet when it comes to performance, that's for sure. Apple seems to place it under the larger iPad 4, and that's a mistake in my opinion. The tablet uses an Apple A5 chip to power everything, which is the same platform used in the iPad 2 and needless to say it's pretty outdated, especially compared to the Cortex A15 and quad core processors inside the new Android tablets. In iPad mini's case, the dual core processor runs at 1.2 GHz and has 512 MB of RAM plus the PowerVR SGX 543MP dual core graphics adapter to back it up.
While generally, the performance is OK (you can open any apps and browse the Web without much problems), the age of the chipset is starting to show – in newer games and resource intensive apps, you can notice lag and slowdowns, something which is of concern if you plan on using the iPad mini for a long time. But I'm sure that the next iPad mini will have all that fixed.
Google Nexus 7
The Nexus 7 is quite a bit better than the iPad mini when it comes to performance – it's got NVidia's Tegra 3 chip under the hood, which is pretty much state of the art when it comes to mobile platforms. The quad core processor runs at 1.3 GHz and has 1024 MB of RAM and a powerful second generation GeForce ULV GPU to run any graphics intensive apps. This combination is obviously more than enough for any apps and games you might need to run, and that will likely stay true for a long time to come (especially since you can also overclock the processor).
With Android Jelly Bean, which comes pre-installed and can be upgraded to the latest version right away, the tablet is as fast as it gets, whether you're navigating through the UI, browsing the Web, watching a 1080p video on YouTube, using an intensive application or playing the latest video game. Needless to say, the Nexus 7 is pretty future proof – chances are high you'll be able to use it without issues for at least the next 2-3 years, by which time octa-core processors would be mainstream, judging by HTC's announcement of an octa-core device this year.
Software
Apple iPad mini
As one would expect, Apple's latest device comes with the latest version of their operating system, iOS 6. You can also apply the latest minor updates right away, so at least software-wise, the iPad mini is at the same level as the iPad 4. We've already been through the features of iOS 6 countless times, and I think everyone would agree that it's a great OS. It's nothing out of the ordinary anymore, it doesn't offer many customization options, but it's simple to use and it's as fast and bug-free as it gets these days.
The selection of apps on the iTunes Store is also very impressive – you can really find an app for everything! From the most popular productivity tools and document editors to recipe books and musical instruments/tools, there's an iPad app for anything.
Google Nexus 7
Android has grown a lot over the past year, and in a traditional Google fashion, the Nexus 7 features the latest version of the OS. Depending on when your tablet shipped from the factory, you may have Android 4.1.1 up to 4.2.1 pre-installed, but regardless, the OTA update to the latest version is available right away and painless to apply. Android 4.2 Jelly Bean is pretty much the most advanced operating system for mobile devices you can find today. It's got a lot of unique and more importantly, useful features out of the box and what's missing can easily be filled in by one of the many great apps from the Google Play market.
The user interface is smooth as butter (thanks to the aptly named Project Butter) – it's even better than iOS in some cases, which is simply impressive! Moreover, the home screen is insanely customizable – with a third party launcher and a bit of time, you can make your home screen as unique and individual as you are.
The third party apps selection is great in numbers, and although many of them lack in refinement (i.e. they look pretty ugly compared to their iOS counterparts), they generally get the job done. Thankfully, the most popular and important apps have already been updated to match the new Android UI, and if they want to stay on the market, all of the other apps will follow suit soon, so it won't be long until ugly buttons and weird controls in Android apps are a thing of the past.
Upgradeability and Hackability
Jailbreaking/Rooting and custom ROMs
Jailbreaking and rooting refers to gaining an elevated access to all the files in iOS and Android, respectively. The reason why you'd want to do that is that it gives you the ability to do pretty much anything you want with the operating system – change the way the OS behaves, get more customization options for the home screen, install apps that are absent from the apps store, save battery life by reducing the number of background apps and more.
Custom ROMs are complete bundles of the OS, often customized and optimized by the developer for specific needs (better battery life, overclocked processor, less unnecessary apps that can't be uninstalled, etc.). As you can see, both of these can be very useful, so let's take a quick look at the iPad mini and Nexus 7 and see if you can take full advantage of their OS.
Apple iPad mini
The iPad mini can be jailbroken, however with the DMCA exception rules change in the US, it is now technically illegal (like in considered a criminal activity) to do so. This specifically applies to tablets only and in my opinion is a major step back for Apple, the law and iPad users – nobody wants to be liable for getting full access to their own devices.
As for custom ROMs: it's been said over and over again – forget it, iDevices will never be able to run a modified ROM, mostly because developers don't have that level of hardware access – if they did, the iPhone and iPad would've been running Android a long time ago.
Essentially, things look bleak if you want to take full advantage of your iPad, tinker with it or keep it fresh and fast for more than a couple of years.
Google Nexus 7
Things are much better with Android and the Nexus 7. First of all, rooting is barely but technically still legal, and second, you can install full custom ROMs, which most definitely extends the capabilities and lifetime of the device by a wide margin. The Nexus 7 is already a very open device – there are no roadblocks to flashing a custom ROM, and rooting is as easy as installing an app and tapping a button.
The developers community is very big – there are dozens of active ROMs that make the Nexus faster and better in many ways, and things will only get better as the device sells and gains more users.
Overclocking and Undervolting
Overclocking lets you run the processor (and sometimes, graphics adapter) at a higher than stock frequency, which gives you a noticeable increase in performance most of the time. Undervolting means lowering the processor's voltage to values below stock, which in turn can increase the battery life and reduce heat at no expense to performance and stability – basically, you push your processor to its limits, beyond the cookie cutter settings that it comes with out of the factory. This has worked for decades on desktop computers and laptops, and has transitioned amazingly well to smartphones and tablets.
Apple iPad mini
Sadly, as I mentioned above, the iPad mini will never be able to be modified beyond the basic jailbreak. That also means no overclocking or undervolting, so you're stuck with the stock performance and battery life.
Google Nexus 7
The Nexus 7 is very easy to both overclock and undervolt – you can do it via special apps or better yet, using customized ROMs. You can increase the battery life by up to 1 hour using undervolting or increase the performance by up to 30-40% by overclocking the four processor cores (which can safely go up to 1.7 GHz and even up to 2.0 GHz for short bursts).
You can even use SetCPU or a similar app to get the best of both worlds – long battery life in everyday use and instant high performance whenever you actually need it! It does take some technical knowledge, but for the most part it's definitely worth it.
Summary
Notable Features
| Apple iPad mini | Google Nexus 7 |
| --- | --- |
| 5 MP iSight camera on the back | Tegra 3 chip with quad core processor, 1024 MB RAM and 12 core GeForce ULV GPU |
| Large 7.9 inch 4:3 format IPS display | 7 .0 inch IPS display with 1280×800 resolution |
| 4G LTE radio | GPS in the Wifi-only model |
| 64 GB of onboard storage model available | |
Pros and Cons
Apple iPad mini
| Pros | Cons |
| --- | --- |
| Ultra-slim aluminum housing | Display looks pixelated because of the low resolution |
| Narrow bezel allows for a 7.9 inch 4:3 display in a 7.0 inch body | Hardware performance is sub-par compared to other similarly-priced tablets |
| Camera on the back lets you take high quality photo and video | No GPS in the cheapest models |
| The 64 GB model is great if you use a lot of storage space | |
| HDMI out capability is great if you want to output video to any external device | |
Google Nexus 7
| Pros | Cons |
| --- | --- |
| 1280×800 resolution IPS display looks great | Plastic housing feels quite cheap |
| High performance hardware and Android Jelly Bean provide a fast experience | No camera on the back means you need to use an alternative device for taking photos and video |
| GPS in the cheapest model lets you use it as a great alternative to an in-car navigator | No HDMI is a drawback, especially when you have such hardware power |
| NFC radio could be useful in the future | |
Who is the tablet made for?
Apple iPad mini
Apple is marketing the iPad mini towards those who want a smaller tablet but don't want to compromise on the comfort of a 10.1 inch display. I've long been a proponent of 8.9 inch tablets, but the 7.9 inch iPad mini hits the mark pretty close, mostly because it's 4:3 format and hence almost as large as a 8.9 inch 16:9 format tablet.
If you don't want to carry around the large and relatively heavy iPad, the iPad mini is a great alternative – if you don't mind the screen resolution, of course. At 312 grams and 7.2 mm in thickness, the iPad mini is perfect for holding it for a prolonged period of time. It can be used as a note recorder (not only text, but also video and audio!), Web slate, document editor and presentation device, mobile gaming console, and much more.
Being a bit cheaper than the iPad 4 also makes it great for those who want to buy their first iPad but not spend too much money. However, I'd say it's not really for advanced users or those who pride themselves on being able to fully utilize their hardware. iOS developers may want to get the iPad mini for comfort and app testing, but everyone else is probably better off with an Android tablet, like the Nexus 7 for example.
Google Nexus 7
The Nexus 7 is the perfect introductory device for the new tablet buyer – it's cheap and yet it's got everything a user might need. Google's marketing seems to support that, since the Nexus 10 is the high end slate and the Nexus 7 is the mainstream and compact device. Besides the missing back facing camera and lack of a micro SD card slot, there's nothing major that's bad about the Nexus 7 – it's got a great display, GPS, front facing camera, long battery life, powerful processor and a sturdy housing (even though it looks cheap-ish). Tablet newbies should definitely take a look at it, even though Android might seem hard to grasp at a first glance.
And since it's a Nexus and it's totally open for software modification, it's also a perfect match developers and modders who like to tinker with their hardware. With a custom ROM and an overclocked processor, the Nexus 7 will stay fast and frosty for a long time.
Price and Availability
Apple iPad mini
The iPad mini is available on Verizon, AT&T and Sprint in the US, and T-Mobile in the UK – but you can use it on any network if you buy it without a contract since it's unlocked form the get-go. The pricing is pretty standard for an iDevice: the cheapest 16GB Wi-Fi-only model starts at $329 and goes all the way up to $659 for the 64 GB, cellular+Wifi+GPS model. That's quite a lot, but then again you get what you pay for – the iPad mini is the best compact tablet out there right now IF you don't mind the lower top performance and walled garden approach to software.
Google Nexus 7
The Google Nexus 7 has been available for quite some time now, and the price is simply excellent: you can get the cheapest 16GB Wi-Fi only version for $199, with the 32GB Wi-Fi only model costing you $249 and the HSPA+ 32GB model going for only $299 – unlocked without a contract! That's a very good price, and it doesn't even come close to the iPad mini, which is what makes the Nexus 7 even more desirable.
Overall, from a design and user perspective, the iPad mini wins even with its drawbacks and higher price – it's just so comfortable to use that you'll be glad you paid more and you'll also be able to resell it for a very high price and get the next model when it comes out this year.
The Nexus 7, however, is a great choice if you want the cheapest high quality tablet available and want to be able to freely tinker with the software as you see fit – something which the average user clearly does not need.