Apple has broken their product release pattern last year, announcing not one, but two new tablets less than half a year after the previous model went on sale. The iPad 4 has proven to be quite a disappointment; however the new iPad mini looks pretty intriguing and can definitely gain a market share and user following of its own. Let's take a closer look at the iPad mini and see what exactly it presents for existing Apple users and potential buyers.
Design
I have to say, the iPad mini is a very attractive tablet. Overall, it's very similar to its larger brother, but the ultra slim profile and narrow bezel really puts it in a class of its own. Apple's taglines are actually accurate this time: "There's less of it, but no less to it". Indeed, holding the iPad mini is like having a shrunk down iPad in your hands.
The device is only 7.2mm thin and 312 grams light, which looks and feels incredible and lets you carry it with you pretty much anywhere you want. The size is perfect – at 7.9 inches and 4:3 form factor, the iPad mini is larger than the 7 inch Android tablets out there, while being just a tiny bit larger.
Hardware features and performance
Despite being so thin and light, the iPad mini doesn't skimp on hardware, either. It's not Nexus 7, of course, but it has just enough hardware features and performance to satisfy any average user. The 7.9 inch display uses the same IPS LCD technology as the other iPads and has a 1024×768 pixels resolution – the same as on the first iPad and iPad 2, and since it's on a smaller surface, it actually looks better due to the higher pixel density.
The performance shouldn't be a problem – the iPad mini is powered by Apple's own A5 processor, with its two cores running at 1.2 GHz and aided by a PowerVR SGX series GPU and 512 MB of RAM (which is on the low side, but then again iOS is great at resource management).
The other specifications are in line with what you'd find on any other modern tablet. The usual Wifi N, Bluetooth and GPS/GLONASS radios are present, as are the two cameras (1.2 MP on the front, 5 MP on the back, both with HD video recording) and the slew of sensors. Users also have the option of 16, 32 or 64 GB of onboard storage space, as well as a 4G LTE or HSPA+ cellular radio, depending on the network of choice. As I already mentioned, the iPad mini is pretty much a shrunk down iPad with all the features intact.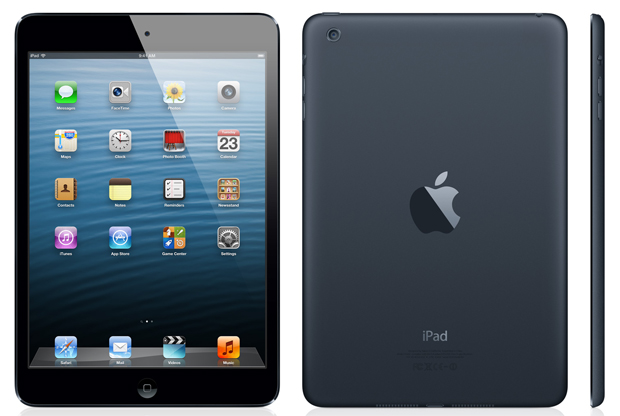 Technical specifications
| Specifications | Apple iPad mini |
| --- | --- |
| Display | 7.9 inches, 1024×768 pixels, IPS LCD, 163 DPI |
| Processor | Apple A5, 1.2 GHz, dual core |
| RAM | 512 MB |
| Graphics Adapter | PowerVR SGX series |
| Storage Space | 16, 32 and 64 GB onboard (varies by model) |
| Camera(s) | Front: 1.2 MP with 720p HD video; Back: 5 MP with 1080p HD video |
| Connectivity Options | Wifi N, Bluetooth 4.0, GPS, HDMI out, 4G LTE or HSPA+ |
| Sensors | Proximity, accelerometer, gyroscope, magnetometer, light |
| Battery | Li-Ion, up to 10 hours of continuous use |
| Dimensions and weight | 200 x 134.7 x 7.2 mm, 312 grams |
| Operating System and Software | iOS 6 |
Software
The iPad mini runs iOS 6 out of the box – it's the same exact version that runs on the iPad 4 and the iPhone 5. At this point, we're very familiar with the OS – there's really nothing much I can say about it. It's good, it's simple, it's very stable and the apps still look awesome. You'll probably want to replace Apple Maps with Google Maps (which is back in the App Store and is very successful), so you don't get lost in the woods while going to the shopping mall :-).
Price and Availability
The price is the most attractive point of the iPad mini – the basic model starts at only $329 – a very attractive price for what you're getting (and don't forget it's an Apple product, too). That's just a bit higher than most other 7 inch tablets on the market, including Google's 16 GB Nexus 7, which retails for $249 (and misses one camera, as well as a couple of other useful features).
The top of the line iPad mini costs about as much as the iPad 4, however, so you might want to think the purchase through. As it is, the iPad mini is perfect if you want a more portable iPad or you want to get one of the best tablets for the lowest price possible.