Lenovo is a relatively recent player on the computer market, at least in the west. They've only been active since 1984, and pretty much everyone knows they bought the ThinkPad line of business-oriented laptops from IBM. Their venture into the consumer laptop market was pretty successful, but they've been reluctant to go into the new tablet market when the iPad revealed it exists.
Lenovo did finally start producing tablets, both for business and corporate users under the ThinkPad brand and for ordinary consumers under the all new IdeaTab brand name (not to be confused with their IdeaPad line of consumer laptops). Their latest entry to the market is the IdeaTab Lynx – an affordable consumer tablet that packs in a good amount of hardware and Windows 8, but which falls a bit short when it comes to design and build quality.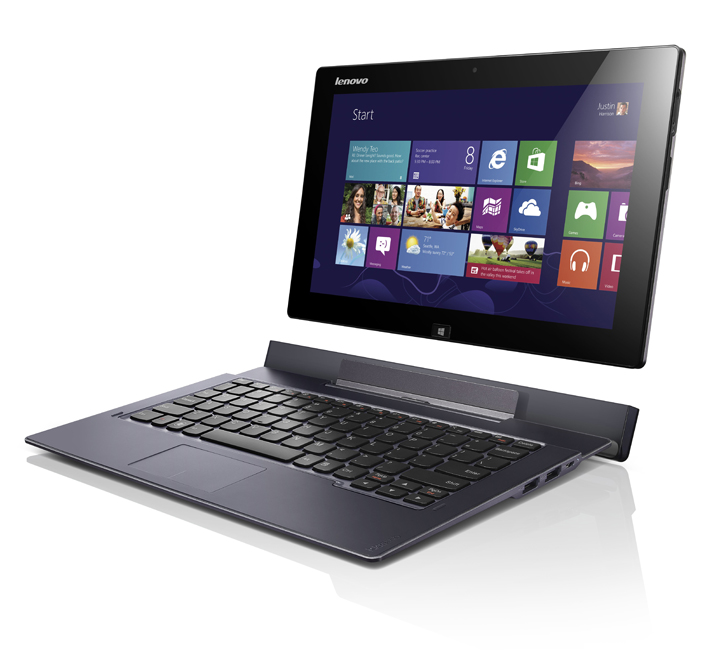 Design
The IdeaTab Lynx looks rather fine, with strict lines all around (just like the ThinkPad Tablet 2) and no frills, but upon closer inspection, it's not that good. The reason is that it's made out of plastic, which feels really cheap. It does accomplish its task of making the tablet light and preventing it from slipping from your hands, but it's also very thin, which means that the tablet will flex if you hold it too tight. Despite it being textured and looking rather nice, it doesn't really make a good first impression. On the front, there's a strong Gorilla glass sheet, so no worries about scratching it. Around the sides, you can find the various ports and buttons (which aren't that easy to press, by the way).

Hardware features and performance
The IdeaTab Lynx may look cheap, but it's got some good hardware under the hood. The 11.6 inch display has an IPS LCD panel and a 1366×768 resolution – the picture quality is great, as are the contrast, brightness and viewing angles. Some might say that the resolution is too low, but I think it's good enough – it's the same as on the MacBook Air and it's larger than what you got on the iPad and iPad 2. Windows 8 Metro UI looks and works perfectly fine, although if you want edit documents on the Lynx, you might want to do it in portrait mode.
The performance is fine, too: the Intel Atom Z2760 has two 1.8 GHz cores (4 total useable cores with Hyper Threading), 2 GB to support it and the PowerVR SGX545 for graphics. While the Atom is more than enough for both Metro apps and legacy software (faster than any of the last year's Atom netbooks), the GPU might be a bit slow for any intensive tasks – it can playback 1080p video just fine, but if you play some intensive games, you won't like the performance.
The IdeaTab Lynx comes in 32 and 64 GB versions, with both models having a micro SD card slot for expansion and storage. Unlike most of the competition (including the business-oriented ThinkPad Tablet 2), the IdeaTab Lynx only has one camera on the front – a 2.0 Megapixels unit that supports HD video recording. It's not really a big deal unless you like taking photos with a gargantuan tablet :-).
The other specs include Wifi N, Bluetooth 4.0, GPS, micro USB and micro HDMI out, all the normal sensors you need on a tablet and 2x USB 2.0 ports on the keyboard dock. The battery life promised by Lenovo is 8 hours for the tablet alone and 16 hours with the dock – that's average for a tablet, and pretty much good enough for a day's work, depending on what you do.
Technical specifications
Specifications
Lenovo IdeaTab Lynx (K3011)
Display
11.6 inches, 1366×768 pixels, IPS LCD, 135 PPI pixel density
Processor
Intel Atom Z2760, x86, 1.8 GHz, dual core with Hyper-Threading (4 useable cores)
RAM
2048 MB LP-DDR2
Graphics Adapter
PowerVR SGX545
Storage Space
32/64 GB onboard storage space, micro SD card slot for expansion (micro SDXC cards supported)
Camera(s)
Front facing 2.0 Megapixels camera with HD video recording
Connectivity Options
Wifi N, Bluetooth 4.0, GPS, micro USB and HDMI out, 2x USB 2.0 ports
Sensors
Light, magnetometer, gyroscope and accelerometer sensors
Battery
Tablet only – up to 8 hours of continuous use; with keyboard dock – up to 16 hours of use
Dimensions and weight
Tablet only: 300.9 x 188 x 9.48 mm, 640 grams
Tablet + Dock: 300.9 x 188 x 18.7-24.5 mm, 1.3 kg
Operating System and Software
Windows 8
Software
The Lenovo IdeaTab Lynx runs Windows 8, which is a pretty great OS, especially compared to Windows RT. You can run Metro apps, as well as legacy software in desktop mode – the latter will require you to either get used to it or buy the keyboard dock, as it's a bit harder to use the standard Windows interface with only a touch screen. The OS does take up a lot of space, so the 32 GB model will only have around 16 GB of space for your files – you might want to get the 64 GB model or just buy a high speed micro SD card to store all your data.
Price and Availability
The IdeaTab Lynx is already on sale, and Lenovo is pricing it at $599 for the 32GB tablet only and $149 for the keyboard dock. If you want the 64 GB version, you'll have to pay $649. That's quite a steep price for what you're getting – in my opinion, it's not really worth it even if you're a Lenovo fan (and i have do admit i'm a big fan of Lenovo laptops).
You'd be better off paying more for the HP Envy X2 if you want the highest build quality possible or less for the Asus VivoTab Smart, which combines a good build quality with a good design and better specs than the Lynx. While Lenovo has hit jackpot with the ThinkPad Tablet 2, they've really dropped the ball with this consumer Windows 8 tablet.