Windows 8 tablets are hitting us from every corner nowadays, with most of them being based on Intel processors and running the full version of the OS rather than the strange Windows RT, which is not really good enough for either ordinary consumers or business users. The latter have been especially eager to see what the market will offer them and so far, there's been really few good devices that would live up to expectations – it's much easier to find a good Ultrabook with a touch screen than a tablet for serious work.
But with the Surface Pro having been released, the situation is going to change fast, and the competition needs to get in on the game early if they want to succeed. Lenovo, as expected, has been quick to jump on the Windows 8 tablet niche for business/corporate users, and their offer is quite enticing – the ThinkPad Tablet 2 builds up on the strengths of both its direct predecessor and the whole ThinkPad line to provide one of the best packages for professionals out there.
Design
The ThinkPad Tablet 2 looks a lot like its Tegra 2-powered predecessor, but overall is more refined and modernized. It's got a strict design, with a matte black finish, strong plastic all around (just like all of the ThinkPad laptops) and a strong Gorilla glass sheet on the front. It's not going to win any design awards, but it will get the job done with minimal distraction, which is exactly what a work-oriented user would want. The slate itself houses the stylus, so you'll never lose sight of it and the whole device is still only 9.8 mm slim, which is a good thing.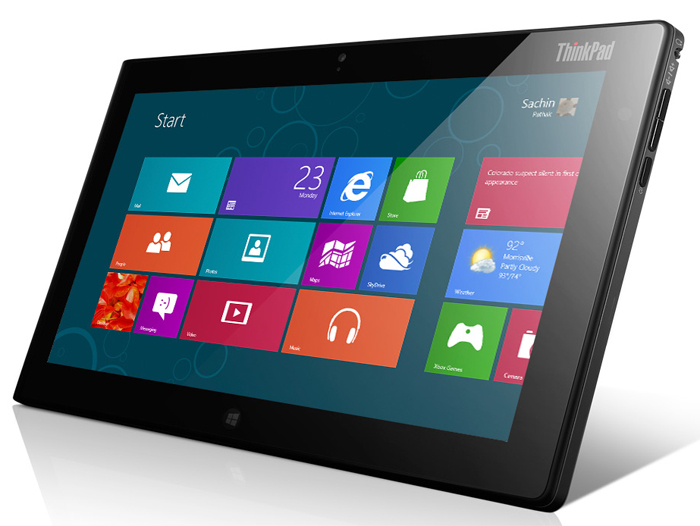 Lenovo has gone an interesting route with the keyboard dock – instead of the usual full dock that practically transforms your tablet into a netbook complete with extra ports and battery life, the ThinkPad Tablet 2 dock is just a keyboard with a touch stick and mouse buttons (the usual touch pad is of course replaced by the touch screen). The tablet doesn't securely lock into place – instead it sits on the dock kind of like it would on a simple desktop stand, with the keyboard and touch stick being paired via Bluetooth.
The upside to this choice is that the dock is very thin and very compact, while allowing for a full size keyboard that has enough key travel to be very comfortable even for prolonged writing – in fact, it's just as good as the normal keyboards on the 15 inch ThinkPad laptops, for example. People who have been using ultraportables for more than a decade will probably appreciate the looks as well – when docked, the ThinkPad Tablet 2 looks very similar to the good old HP Jornadas or Psion subnotebooks, which evokes some nostalgic thoughts.
Hardware features and performance
The hardware inside the ThinkPad Tablet 2 is on par with most of the competition, although there are a few features that are present only on this device. The display is a 10.1 inch IPS LCD unit with the standard for Windows 8 tablets 1366×768 resolution – it looks good but not as good as the new high density displays you'd find on the iPad 4 and Nexus 3, for example. But if you're coming from the world of laptops (most of which use the same resolution at larger sizes), you'll like it – the contrast, brightness, colors and viewing angles are all great.

On the storage side, it's a bit weird that Lenovo decided to go with 32 and 64 GB models, although that is mitigated thanks to the micro SD card slot, which you'll probably use sooner rather than later – Windows 8 uses quite a lot of space, and x86 software isn't known for being light on space, either.
The tablet has the usual two camera arrangement, with an 8 MP shooter on the back with Led flash and support for Full HD video recording and a 2 MP camera on the front that can also record HD video, albeit "only" in 720p resolution. Aside from the usual Wifi, Bluetooth and GPS, the ThinkPad Tablet 2 has HDMI out, a full size USB port and an optional internal HSPA+/4G LTE modem. The battery is quoted to last up to 10 hours – quite a lot for such a configuration, and just enough to get most people through a day's worth of work without recharging in the middle of the day.
Technical specifications
| Specifications | Lenovo ThinkPad Tablet 2 |
| --- | --- |
| Display | 10.1 inches, 1366×768 pixels, IPS LCD, 158 PPI pixel density |
| Processor | Intel Atom Z2760, x86, 1.8 GHz, dual core with Hyper-Threading (4 useable cores) |
| RAM | 2048 MB LP-DDR2 |
| Graphics Adapter | PowerVR SGX545 |
| Storage Space | 32/64 GB onboard storage space, micro SD card slot for expansion (micro SDXC cards supported) |
| Camera(s) | Back – 8 MP camera with LED and support for 1080p video recording; Front – 2 MP camera with support for 720p video recording |
| Connectivity Options | Wifi N, Bluetooth 4.0, GPS, full size USB 2.0 port, micro USB port, HDMI out, HSPA+, LTE |
| Sensors | Light, proximity, magnetometer, gyroscope and accelerometer sensors |
| Battery | Up to 10 hours of continuous use |
| Dimensions and weight | 262.6 x 164.6 x 9.8 mm, 600 grams (Wifi+3G model with stylus) |
| Operating System and Software | Windows 8 |
Software
Unlike the first ThinkPad Tablet which ran on Android, the ThinkPad Tablet 2 is much more of a business device thanks to the full-fledged Windows 8 OS, which can run Metro apps, as well as any legacy x86 software very well – this tablet can act as your only device if you have a monitor and keyboard/mouse combo at the office and/or home. There are already quite a few Metro UI apps in the Store, and if you can't find something there, there's always the choice of a desktop or Web based solution.
Price and Availability
The ThinkPad Tablet 2 starts at only $579 for the 32 GB model, however the price quickly adds up if you want the best experience, with the 64 GB model costing $679, the 4G-enabled model going for a whopping $879 and the stylus and keyboard dock selling separately for $50 and $120, respectively. Still, you get a very good business tablet, and if it's a corporate purchase for employees, it's one of the best devices you can get.