Against all odds, the iPhone still dominates the smartphone market, with Apple having sold more units than most of the Android competition combined. That has been the case for the iPhone 3, 3GS, 4, 4S and now 5 – all of them have been beating the records in sales, with the flagship Android phones shaking their virtual heads in disbelief.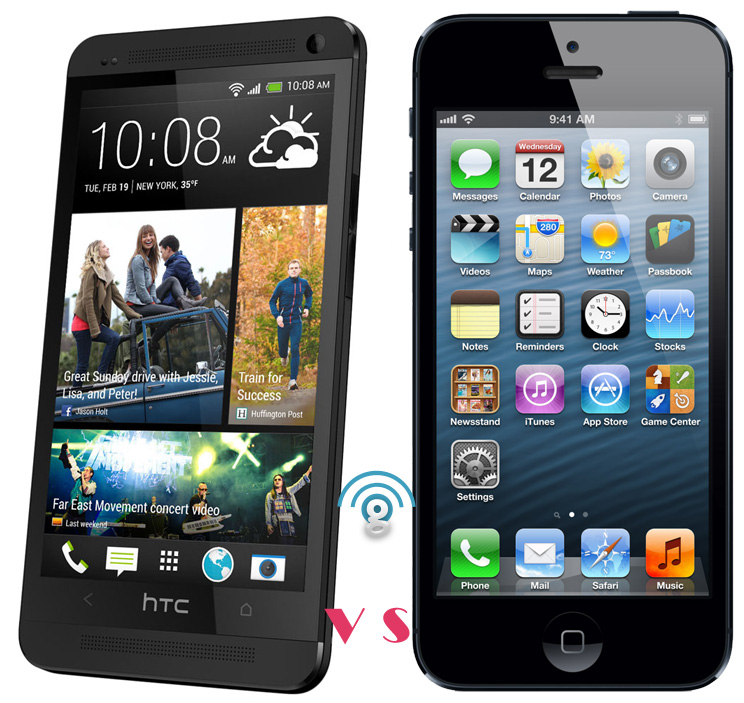 But the times are changing, for sure – while the previous iPhones had a somewhat lacking competition (mostly in software, but also in hardware), the iPhone 5 is pitted against some serious monsters, and with Apple's release cycle, it isn't a surprise that it can't hold out for much longer. In fact, compared to one of the newest Android smartphones – the HTC One – the iPhone 5 seems hopelessly out of league.
Design and build quality
HTC One
The HTC One is one beautiful smartphone – not only does it look good, it also feels great. The phone has a polycarbonate frame, which is actually very sturdy (even surprisingly so), but it doesn't feel plasticy or cheap at all thanks to the Gorilla Glass 2 on the front and the aluminum sheets covering the back and top and bottom on the front. It's definitely a weird combination, but it works very well.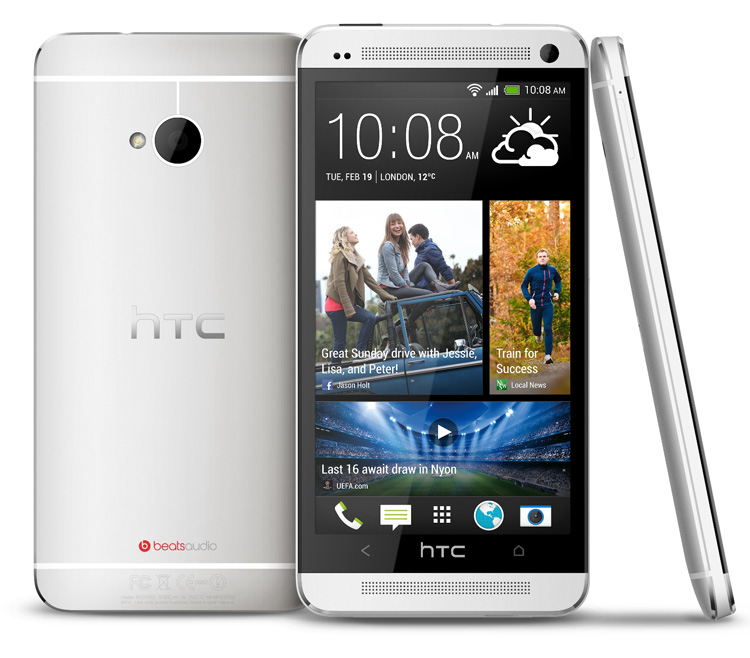 Looking at it from the front, you might mistake the HTC One for the iPhone 5 – if you squint hard enough, that is. It just has that trademark elongated look with rounded corners, plus the two aluminum pieces on the top and bottom covering the speakers (yes, there's 2 of them), microphones (also two in number), sensors and camera. But take a closer look at it and you know this is no iPhone – the phone is also unmistakably unique from the back and sides, as well.
Apple iPhone 5
I'll be the first to admit that the iPhone 5 is not an ugly phone – it's still one of the best looking and best built devices on the market, but it's just that the design is getting old. In a world where new smartphones are released every half a year, the nearly 3 year old design just gets to you. Despite the aluminum body and aluminum back cover (instead of Gorilla glass), the iPhone 5 looks just like its predecessor – aside from the larger display and lighter (also more scratch prone) body, of course.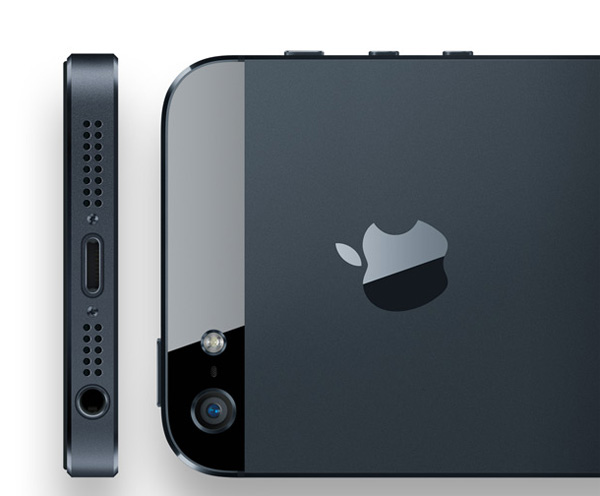 Side by side with the HTC One, the iPhone 5 looks old and puny, with the latter outclassing the former in style, as well as display quality – the 4.0" Retina Display is vastly outdone by the Full HD panel inside the One. Perhaps the only advantage that the iPhone 5 has is its light weight and the compact size, which makes it the better choice if you have small hands or just want to be fully able to use your touch screen with one hand without fearing of dropping the phone to the ground.
Hardware
Display and Cameras
HTC One
At the moment, the HTC One has the highest density display on a smartphone on the market. The 1920×1080 pixel, 4.7 inch Super LCD3 panel on this device looks absolutely marvelous – every detail is crisp and clear, the colors are as close to natural as you can get (which actually may be a drawback if you like the vividness of Super AMOLEDs), and the brightness is enough to make it possible to use the screen in broad daylight and even under direct sunlight. Playing games and Web browsing is an amazing experience on this screen, although pretty much every app looks so good you can't believe it.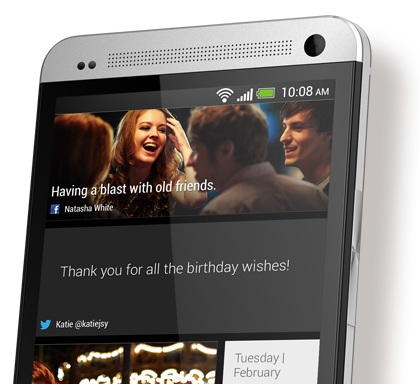 When it comes to cameras, the HTC One is also leading the way – while the front facing 2.1 Megapixels unit is nothing to write home about (though it supports 1080p video recording at 30 FPS, so it's great for video chat… and massive data bandwidth usage), the main unit on the back is something noteworthy – it's a 4 Megapixels camera that takes some of the best photos you've seen on a smartphone.
Now you'd think that "4 Megapixels" and "some of the best photos" can't really be used together in a sentence, but in this case, you'd be wrong. You see, the HTC One uses a camera-grade sensor, like the ones used on actual, honest-to-God dedicated cameras, which has larger pixels that can capture more light faster and therefore, provide a much higher picture quality.
Up until now, it was hard to manufacture such a sensor in such a small size – they use quite a lot of power, too, so manufacturers just went with an ever-increasing small Megapixel count, which as any self-respecting photographer can tell you, don't amount to much. In fact, Megapixels matter only up to about 6 Megapixels, and that depends on whether you'd like to someday print banner ads out of your photos – if not, even 3 good Megapixels are more than enough.
So, the large 4 Megapixels on the HTC One, which the company calls Ultrapixels in an effort to make a distinction and show people that there is a difference, are actually better than the 8-13 (or even 16) Megapixels we see on other smartphones. In fact, they are very close in quality to Nokia's PureView 808 and outmatch the original Nokia N8 (widely regarded as one of the best shooters out there).
Coupled with HTC's ImageSense technology, it lets you take high quality photos outdoors and in the dark, focus and shoot in less than a second, take 5 consecutive shots in 1 second, take photos while shooting HD video, and more. It's really impressive and it's what makes the HTC One a great choice for anyone who wants a good camera that always with them and doesn't take up any space or needs a charger.
Apple iPhone 5
The iPhone 5's Retina Display is still pretty impressive, even after coming from the HTC One or even a 1280×720 display that was the mainstay of 2012. It's a 4.0 inch panel, which is a step up for Apple – up until the iPhone 4S, they were saying that 3.5 inches are more than enough on a smartphone. It's got a non-standard resolution of 1136×640 pixels (but then again what's standard about the iPhone?), but iOS and all apps work great without issues, although you'll get black bars in some videos.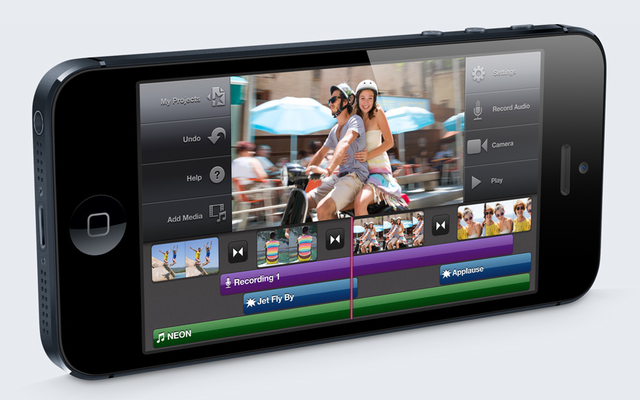 The picture quality is great – after all, it is a Retina Display, which means that your eye can't perceive the individual pixels – however, the HTC One still seems sharper, not to mention that it fits more content in the same screen space.
The cameras on the iPhone 5 are nothing special – after finally stepping up to a real 8 Megapixels shooter on the previous model, Apple did some minor improvements to the iPhone 5's lens and called it a day. The phone can still take 1080p video, and the photo quality is comparable to other smartphones – but not the HTC One. The front camera is a 1.2 Megapixels unit with support for 720p video recording, nothing out of the ordinary either.
Connectivity and Battery Life
HTC One
If there's one thing that the HTC One has, it's connectivity options. This phone is simply packed with the stuff, which makes it a great choice for a lot of people. First of all, it of course supports the usual Wifi N, Bluetooth 4.0 (with aptX for high quality audio), GPS/GLONASS, micro USB and HDMI out via MHL, NFC, HSPA+, 4G LTE, DLNA and Wifi Direct. Then it has the special extra punch – an infrared transmitter (built into the power button, no less) and support for the new Miracast wireless display standard.
These last two options are very attractive for the average user, as well as power users and developers. With the infrared transmitter, the HTC One can be turned into a universal remote for anything with a remote control, while Miracast means you'll be able to connect your phone to a display or TV wirelessly and use it for video, Web browsing, games and any apps. It's a pretty good advantage over the competition (including the all new Galaxy S4), if you ask me.
The battery is a 2300 mAh unit, which is sadly non-removable, but it should last up to 12 hours according to HTC. While I believe it will reach around 10 hours on a normal day, I don't see it going up to 12, unless you keep the brightness to a minimum and don't use 3G/4G at all. The display and processor are already power hungry, and with a wireless radio on, this phone would eat through any battery like it's nothing. Still, 10 hours is enough for a day's worth of work, plus you can always undervolt/underclock with a custom Android ROM (for a drastic increase in battery life) and use a portable micro USB charger any time.
Apple iPhone 5
Connectivity-wise, the iPhone 5 is OK – it's got everything you might need, except NFC and the ability to work with other non-iOS devices (using Wifi Direct or DLNA, for example). The phone has support for Wifi N, Bluetooth 4.0, GPS/GLONASS, HSPA+ or 4G LTE (depending on the model), Apple's own Airplay, and HDMI out.
The new Lightning port is mainly a downside – it's smaller, but the old connector would've fit just fine. You'll have to pay (a lot of money) for new cables or adapters, but hey, at least you get the ability to plug it in no matter which side is up.
The battery is a non-removable 1440 mAh unit, which is small and indeed doesn't last all that long – up to 8 hours. It's a good number, but the competition has already topped that – I can still remember when the iPhone lasted almost twice as long as any Android phone, but I guess that's not going to be the case anymore.
Technical Specifications
| Specifications | HTC One | Apple iPhone 5 |
| --- | --- | --- |
| Display | 4.7 inches, 1920×1080 pixels, Super LCD 3, 468 PPI pixel density | 4.0 inches, 1136×640 pixels, IPS LCD, 326 DPI |
| Processor | Qualcomm Snapdragon 600 (APQ8064T), 1.7 GHz, quad core | Apple A6, 1.3 GHz, dual core |
| RAM | 2048 MB | 1024 MB |
| Graphics Adapter | Adreno 320 | PowerVR SGX543MP |
| Storage Space | 32/64 GB onboard storage space | 16/32/64 GB of onboard storage space |
| Camera(s) | Back – 4 Megapixels (Ultrapixels) with LED flash and support for 1080p video recording; Front – 2.1 Megapixels with support for 1080p video recording | Back – 8 Megapixels with LED flash and support for 1080p video recording; Front – 1.2 Megapixels with support for 720p video recording |
| Connectivity Options | Wifi N, Bluetooth 4.0 with aptX, GPS, GLONASS, micro USB and HDMI out, NFC, HSPA+, 4G LTE, Wifi Direct, DLNA, Infrared remote, Miracast | Wifi N, Bluetooth 4.0, GPS/GLONASS, HDMI out, HSPA+ 42/5.76 Mbps, 4G LTE, Airplay |
| Sensors | Light, proximity, magnetometer, barometer, gyroscope and accelerometer sensors | Accelerometer, gyroscope, light, proximity and magnetometer sensors |
| Battery | 2300 mAh, up to 12 hours of continuous use | Li-Ion, 1440 mAh, up to 8 hours of continuous use |
| Dimensions and weight | 137.4 x 68.2 x 9.3 mm, 143 grams | 123.8 x 58.6 x 7.6 mm, 112 grams |
| Operating System and Software | Android 4.1.2 with all features (Face Unlock, Android Beam, Gestures, Google Now, etc.), HTC Sense 5.0 UI | iOS 6 with iCloud, Apple Maps, FaceTime HD, Siri, AirPlay, AirPrint |
Processor and Memory
HTC One
As one of the latest flagship Android handsets, the HTC One has more than enough performance to satisfy anyone. It uses Qualcomm's newest chip, the Snapdragon 600, which is both faster clock-for-clock than its predecessor (the Snapdragon S4) and features higher default clocks.
In this case, its 4 cores are running at 1.7 GHz each – coupled with 2048 MB of RAM and the Adreno 320 GPU, it provides an impressive amount of raw processing power. It's more than enough for any current apps and games, and it's highly unlikely that it will become slow in the next couple of years (you'll probably have to replace the battery long before that happens).
The storage space may be a problem – for a lot of people actually. The HTC One comes in two versions (for now) with 32 and 64 GB onboard. And that's it – there is no micro SD card slot. That is troubling because after you take away the 6-8 GB needed for the OS and apps, there's not much left for your data – and with HD videos, high quality photos, games that take 2 GB each, you'll run out of storage pretty fast, even on the 64 GB model. The only solution that I can think of is setting up an automated data offload to your computer or some cloud service like Dropbox or Google Drive, but that would require a fast Internet connection, not to mention that it would be pretty unpractical on a mobile connection.
Apple iPhone 5
The iPhone 5's processor was already slow by market standards when it was released half a year ago. Quad cores were already common place, and the new Apple A6 dual core inside the iPhone 5 is just a small upgrade over the similar dual core in the iPhone 4S. The A6 chip's only upgrades are the increase in clock frequency from 1 to 1.3 GHz and the added 512 MB of RAM for a total of 1024 MB. The rest of the platform remains pretty much the same. Sure, it's fast enough for most apps and iOS is really resource efficient, but the latest games are starting to look rather bad compared to the Android – there isn't enough power to run them at full quality.
Storage space isn't a surprise – the iPhone 5 comes in 16/32/64 GB and that is already starting to not be enough, as I already said. Manufacturers (including HTC with the One) thought they could get away with the same strategy on Android phones, but obviously it didn't work out that well since most of the other new phones have a micro SD card slot. With the iPhone 5, you could use iCloud or again, any other cloud storage service, but that's pretty inconvenient right now.
Software
HTC One
The HTC One is shipping with Android 4.1.2 (it's weird that it's not 4.2, but it's pretty much the same thing) and all of its standard features, plus a few customizations by HTC, which are pretty extensive as. The phone's main software feature is the new Sense 5.0 UI that has been redesigned to be simpler and newbie friendly, while still hiding all the advanced Android goodness underneath. Some people might find it too simple, in fact, but that's not a problem since you can easily replace the home screen app and customize it to your needs.
Overall, there aren't all that many unique apps – you've got the basic set plus all the Google apps, but you're practically left to make your own app collection and personalize the phone for your particular needs. The only two noteworthy apps are Blinkfeed and Zoe – the former lets you view the latest news that you are interested in (customizable) in an easy scroll view with live tiles, kind of like Windows Phone 7's home screen coupled with Google Now. Zoe is basically an app for creating gifs (short moving/repeating images), only in high quality (they also take quite a lot of storage space).
Apple iPhone 5
The iPhone 5, being the flagship iPhone, gets the latest iOS version – currently, it's 6.1, and it's the most stable and fast version yet. There's really nothing much to its interface – it's the same old icons on the home screen, with little customization abilities, and an extra row that fits in the space provided by the switch from a 3.5 inch to a 4.0 inch display. According to various sources, iOS 7 will be released relatively soon, and the iPhone 5 will get it, unless a new iPhone will be released at around the same time.
iOS 6 has Maps (which are still not as good as Google Maps), Siri (which is surprisingly still better than Android's voice commands), better Facebook, Twitter and other social integration and integrated support for iCloud – Apple's own cloud storage service. The app selection on the marketplace is what makes any OS worth choosing, and iOS definitely has it all, from the latest games to the best apps in every category (even though most of them are paid and more expensive than Android versions).
Upgradeability and Hackability
Jailbreaking/Rooting and custom ROMs
HTC One
The HTC One can have its boot loader unlocked via HTC's own HTCDev.com service, or you could wait for the Developer Edition that will arrive soon with 64 GB onboard and a $649 price tag. Either way, the ability to root and install custom ROMs is pretty much guaranteed, which makes this flagship even more desirable. With a custom ROM, you can get rid of Sense if you wish, install any apps, and generally do a lot more with your phone (like turning it into a Wifi-USB adapter for desktops, for example, or why not, a 3G modem).
Apple iPhone 5
While the iPhone 5 can be jailbroken (despite Apple's best attempts at stopping this practice) and you can indeed get some slightly more advanced capabilities like free tethering and more home screen customizations, installing custom ROMs or doing any heavy changes to the OS is pretty much impossible. Thankfully, Apple is known for updating their devices' software for a long time, so you'll have the latest version of iOS and apps for at least a couple of years.
Overclocking and Undervolting
HTC One
Since you can root the HTC One and flash custom ROMs, you can definitely overclock and undervolt the processor – this means that you can get an even higher performance or longer battery life out of it with a little work. The process has proven to be harmless, with the potential benefits being very attractive – the Snapdragon S4 could be overclocked by ~20%, which brought a noticeable increase in overall speed and snappiness. Undervolting can literally add hours to the battery life, letting you use the phone for longer without needing a recharge.
Apple iPhone 5
I've already mentioned this before – the iPhone 5 cannot be overclocked or undervolted, simply because there is no way to access the hardware at the level necessary for this. Sadly, this means you're stuck with the stock clocks of the already slow dual core, and you can't even undervolt it to save battery life (which is also lacking), either.
Summary
Notable features
| HTC One | Apple iPhone 5 |
| --- | --- |
| Beautiful Full HD display | Compact and light aluminum/glass body |
| Infrared transceiver (remote control) | Airplay support |
| Large battery | |
| Unique camera sensor with large pixel size | |
| Quad core 1.7 GHz processor and 2 GB of RAM | |
| Miracast support | |
Pros and Cons
HTC One
| Pros | Cons |
| --- | --- |
| Fast, future proof processor and RAM | Polycarbonate/aluminum body is stylish, but looks slightly less premium than the all metal iPhone |
| Crisp and bright Full HD display | |
| Infrared and Miracast add useful capabilities not found in other phones | |
| Main camera is one of the best around | |
| 2300 mAh battery can last up to 12 hours (more if using a custom ROM) | |
Apple iPhone 5
| Pros | Cons |
| --- | --- |
| Works well with Mac OS X | Battery life is on the low side these days |
| Supports Airplay | Limited connectivity and performance for the price |
| Phone is compact, easy to hold in one hand | Design is getting old |
| | Games run slower or in slightly lower quality than Android counterparts |
Who is the phone made for?
HTC One
The HTC One is undeniably a flagship Android device, and any enthusiast, developer or power user should love it. Not only that, it also has a unique design and great style, making it the perfect choice for people who want their phone to be a fashion item, as well. HTC has also worked pretty hard to make it friendly to new users – the infrared transmitter and simple user interface can make it an attractive offer for those who are new to smartphones but want to get the best device they can.
Apple iPhone 5
The iPhone 5 is more of a "people's phone". It's easy to use, looks great, but lacks the hardware power to make it interesting for power users (like gamers, for example) anymore. It would be a good choice for the average user, except there are better alternatives out there, including the HTC One – at the same price, no less. In my opinion, the iPhone 5 should be upgraded from, not to.
Price and Availability
HTC One
The HTC One has been delayed a couple of times, but it is finally on sale, and it goes for $100-200 on a contract depending on the network, or $599/$649 unlocked with no contract for the 32 GB/64 GB model, respectively. That's a very good price point, and for what you get, it's completely worth it – it's one of the bets phones you can get right now and probably this year.
Apple iPhone 5
The iPhone 5 has been on sale since last September, and is probably due for an upgrade this summer or fall. Nonetheless, it costs the same as it always did – $200 with a contract and $649-$849 (depending on the model – 16, 32 or 64 GB) unlocked without a contract. That's quite expensive as you can see – the HTC One with 64 GB costs the same as the cheapest iPhone 5. In my opinion, the HTC One is a much better choice, and you really have to be an avid Apple fan who wants a smartphone right this moment to buy the iPhone 5 now.