We've seen quite a few rugged smartphones hit the market in the past two years, but none of them were from any big name brands that actually knew what they were doing (not that it stopped them from being good rugged smartphones).
But this year at MWC, it was none other than Caterpillar (aka CAT, the maker of some of the largest heavy duty equipment and machinery in the world) that demoed their own rugged smartphone – and it's really something that you'd want to take with you if your work includes driving two story high vehicles, digging holes larger in diameter than the Tube or just hauling a few tons of metal from one spot to another.
The phone in question is unassumingly called the B15, it runs Android, it has some pretty good performance, it looks like it can withstand a fall from the Empire State building and indeed is IP67 certified against the most common smartphone killing elements found in nature.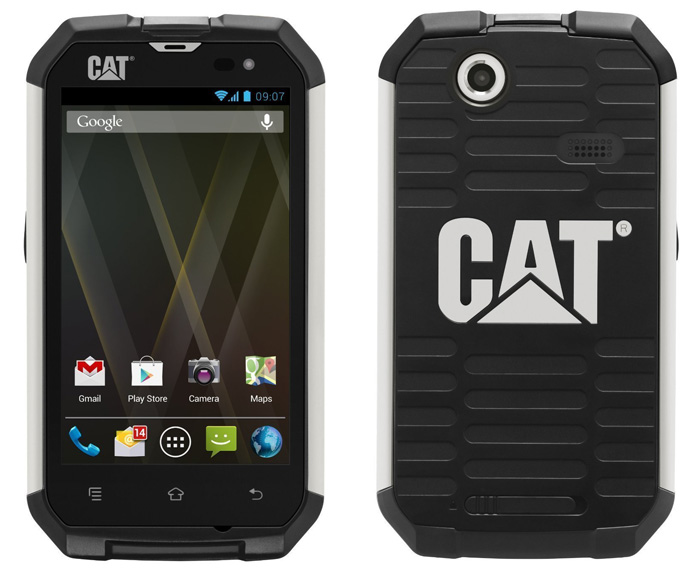 Design
The first Caterpillar phone looks just as you'd imagine – like a big, rugged brick – in the end, CAT has a reputation to uphold, don't they? It's a fitting design, actually, and it looks really nice all things considered. It's not thin and light, but it's meant for serious work and it shows.
The whole body is made of aluminum, with ample rubber on the outside (especially the corners) and a strong sheet of Gorilla Glass on the front. The buttons are of course rubberized and the micro USB port, audio jack and micro SD card slot are protected by covers that will let in neither dust nor water. The back cover is actually removable, which lets you access and replace the battery if you ever run out of juice in the middle of the day (which can only happen if you don't charge overnight).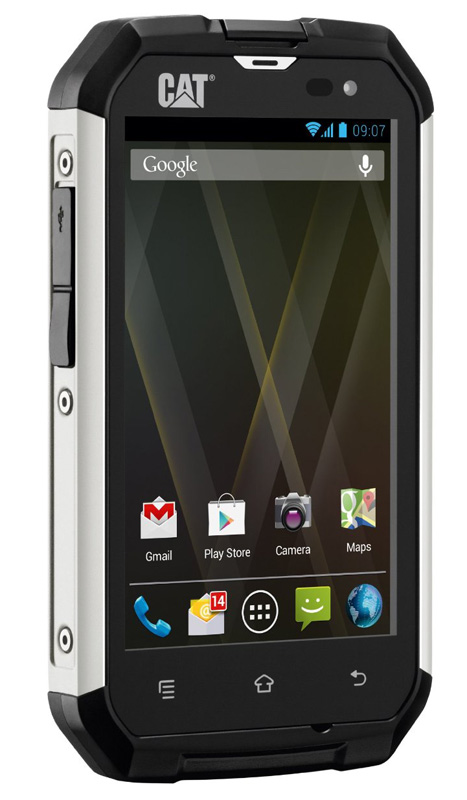 The CAT B15 is IP67 certified and can withstand being dunked (and operated – the touch screen works underwater and with wet fingers) in 3 feet of water for 30 minutes, dropped from 6 feet and being left out in the sun somewhere in Nevada or in Minnesota during winter. It can also be used as a substitute beach ball.
Hardware features and performance
The hardware specs aren't all that impressive, but they had to make some cuts somewhere, and who needs a quad core and Full HD display on a device that will most likely be covered in dirt anyway? The Caterpillar B15 uses the relatively unknown MediaTek MT6577 chip, which has a dual core 1 GHz ARM Cortex A9 processor, a PowerVR SGX GPU and 512 MB of RAM. It also supports dual SIM cards, but it's unknown if the B15 will be taking advantage of that feature (it would make a lot of sense if it does, though).
The screen is a simple TFT LCD that is 4.0 inches across and has a 800×480 resolution – it should be pretty comfortable for work, but you'll probably have to turn the brightness way high if you want to make out anything in direct sunlight. The phone has 4 GB of onboard storage space, as well as a micro SD card slot that lets you use cards of up to 32 GB in capacity.
The CAT B15 has two cameras – a pretty decent 5 Megapixels shooter on the back that supports 720p video recording (but strangely lacks an LED flash – it would've been useful as a flashlight), and a simple VGA camera on the front for video calls. The other specs include Wifi N and Bluetooth 3.0 adapters, GPS, HSPA 3G (up to 7.2 Mbps and 5.76 Mbps download/upload), an FM radio and a 3.5 mm audio jack. The battery is a 2000 mAh unit that should last around 10 hours (but that's only my approximation) of continuous work, and as I mentioned it's easily removable so you can always carry a couple of them just in case.
Technical specifications
| Specifications | Caterpillar (CAT) B15 |
| --- | --- |
| Display | 4.0 inches, 800×480 pixels, TFT LCD, 233 PPI pixel density |
| Processor | MediaTek MT6577, 1 GHz, dual core |
| RAM | 512 MB |
| Graphics Adapter | PowerVR SGX GPU |
| Storage Space | 4 GB onboard storage space, micro SD card slot (up to 32 GB cards supported) |
| Camera(s) | Back – 5 Megapixels camera with support for 720p video recording; Front – 0.3 Megapixels (VGA) camera |
| Connectivity Options | Wifi N, Bluetooth 3.0, GPS, HSPA 7.2/5.76 Mbps, FM radio, micro USB, 3.5 mm audio jack |
| Sensors | Accelerometer, gyroscope, proximity, light and magnetometer sensors |
| Battery | Li-Ion, 2000 mAh |
| Dimensions and weight | 125 x 69.5 x 14.95 mm, 170 grams |
| Operating System and Software | Android 4.1.2 Jelly Bean |
Software
The CAT B15 ships with Android 4.1.2 Jelly Bean from the factory, so it's a pretty useable phone out of the box. It's got everything you need to just power it up and go to work (after maybe doing some setup). The interface is standard Android, which is a good thing, and overall, there's nothing bad to say about the OS – it's one of the most stable versions of Android yet and it will be good enough for at least another couple of years if you're not especially demanding when it comes to software.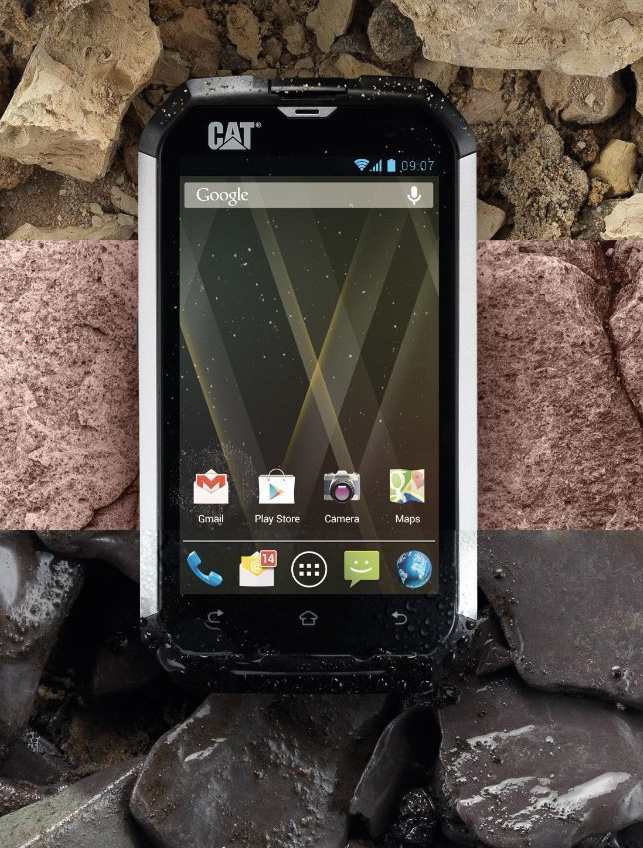 Price and Availability
The Caterpillar B15 is already shipping and it costs a cool $435 to buy – unlocked, without a contract. It's a pretty high price, actually, but you are getting a rugged smartphone from a well-known brand, so if you think you're going to need it or you just find yourself constantly breaking your phones, you might want to take a look at it.