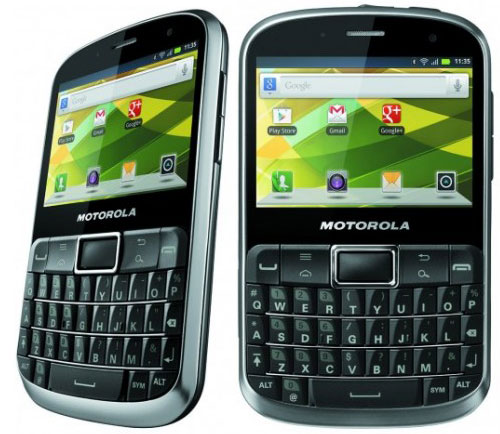 Motorola's Defy smartphone was unexpectedly successful when it came out, and along with the slightly updated successor, the Defy+, they're selling pretty well. Motorola is focusing on marketing these phones to the young and active crowd, but the handsets have been pretty popular with those who need a reliable everyday work smartphone that would not break at the first drop.
The Defy isn't a perfect work phone, though, especially for those working in the field or in corporate jobs. That's probably why the company released the Defy Pro – an IP67 certified rugged smartphone with a portrait QWERTY keyboard that can rival the Blackberry Bold 9900 and a decent set of hardware features – the perfect work horse for busy professionals.
Design
Unlike Motorola's previous attempts at a Blackberry alternative, the Defy Pro is almost a clone of the Bold 9900 when it comes to the design – I bet they thought "hey, RIM is having financial problems – they won't be able to sue us if we copy them now", and went ahead and created an almost perfect Android based Blackberry replacement, which a lot of people would want in their pocket.
The phone has a uniform design, with rounded and tapered edges that make it easy to hold the device, and unlike the unbalanced Admiral, this Motorola won't fall out of your hands. Even if it does, you'll be able to pick it up and continue without a hitch: the phone is shock, water and scratch proof, and if the Defy+ is anything to judge by, the Defy Pro will last a very long time even in the toughest of conditions.
Hardware features and performance
The hardware of the phone is pretty good – on the same level as most new Blackberries, and better thanks to the software. The keyboard is the centerpiece on this model, and it does not disappoint – it's one of the best portrait QWERTYs you can find… on any smartphone. Yes, you can finally drop your Bold for an Android phone without a downgrade in typing comfort.
The 2.7 display and its 320×480 resolution are a bit small by modern measures, but it's good enough for most users, unless you like to browse the Web while at work (in which case it will also help with procrastination :-). The other specs are nothing to write home about: there's a decent 1 GHz processor under the hood, and since it's single core, it will use much less energy than any of the multi core power hogs. Obviously, the phone has Wifi, Bluetooth, two cameras, a micro SD card slot and a relatively big battery – you can't complain about them.
Technical specifications
| Specifications | Motorola Defy Pro |
| --- | --- |
| Display | 2.7 inches, 320×480 pixels, LCD, 214 DPI |
| Processor | Qualcomm MSM7227A, single core, 1 GHz |
| RAM | 512 MB |
| Graphics Adapter | Adreno 200 |
| Storage Space | 1 GB of onboard memory, micro SD card slot for expansion (4 GB card included) |
| Camera(s) | Back – 5 MP; Front – 0.3 MP |
| Connectivity Options | USB, Wifi N, Bluetooth 3.0, GPS, HSPA |
| Sensors | Accelerometer, compass, light and proximity |
| Battery | Li-Ion, 1700 mAh; approx. 12 hours of usage time |
| Dimensions and weight | 110 x 66 x 11.95 mm, 115 grams |
| Operating System and Software | Android Gingerbread 2.3.7 |
Software
The software of the Defy Pro is disappointing – Android 2.3.7 Gingerbread is not really what I'd imagine running on a work oriented phone. Hopefully Motorola will release an update soon, because the encryption and other business features that come with Android 4.0 are not to be underestimated.
Price and Availability
The Defy Pro is already in stores and on networks, reselling for under $100 – an acceptable price for a rugged (possibly indestructible, if you believe the ads) Android smartphone with a Bold 9900-level keyboard and decent internal hardware. If you want a good Android smartphone for field work, this is it.