Samsung has overtaken the Android smartphone market pretty unexpectedly, but it was only a matter of time given how well their Galaxy smartphones were made and given the sheer number of total handsets sold. The Galaxy S3 was last year's top selling smartphone, and even with the S4 on the doorstep, it's still an amazing device to buy and use.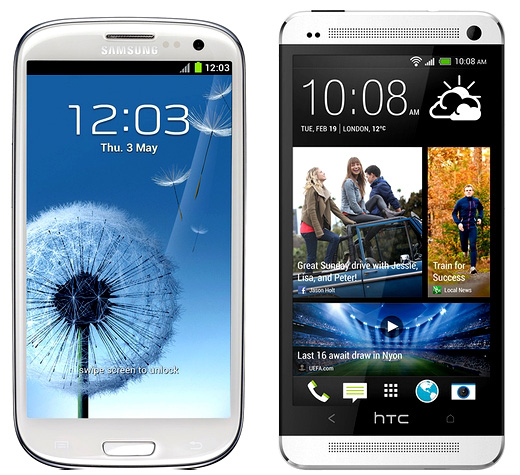 Samsung's handsets have attracted many fans of other companies, especially HTC, which has been quite disappointing up to last year. However, HTC's One series has brought the attention back to the company, and if you still weren't sure whether they are committed to once again become the leader on the market, this year's HTC One will definitely help you reach that conclusion.
If you're a fan of HTC in exile, this may be the perfect time to switch back – compared to the Galaxy S3, the HTC One has a lot of things going for it. Let's take a detailed look at both smartphones to see just how far HTC has rebound.
Design and build quality
Samsung Galaxy S3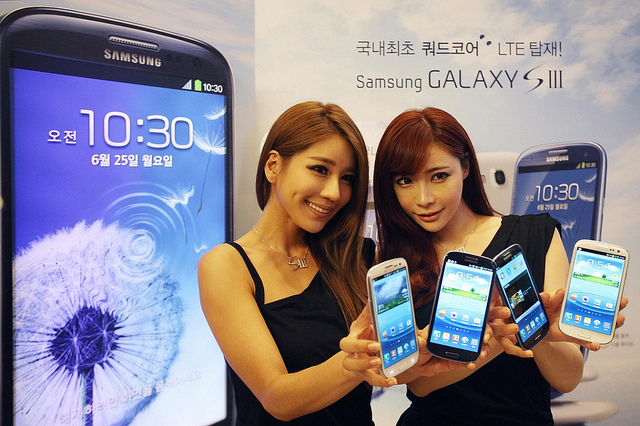 We all know how the Galaxy S3 (and other Samsung phones for that matter) is built – it's made mostly out of plastic yet it's still very sturdy, even if it does have less of a premium feel than the iPhone and other metal clad smartphones. There's nothing inherently wrong with that, but really, for the asking price and with metals becoming cheaper and more available, Samsung's excuses for using plastic exclusively are running out.
The design is pretty great, though – it's unique, the phone is easy to hold and use and there's nothing to complain about. Moreover, the Galaxy S3 comes in quite a wide range of colors (white, blue, brown, red, black and grey), all of which are unique and look really attractive – you may have a hard time to choose, but it's worth it.
HTC One
The HTC One is a refreshing sight, that's for sure. It's got a very unique combination of style and materials that makes it one of the, if not THE most attractive smartphone on the market at the moment. It's got a polycarbonate frame on the inside, BUT it's also covered in aluminum on the outside, making it both light and sturdy at the same time. The white and gray combination of colors looks really nice, and the darkened Gorilla Glass 2 on the front stands out just enough to attract attention, but not distract from the experience (it's also very scratch resistant, of course).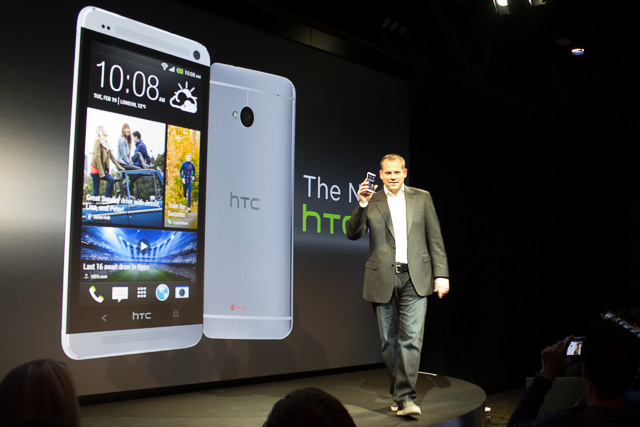 The HTC One looks like a cross between the iPhone 5 (but barely, only at a first glance from the front) and HTC's own Droid DNA, which is also a very sleek handset. It's very thin, and its tapered edges on the back makes it easy to hold despite the size – which by the way isn't all that large considering the 4.7 inch display it uses, HTC made the bezel as narrow as possible (it's just as narrow as on the Galaxy S3, actually).
Hardware
Display and Cameras
Samsung Galaxy S3
The Samsung Galaxy S3 had one of the best screens when it was released, and as a matter of fact, its 4.8 inch, 1280×720 pixels Super AMOLED screen still looks amazing. At this size, the pixels are pretty much unnoticeable, and with Super AMOLED black levels and vivid colors, you get a very nice picture – although it looks a bit oversaturated sometimes. Any video playback or games are a great experience, plus you get the benefit of lower power usage compared to similar TFT or IPS displays.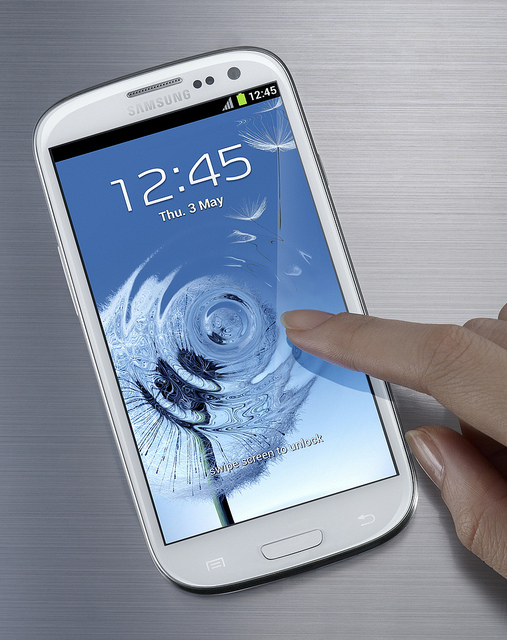 Just like most of the other smartphones on the market, the Samsung Galaxy S3 packs two cameras inside the housing – an 8 Megapixels shooter on the back that has an LED flash and supports 1080p video recording and a 2 Megapixels front camera that is meant for self-snaps and HD (in 720p resolution) video chat. The picture quality of the main camera is pretty good, although compared to HTC's One series and Nokia's new phones, the Galaxy S3 has a slower autofocus and slow shooting time (or better said, HTC and Nokia are faster, thanks to the use of dedicated image processors).
HTC One
HTC One is one of the phones that leads the charge into Full HD display territory. Moreover, it packs all those pixels into a 4.7 inch screen, giving it a record breaking 468 PPI pixel density. Needless to say, the picture quality is amazing – and thanks to the Super LCD3 panel, the colors are as close to the real thing as possible. In fact, it's like looking at a real life portrait instead of a display. The screen is great even outdoors – easily comparable to the Super AMOLED on the Galaxy S3 or any other display on the market.
The pixels are, of course, indistinguishable, and everything looks sharp and crisp – Web pages are an especially good sight on this phone. Compared to the Galaxy S3, the colors don't pop out as much, and in everyday use, the difference is minimal, but when you use it for a longer time, you can't help but think "wow, this is an awesome display!" every once in a while.
The cameras are a special point on the HTC One – while the front unit is a simple 2.1 Megapixels shooter that supports 1080p video recording (which is great, but 720p is better suited for video chat on the go, in my opinion), the rear facing camera uses a new 4 Megapixels sensor that makes the picture better than just about any other phone out there excluding the Nokia PureView 808 and maybe the original N8 camera.
How is that possible, you ask? Well, the new camera uses larger pixels (which is why HTC coined the term "Ultrapixels"), which improves the photo and video quality far more than simply adding several million more small pixels. The pixel size is the same as on regular point and shoot cameras, and even though the end image is smaller (at 2240×1680 pixels, compared to 3264×2448 for an 8 Megapixels sensor), its quality and sharpness are higher.
The reason why is that the larger pixels let in more light, which leads to a more detailed image and much better photos in any conditions – from sunny outdoors to an LED-lit cavern. Coupled with HTC's ImageSense technology, you can autofocus and take a picture in less than 1 second and take continuous bursts of 5 frames per second – we've first seen this on the One X, and it's still an impressive feat.
It'll probably take a while before people understand that Megapixels aren't the end all for everything anymore, so kudos to HTC for leading the charge – it's a risk for them, but I think it's worth it. Just look at various shots from the HTC One and Samsung's Galaxy S phones or any of the iPhones, and you see the difference immediately – no need to do any convincing, the proof is already out there.
Connectivity and Battery Life
Samsung Galaxy S3
Samsung's Galaxy S3 is one of the most feature rich smartphones on the market, and it's pretty hard to argue with that. It's got all the standard stuff covered, including Wifi N, Bluetooth 4.0 with aptX support, NFC, USB with HDMI via MHL, GPS/GLONASS and DLNA. Depending on what network you buy it from, you also get HSPA+ or 4G LTE. Thanks to Wifi and Bluetooth, there's also a host of capabilities made possible by Android – Android Beam, Wifi Direct, and others.
The battery life has proven to be pretty good for such a high end device – the 2100 mAh unit achieves the 10 hour quoted mark quite often, but if you need more, you can easily buy a second battery and change it if the first one runs out of juice. Of course, you could say that there are compact portable chargers available, but none are as small as the battery itself, especially if you take into account the energy density.
HTC One
HTC has gone all out with the One – this phone has all the usual stuff plus a few extras that will make you think twice before going with any other handset. Aside from Wifi N, Bluetooth 4.0 with aptX, GPS/GLONASS, micro USB with MHL, NFC, DLNA, HSPA+ and 4G LTE, you also get support for the Miracast standard (if you didn't know, it's basically a new open standard for wireless display connections, a competitor to Intel's WiDi) and an integrated infrared transceiver, which is stealthily hidden inside the power button.
And yes, the latter two features mean you can potentially use your phone on a big screen without any wires and use it as a remote control for any of your electronics. I've missed IrDA since the PDA days – I really liked having an all in one device for music, calendar and TV/DVR remote control, it was very handy. Since most modern equipment still use good old infrared remotes and most people don't understand or want to bother with Wifi, DLNA and other new technologies, this small addition can potentially capture an even wider user base. Miracast is still new, but it looks like a worthy competitor to Intel WiDi and as more devices get support for it in the future, the possibilities get more exciting.
The HTC One's battery is non-removable, which may be a downside for many people – but it's nothing new if you're used to the iPhone or any other smartphone with a sealed-in battery. It's a pretty large 2300 mAh unit that's supposed to last up to 12 hours of use, but it really depends on how you use it – the Full HD screen and 1.7 GHz quad core processor are really power hungry, so if you use it as a gaming console, it should run out pretty fast (I'd say in 6-8 hours). But it should definitely reach the said 12 hours in Web browsing over 3G, video/audio playback, calendar/document editing and other light usage.
| Specifications | Samsung Galaxy S3 | HTC One |
| --- | --- | --- |
| Display | 4.8 inches, 1280×720 pixels, Super AMOLED, 306 PPI pixel density | 4.7 inches, 1920×1080 pixels, Super LCD 3, 468 PPI pixel density |
| Processor | Exynos 4 Quad, 1.4 GHz, quad core | Qualcomm Snapdragon 600 (APQ8064T), 1.7 GHz, quad core |
| RAM | 1024 MB | 2048 MB |
| Graphics Adapter | Mali-400MP | Adreno 320 |
| Storage Space | 16/32/64 GB built-in, micro SD card for up to 64 GB cards | 32/64 GB onboard storage space (26 GB user accessible) |
| Camera(s) | Back – 8 Megapixels with LED flash and support for 1080p video recording; Front – 2 Megapixels with support for 720p video recording | Back – 4 Ultrapixels with LED flash and support for 1080p video recording; Front – 2.1 Megapixels with support for 1080p video recording |
| Connectivity Options | HSPA+, Wifi N, Bluetooth 4.0 with aptX, LTE (network dependent), NFC, USB, HDMI, DLNA, GPS, GLONASS, Wifi Direct | Wifi N, Bluetooth 4.0 with aptX, GPS, GLONASS, micro USB and HDMI out, NFC, HSPA+, 4G LTE, Wifi Direct, DLNA, Infrared transceiver, Miracast |
| Sensors | Accelerometer, gyroscope, proximity, light, magnetometer, barometer | Light, proximity, magnetometer, barometer, gyroscope, accelerometer |
| Battery | Li-Ion, 2100 mAh, up to 10 hours of continuous use | 2300 mAh, up to 12 hours of continuous use |
| Dimensions and weight | 136.6 x 70.6 x 8.6 mm, 133 grams | 137.4 x 68.2 x 9.3 mm, 143 grams |
| Operating System and Software | Android 4.1 Jelly Bean, Touch Wiz 5.0 UI | Android 4.1.2 Jelly Bean, HTC Sense 5.0 UI |
Performance
Samsung Galaxy S3
Performance wise, the Galaxy S3 is one of the top smartphones in the world, and it will likely stay among the top 10 for a pretty long time – most of the owners will most likely upgrade way before they start maxing out the processor. The phone, by the way, uses Samsung's own Exynos 4 Quad platform, which has four processor cores running at 1.4 GHz, the Mali-400MP graphics adapter and 1024 MB of RAM.
While the first two won't be a problem anytime soon, the 1 GB of RAM is actually starting to not be enough for power users. As apps get more and more resource intensive, and as people use more of these apps, 1 GB will go the way of 512 MB pretty soon – not that there will be any major slowdowns, but it will be noticeable for those who use their phone to its fullest extent.
On the storage side, however, everything is just peachy – even if you get the 16 GB version of the phone, you can always pop in a 32 or 64 GB micro SD card and know that you have enough memory to last the lifetime of the phone. That's in stark contrast to the 32 GB only HTC One.
HTC One
Being HTC's flagship phone for at least the first half of 2013 (and most likely the whole year), the One should have enough performance to compete with anything the other manufacturers can come up with – and it does. The new Qualcomm Snapdragon 600 platform used in the phone is fast enough to top not only every other previous generation chipset, but also some Ultrabooks in raw processing power.
The phone has 4 processor cores running at up to 1.7 GHz, which are faster clock-for-clock and more energy efficient than the predecessor Snapdragon S4 Pro at the same time. Coupled with the Adreno 320 GPU and 2048 MB of RAM, it means that you won't have any issues performance wise for a very long time – or most probably, never. It's really that fast!
Only the storage space may be an issue – there's only 32 GB onboard on the base model, 6 of which are taken up by the operating system, so if you store a lot of stuff on your phone, you might want to get a better data plan and a Google Drive account or spend more for the 64 GB version of the phone.
Software
Samsung Galaxy S3
The Samsung Galaxy S3 comes with Android 4.1 Jelly Bean pre-installed, and so far the company still hasn't announced any plans for a 4.2 upgrade (it's probably reserved for the upcoming Galaxy S4 for now). That doesn't really matter though, since version 4.1 is still an excellent OS – it's very stable, fast and can run any apps and games you may find on the Google Play Store. The OS has a lot of great built in features, including Android Beam, Blocking Mode, Face Unlock, amazing home screen customization options, Google Now (which gives you location/time based information – very useful at times), and more.
Samsung's customizations include the Touch Wiz 5.0 UI, Home Screen Modes, various home screen widgets, S Voice (basically Samsung's Siri for Android), Smart Stay (which keeps the display on while you're looking at it – pretty nifty), an advanced camera app and other stuff, all of which is actually useful as opposed to cumbersome.
HTC One
The HTC one also comes with Android 4.1, offering pretty much the same standard features you'll see on the Galaxy S3 and other phones running this version of the OS. HTC has also added their own stuff, as well, and there's plenty of it.
The new Sense UI has been redesigned and even though it has a few drawbacks, it does bring quite a few improvements. The user interface is now more minimalist, it looks sleek and it's somewhat simplified for new users, a fact which experienced Android users may not like since it's harder to relearn. HTC's so-called Blinkfeed is like a mix between Google Now and Windows Phone 7 live tiles – it brings you all the information you need at a glance. It looks pretty good, and while it could be achieved on any phone with a bit of work and a few apps, it works better when it's all tightly integrated by one company.
One interesting and much talked about feature is Zoe, which basically lets you create gifs (complete with Instagram-like effects) to share and post online – it's actually simple to create, really, but it works best on the new HTCs thanks to their incredibly short camera power up and autofocus/shoot time. The HTC One technically has less apps and features than the Galaxy S3, which may be a drawback for some, but really, if you're missing something, a quick look on Google Play Store will most likely solve that.
Upgradeability and Hackability
Rooting and custom ROMs
Samsung Galaxy S3
The Galaxy S3 was an olive branch from Samsung to the developers/modders community – the company promised that their handset will be completely unlocked and ready for tinkering and even sent a couple of phones to the developers of CyanogenMod, the most popular custom Android ROM on the market. So you can rest assured that your Galaxy S3 will stay fresh for a very long time when it comes to the software.
Like for example right now, there's no Android 4.2 for the phone – well, there are already several version of third party ROMs on XDA forums! Any kind of user will benefit from being able to root their phone and flash custom ROMs, and the Galaxy S3 doesn't put any roadblocks in their way, like Motorola does, for example.
HTC One
HTC is also on the right track when it comes to custom ROMs and rooting – they have a special site (HTCDev.com) set up where you can unlock your phone and be on your merry way to flashing the latest Android version you can find. You'll also find all the source code necessary for creating your own ROMs there or at least get the drivers needed for your phone to work.
Interestingly, the company has a Developer Edition HTC One in line, a 64 GB version of the phone that will retail for $649 completely unlocked and contract-free, but you'll be able to unlock the regular version, as well. Coupled with the awesome hardware specs, the HTC One is sure to be actual for years to come – you won't get rid of it that easily.
Overclocking and Undervolting
Samsung Galaxy S3
The Galaxy S3 has already been proven to be an excellent overclocker, with the processor going up to 1.7 GHz easily and even higher if you have a lucky handset. There are also several ROMs that have it undervolted and underclocked for the best battery life. The GPU is also overclockable, so it's really easy to get your Galaxy S3 to the same level as the HTC One and other new handsets with just a bit of time invested, or get 15+ hours of battery life by sacrificing some top performance in games.
HTC One
Seeing as the phone can be rooted and you can flash custom ROMs, I'd say it's a given that it can also be overclocked and undervolted. Qualcomm chips have been pretty good at the former and a bit worse than the competition at the latter, so you're more likely to get higher performance down the road out of the HTC One, but you should also get a pretty good increase in battery life with undervolting (or just simple underclocking!) if you really need it.
Summary
Notable features
| Samsung Galaxy S3 | HTC One |
| --- | --- |
| 4.8 inch Super AMOLED display | Full HD display |
| Micro SD card slot | Infrared transceiver |
| Removable battery | Sturdy aluminum exterior |
| | Large pixel camera sensor |
| | Miracast support |
| | |
Pros and Cons
Samsung Galaxy S3
| Pros | Cons |
| --- | --- |
| 64 Gb model available | 1024 MB RAM is starting to be not enough |
| Micro SD card slot for extending storage space | |
| Vivid and energy efficient Super AMOLED display | |
| Removable battery for the most battery life without carrying an oversized charger around | |
HTC One
| Pros | Cons |
| --- | --- |
| Premium look and feel, sturdy body | Power hungry hardware, battery is non-removable |
| Gorgeous Full HD display | No way to extend the storage space |
| Can work as a normal universal remote using the infrared port and transmit video over Wifi using Miracast | |
| Has a better main camera, as well as a dedicated image processor for it | |
Who is the phone made for?
Samsung Galaxy S3
The Galaxy S3 is a phone made for those who want one of the most powerful and functional device in their pocket, but it's also a great choice for users who are more style-oriented. People new to smartphones or Android will also find it a good choice, but the user interface will take some getting used to.
HTC One
The HTC One is pretty much the most advanced Swiss army knife of a smartphone, and it targets a very wide audience – from power users and developers that need the most powerful quad core processor and a Full HD display to regular users switching from the iPhone and other phones to something easy to use yet powerful and stylish at the same time, as well as normal people who are new to smartphones and want to have some extra features that will be useful in day to day life. The simple interface and the infrared port will most likely attract the attention of the latter.
Price and Availability
Samsung Galaxy S3
The Samsung Galaxy S3 is a long time on sale and you can get it for around $150-200 with a contract or $550-650 without a contract and unlocked. That's a great price, and judging by the previous two models, the resale price will be quite high even in a couple of years. The prices are lower now that the Galaxy S4 is also out, so it's the perfect time to get this phone – unless you want something more future proof and more unique, in which case the HTC One is a better choice.
HTC One
The HTC One is already on sale as well, as low as $99 with a contract or $559 for the 32GB unlocked and $629 for the 64GB unlocked, which is a very competitive price that fares well against the iPhone, the Galaxy S3, HTC's own Droid DNA on Verizon and many other high end phones. If you want one of the most unique and powerful phones at the moment, this is the device worth considering – especially since the Galaxy S4 is just an updated version of the S3.