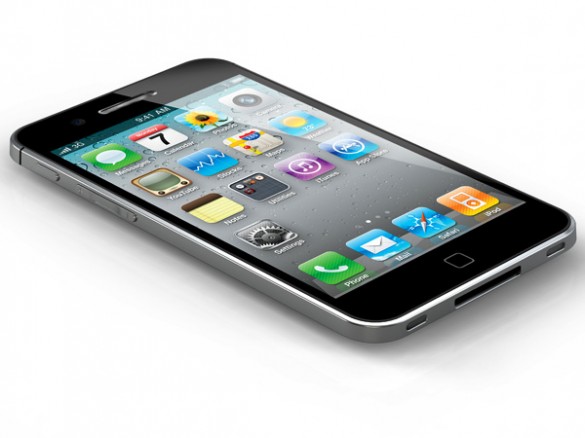 It could be that iPhone 5 – possibly the "new iPhone" – is launching this summer. Korean site ETNews says it will debut at Apple's very own Worldwide Developers Conference (WWDC). The website also claims iPhone 5 will have a liquid metal chassis, an alloy of copper, zirconium, titanium, nickel, and several other metals that leave its surface as smooth as liquid.
According to ETNews, Apple is pushing through with a summer release of their next-generation iPhone. This is in contradiction to what most believe – us, including. Most predictions point to a late-year announcement of iPhone 5, sometime around September or October. But there are some who say it will come out this summer and ETNews corroborates these remarks, adding that it will launch this July at WWDC.
The Korean website also reported a new detail concerning the design of iPhone 5. They cite "industry sources" who say that Apple's next flagship phone will have a liquid metal casing. Sources even mentioned the ceramic body of Samsung Galaxy S3 which has been rumored prior to today's report.
"The new phase of this rivalry is because neither one of them [iPhone 5 and Samsung Galaxy S3] can get a decisive edge over the other solely with its OS and AP specifications, features or design," said an unnamed source to ETNews. Both materials – liquid metal and ceramic – are thin, lightweight, and highly resistant to impact.
In all honesty, Samsung's ceramic choice for SGS3 doesn't stand out much. Its Android competitor, HTC One X, already has a similar casing brought upon by micro-arc oxidation. Between the two, the case would be a rivalry of specs, features, and design given their similar OS and build material. Apple's choice to opt for liquid metal with iPhone 5, on the other hand, is a fresh concept and gives it a unique edge over flagship Android phones. No matter how surreal "liquid metal" seems to be, Apple did acquire rights to "amorphous metal alloys" from Liquidmetal Technologies last August 2010. After hiring engineers to work with the material, no concrete application of it surfaced until today.
ZTNews is a hit-and-miss when it comes to rumors so we remain skeptical of their claim that iPhone 5 is launching this summer at WWDC. The liquid metal body of iPhone 5 may be true however. The upcoming iPhone needs a more resilient case if it were to have 4.6-inch screen as previously reported.
Besides, the glass body of iPhone 4 is no longer practical these days. Although it looks elegant, we would appreciate a phone that doesn't shatter when dropped on the floor. If you could recall, Samsung Galaxy S2 and iPhone 4S underwent a drop test months ago. SGS2 just bounced off concrete pavement with minor scratches but iPhone 4S shattered on the front and back.
via ETNews