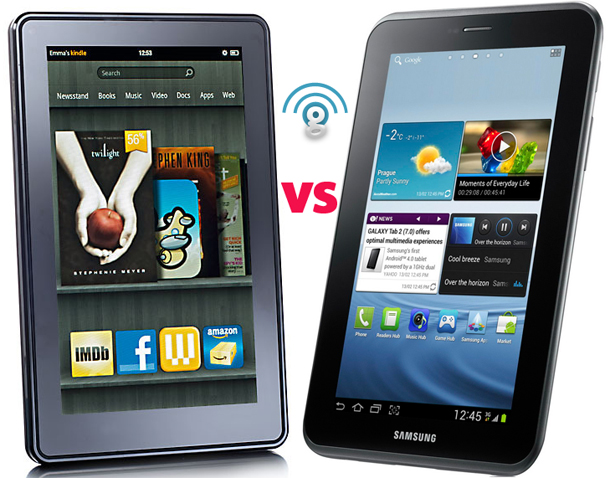 The Kindle Fire was (and still is) popular mainly for two reasons: it's marketed by Amazon and it's one of the cheapest tablets on the market – thanks to Amazon's subsidies, you can get it for $200. Sadly, you're not getting a lot of features that other tablets have (like a camera or Bluetooth) and you're not even getting the full version of Android, instead being limited to Amazon's custom version of it, with access only to the Amazon app store and an interface that is geared towards reading stuff more than media or Web browsing.
Well, now the almost-tablet has a really good competitor in the form of the Galaxy Tab 2 7.0 – the successor to the first Galaxy Tab 7.0 and a great choice for anyone who wants a decent, affordable tablet that can be used for anything. Is it worth paying $50 more and choosing it over the Kindle Fire, though?
Design
The Samsung Galaxy Tab 2 7.0 looks quite a lot like its predecessor – it has the same overall design and rounded corners, with a plastic cover on the back and the front being covered by a sheet of strong, scratch resistant glass (not sure if it's Gorilla glass, though). The Kindle Fire looks much plainer with its unassuming black finish and uniform style. It's up to your individual style, but I think the Galaxy Tab 2 looks better overall and will appeal to more people.
Hardware features and performance
Interestingly, the hardware of the Galaxy Tab 2 7.0 is very similar to the Kindle Fire, except it has a few additions that make it a full-fledged tablet instead of a specialized reading slate. The Galaxy Tab 2 7.0 has two cameras (3.0 and 0.3 MP on the back and front, with HD video support), a micro SD card slot and Bluetooth and GPS radios – all of which are absent on the Kindle Fire. The amount of RAM memory is also bigger on the Galaxy Tab 2 – 1024 MB vs 512 MB on the Kindle Fire.
The rest of the specs are the same: both tablets have a 7 inch display with a 1024×600 pixels resolution, the TI OMAP 4430 SoC running at 1 GHz and the PowerVR SGX540 GPU, 8 GB of onboard storage space and the same battery life.
Specs comparison table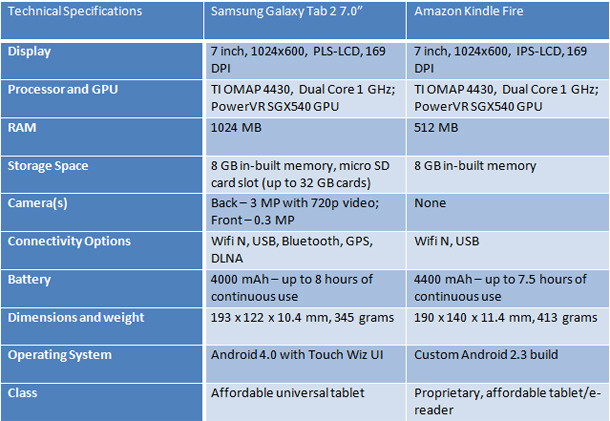 Price, availability and conclusion
The Samsung Galaxy Tab 2 7.0 costs $250, which is definitely a low price for a nice tablet from a recognized brand. With a full Android 4.0 installation, this is one of the best affordable tablets to get – the Kindle Fire may cost $50 less, but its limitations are not worth the savings, especially when the Kindle Android app can do pretty much everything the specialized tablet/e-reader can.