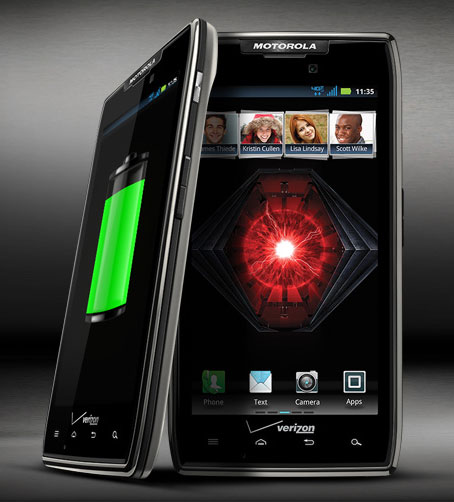 About a week ago, the white Motorola RAZR hit UK for ₤380. But an even-better Motorola phone is hitting UK next month. Motorola RAZR MAXX is bound for United Kingdom along with the rest of Europe and the Middle East starting May. In all honesty, the phone leaves us plenty of reasons to consider it over those offered by competitors. After comparing its mighty specs to Motorola RAZR, it's about time we make an exclusive review of RAZR MAXX.
Design
If Motorola RAZR MAXX had a gender, it would be male. The phone's overall design gives it a masculine look with its oddly shaped corners. Adding to the manliness of this smartphone is its KEVLAR fibre body – a material used for making bullet-proof vests. The splashguard coating of the cover which extends deep into the circuitry gives Motorola RAZR MAXX an added protection against moisture. Of course, what robust phone would be complete without a Corning Gorilla Glass to protect the display? Gorilla Glass helps keep the display free from scrapes and scratches – though, sand is a known kryptonite.
The 9mm, okay 8.99mm width of RAZR MAXX places it in between slim and bulky. It's more comfortable to hold than its predecessor though, because of its less pronounced slopes. Although it tips the scales at 5.11 ounces, we could let this design flaw get away because it has a healthy battery underneath its KEVLAR chassis which we'll talk about later.
Specs and Features
The most notable spec of Motorola RAZR MAXX is neither its 4.3-inch Super AMOLED display nor its upcoming Ice Cream Sandwich update in the future – yes, it is still on Gingerbread. Rather, it is the 3300mAh battery inside the phone which caught our attention. Android smartphones have bad reputations when it comes to battery life but RAZR MAXX would last longer than usual. Testing reveals it could last up to 2 days on moderate use though an active LTE connection brings down to 11 hours when streaming videos using LTE. While the battery is non-removable, we won't need an extra battery anyway.
We've pretty much covered everything about RAZR MAXX. All that's left to say is that it has 1GB of RAM, a 3.5mm audio jack, a micro USB port, a separate micro HDMI port, an 8-megapixel rear camera capable of taking 1080p videos, a 1.3-megaixel front camera, 16GB internal memory, and an extra microSD card for expanding the phone's memory.
Verdict
Motorola RAZR MAXX is an impressive device. It doesn't quite match up to our expectations for a 2012 release but the monstrous battery makes it worth every penny. Because really, all we ever dream of with our Android phones is a long battery life enough to last us for at least a day. RAZR MAXX is a dream-come-true for every Android user who struggles with battery life every single day.