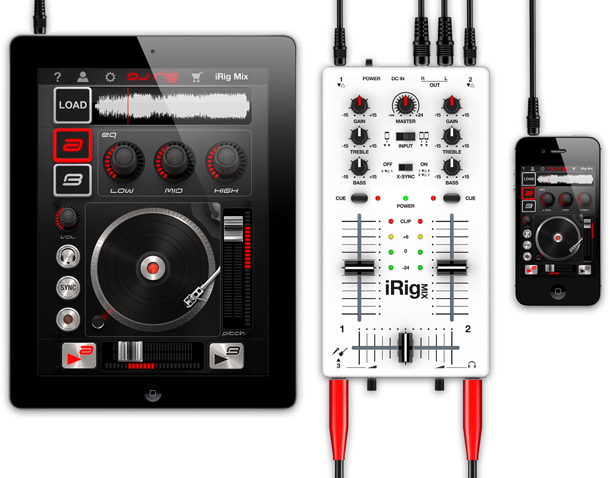 DJs have gone mobile these days, bringing with them svelte mixers of their choice wherever they're needed – be it a house party or a huge event. iRig MIX belongs to the same category of mixers except it's easier to carry around. Beyond that, MIX is the ultimate portable mixer given its full compatibility to iOS devices. Basically, it allows you to mix music on your iPhone, iPad, and iPod Touch and take the party anywhere with you.
Design
iRig MIX has an ultra-compact design. To put it perspective, it is about twice the height of an iPhone, half the width of an iPad, and as thick as both devices stacked on each other. It weighs only 10.4 ounces and will easily fit in to your bag along with other gadgets. It has a smooth texture on all sides and is – in its essence – a white slab. You won't have a hard time distinguishing the knobs and controls since they're painted in a contrasting black color.
Controls also have white and red accents so you know where they're pointing. All connectors are located on the upper edge so cables won't get in your way. Also worth mentioning is the fact that iRig MIX has the same controls as a professional DJ mixer including cues, EQ, crossfader, volume, and several others.
Features
iRig MIX is the first portable mixer specifically designed for mixing audio on iOS devices. The standard 1/8-inch stereo mini inputs included in the package means you can easily connect your iPhone, iPad, or iPod Touch. Besides connecting these devices, MIX happens to have an input for connecting guitars or microphones. With the help of third-party applications you can perform real-time audio tuning, effects, and processing.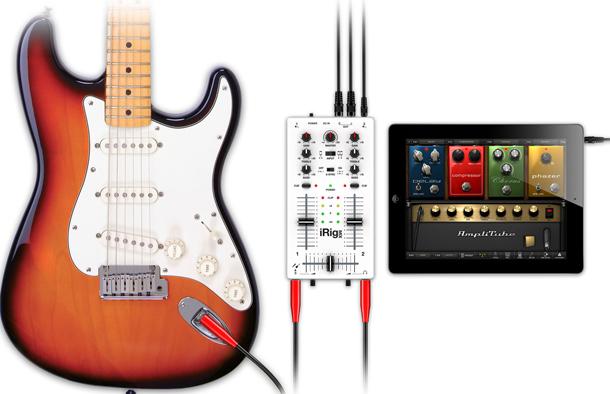 MIX features a dual-mono output for splitting sound into two separate channels. That means you don't need two iOS devices for creating the same effect. Mixing and blending can be done with just one device. Mixing any audio source is also possible with though you need to download DJ Rig on your iOS device, available free at iTunes. DJ Rig performs automatic beat matching via X-Sync.
Other features of iRig MIX include:
• High quality, pristine sound
• 2 stereo inputs with bass, gain, treble, and volume controls
• Independent cue on each channel with LED indicators and channel cross-fader
• Stereo output with RCA connectors, master level, and LED meters
• Can be powered with battery packs or mobile chargers
• Includes 4 free apps: AmpliTube, DJ Rig, GrooveMaker, and VocaLive
Verdict
iRig MIX is a good deal for amateurs, professionals, and those who are still learning the ways of a DJ. It lets you take the party anywhere you go and for just $99. Don't forget to keep your iPhone, iPad, or iPod Touch fully charged though, since you need them for mixing.