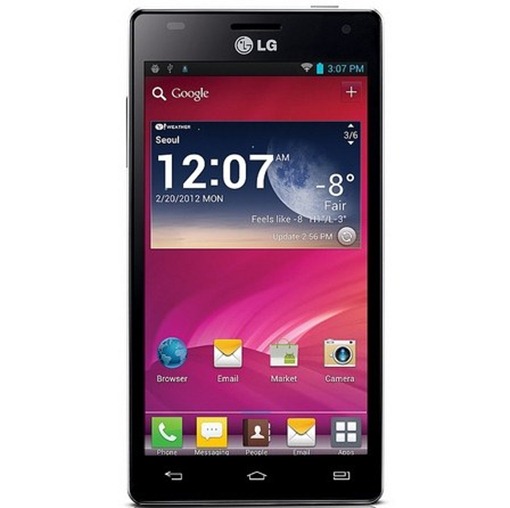 LG Optimus 4X HD may not be a direct competitor of Samsung Galaxy S III but it's not to be looked down upon. It's still one of the best that LG has to offer.
Design
LG Optimus 4X HD has blunt edges and sharp corners, giving off an undeniably premium look. The dual metal rims surrounding the edges are detailed by a prism right in the center – something that LG calls a "prism-edged" design. A standard rectangular shape may not stand out but if you place Optimus 4X HD beside HTC One X and Samsung Galaxy S3 – two of its biggest rivals – it looks different. There's no physical button in sight on its front display. Rather, there are three touch-sensitive buttons for navigating across the phone.
Once you grab the phone, the perception of a solid and premium build is immediately replaced by its actual plasticky feel. Deciding to go plastic helps make it thin and lightweight though. It measures only 8.9mm in thickness and feels light even though it is 5.3 inches tall. The back cover is textured and helps improve the phone's grip. LG's design choices may not get you excited but they are for the better. The company is offering it in black and white.
Specs
The massive 4.7" screen on this high-end smartphone is recognizable and so is its 720p display. Just as its name suggests, it has a screen resolution of 1280 x 720 pixels. Pixel density is impressive at 312ppi, making it difficult to distinguish pixels when reading text, viewing images, or playing videos. The IPS LCD panel improves viewing angles from the sides.
LG Optimus 4X HD is powered by a 1.5GHz Tegra 3 processor, making it a beast among quad-core devices. Other processors – like the dual-core Snapdragon S4 and A5X – may have beaten it at benchmarks but it still has the advantage of granting users access to Tegra-optimized games. The 8-megapixel camera on the back has autofocus, LED flash, and a backside illuminated sensor (BSI) for improving photo quality in dim places. Besides taking photos, it can record 1080p videos at 30fps. For video calls, there's a 1.3-megapixel camera upfront.
Built into the device is 1GB of RAM and 16GB of internal storage. If 16GB isn't enough space for you, there is a microSD card slot which supports up to 32GB of expandable memory. For connectivity, the phone gives you access to Bluetooth with A2DP, WiFi b/g/n, and 2G/3G networks. Finally, the smartphone is shipping with Android 4.0 Ice Cream Sandwich which truly is a delight.
Verdict
Optimus LTE 2 may be taking its place as LG's flagship phone but it is not to be ridiculed. By combining elegant form and outstanding hardware, LG Optimus 4X HD deserves to be recognized and compared to its rivals. The absence of 4G connectivity doesn't make us cringe at all. 3G connectivity is still reliable and used in most developing countries. Unless you're rooting for an LTE-enabled phone, it's worth every penny.