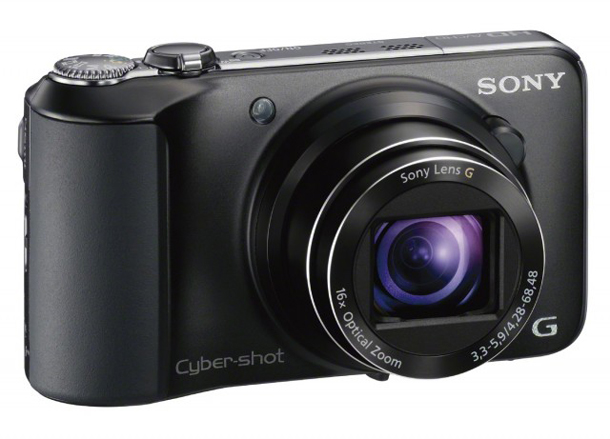 Sony Cyber-shot DSC-HX9V was one hell of a compact megazoom. While it had the size and form of a standard compact camera, you can summon a 16x zoom lens out of it. Cyber-shot DSC-HX30V is a newer model that takes its place.
Design
Cyber-shot HX30V is neither slim nor lightweight but it's compact enough to carry around in your pocket. Though a bit wider and heavier than HX9V, the difference is too small and you won't be able to tell the difference. It still has the same black chrome finish, rubberized grip and thumb rest, and popup flash. The only noticeable change is the depression on the top deck where the shutter button is – which is good since it's much easier to hold in your hand when taking shots. Also on top is a Custom button for accessing white balance, ISO, metering, exposure, Smile Shutter, and smile-activated shutter release.
Hardware
If we count by numbers, not much hardware was changed on Cyber-shot DSC-HX30V. It has the same old 921k-dot LCD, optical and digital image stabilization, a rechargeable Li-ion battery, and support for the same image and video resolutions – 4896 x 3672 pixels and 1920 x 1080 @60fps, respectively. Storage media options are the same too as you can still use a Memory Stick Pro Duo or SD/SDHC/SDXC card for expandable memory. There are two ways to charge its batteries. You can either plug it in via USB to an AC adapter or your computer.
The 18-megapixel 1/2.3-inch BSI CMOS sensor isn't a huge leap but something that would-be owners will appreciate. It most certainly can't compete with Sony Alpha NEX-7 and its 24.3-megapixel Exmor HD CMOS sensor in 12-bit. But it's a far cry from the 10MP CCD sensor on Canon PowerShot S95, yet another compact megazoom. And to think it only costs $20 less than HX30V.
The lens is now capable of zooming in up to 20 times and has an aperture of F3.2-5.8. Its focal length now ranges from 25-500mm (35mm equivalent). The battery, now capable of shooting an approximate 320 shots before it fully drains, suggests it's beefier than last year's HX9V. Sadly, there's still no viewfinder on the latest release.
Performance
It's disappointing to see Cyber-shot DSC-HX30V fall behind its own predecessor in shot-to-shot shooting speed but all other aspects like shutter lag and time to first shot are better with it. It does show its prowess in continuous shooting speeds where it offers twice as much fps as Nikon Coolpix S9300. Photo quality is really good and it can shoot videos in full HD resolution at an impressive 60 frames per second.
Verdict
Sony DSC-HX30V is a camera that can do much more than compacts from the Cyber-shot series. Unlike them, it has a powerful lens capable of zooming in up to 20 times. It's not high-end but its advanced features are worth looking forward to. It does come at an expensive price at $420 but you should be willing to pass this on for its immense features. Otherwise if you're going for low-end, we recommend the rugged Cyber-shot DSC-TX20.