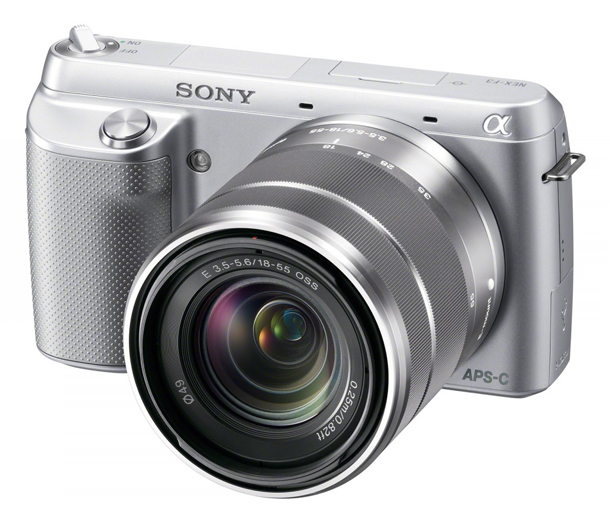 Alpha NEX-F3 is Sony's latest addition to their mirrorless camera lineup. It succeeds NEX-C3 and packs a powerful image sensor similar to those used in DSLRs. With a $599 price tag, it's begging to have our grubby hands all over it for a hands-on review.
Design
Sony Alpha NEX-F3 bears some resemblance to NEX-C3 except it's considerably taller and thicker this time around. Even so, it doesn't stray away from the point-and-shoot experience characteristic of the Sony Alpha NEX series. It still has a hand grip protruding from the front but it's more prominent, allowing better grip. The shutter button was also transferred and is now located on top of the hand grip. The top deck – still completely flat – only has a small knob popping out from it. Finally, the clasp for placing an optional hand strap was reduced, keeping it from getting in your way.
Specs and features
NEX-F3 plays catch up with the advancements Sony made since the release of NEX-C3. This explains why it includes features like Auto Portrait Framing, intelligent interpolation, and Clear Image Zoom. Auto Portrait Framing is a cool feature that automatically saves upsized crops of good portraits along with their original versions. In addition to these upgrades, it gets a built-in flash and tilting LCD screen which turns up to 180 degrees. If you could recall, Sony Alpha NEX-C3 relied on a bundled external flash and only had a stationary LCD screen on the back. The built-in flash means you can take better photos in the dark and the tilting LCD will definitely come in handy for taking self-portraits and small group shots.
| | |
| --- | --- |
| Specifications | Sony Alpha NEX-F3 |
| Sensor | 16.1MP APS-C CMOS |
| Display | 3" 920k-dot tilting LCD |
| ISO range | 200 to 16,000 (200 to 3200 in Auto Mode) |
| Video recording | AVCHD 1080i60 HD movie recording with built-in stereo microphone for audio recording |
| Image format | JPEG, RAW |
| Image processor | Bionz |

One thing that Sony Alpha NEX-F3 lacks is an electronic viewfinder (EVF). Sony Alpha SLT-A37, a DSLR announced with it, happens to have one. The mirrorless ILC is compatible with an accessory that adds this feature, FDA-EV1S.
Verdict
Sony took a huge leap with Alpha NEX-F3 coming from NEX-C3. Plenty of hardware was upgraded, features were added, and minor changes were made on its design for a better point-and-shoot experience. With just a $599 price tag, it's a great mirrorless ILC option for the midrange market. Even if Panasonic Lumix DMC-GF5 were to sell for a cheaper price, it's still a better deal.