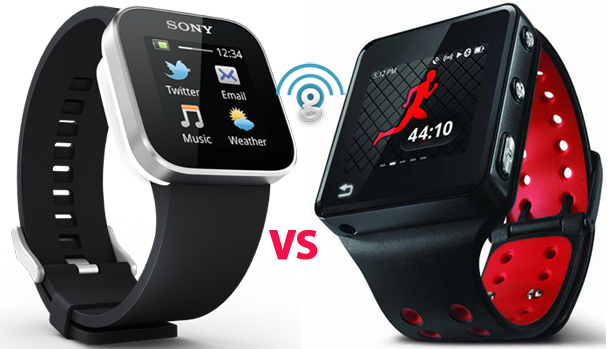 Motorola MOTOACTV has been around since 2011 but a recent update placed it on our radar. Previously limited to Droid 4 and Droid Razr MAXX, the updated software extends its compatibility to all Android smartphones. Sony SmartWatch is a 2012 release and while it is officially compatible with phones from the same company, it unofficially supports all others running Android 2.1 and higher.
Design
Sony SmartWatch gives the feeling of a pop watch. Its display has curved corners and is supported by a soft rubber strap which you can interchange with different colors. The package originally includes a black wristband but you can get separate ones in blue, grey, mint green, pink, and white. The black strap looks something that'll work with a formal office attire and different colors options give it versatility for use in places other than work.
On the contrary, Motorola MOTOACTV has a more masculine and sporty look. Its screen looks an awful lot like iPod Nano – only beefier – and is supported by a hard rubber wristband. The outer band of the strap has a black color while its underside is bright red. We would've been okay with its pop of color but how the red peaks through the holes of the strap is plain unacceptable. That gives it a strictly sporty appearance.
WINNER: In terms of design, Sony SmartWatch wins it in terms of versatility – which most users are after. Not very many are into sports and unless you are inclined to these adrenaline-pumping activities, the design of MOTOACTV may not appeal to you.
Software
The software on Motorola MOTOACTV is more feature-rich than Sony SmartWatch and it's not just because it was designed for more than 40 types of sports-related activities including walking, running, cycling, fencing, snowboarding, gymnastics, step machine, martial arts, elliptical, and yardwork among many others. It's just that Sony SmartWatch is too reliant on your smartphone and Bluetooth connectivity in order to function. Once Bluetooth connectivity or signal of your mobile data connection gets mucked up, Sony SmartWatch is almost useless. For the most part it was designed to check a connected Android phone for messages, missed calls, and social network updates. It was also built to control music playback on your phone via Bluetooth. So without mobile data on your phone or a clear Bluetooth connection, you can use it nothing more than a watch for telling time.
Unlike Sony's offering, Motorola MOTOACTV is more self-sufficient. And while it will relies on Bluetooth and your phone's mobile data to check for notifications, it can play music on its own and most of its features – like the sports-related ones mentioned earlier – remain fully functional by depending on its own hardware.
MOTOACTV is compatible with Android phones able to install the MOTOACTV app – available as a free download at Google Play. And so does Sony SmartWatch which supports all Android phones that can download and install LiveWare Manager – also a free download at the Google Play Store. But Sony SmarWatch seems to have trouble connecting to phones running Android 4.0 Ice Cream Sandwich.
WINNER: Motorola MOTOACTV is a fully pledged smartwatch. It offers the same features as Sony SmartWatch and much more. Even if Sony were to enhance compatibility of SmartWatch with ICS, it still falls behind MOTOACTV in this category.
Hardware
Display is less grainy on MOTOACTV as it has 240 x 240 pixels on its 1.53" screen. Sony SmartWatch has a smaller 1.3" OLED display with just 128 x 128 pixels and 64k colors. And while smaller display looks more appealing on a smartwatch, we appreciate the larger screen size on Motorola MOTOACTV simply because apps are easily viewable. Both have Bluetooth but MOTOACTV has the better spec with Bluetooth 4.0. Sony SmartWatch only has Bluetooth 3.0. Another advantage of MOTOACTV is the built-in GPS for tracking of distance covered. This feature is only useful for exercising though. Lastly, Motorola MOTOACTV comes in 8GB and 16GB models for storing music which allows you to use it as a standalone music player when on-the-go.
The only advantage of Sony SmartWatch in terms of hardware is the vibrate option for notifications. That means you will never miss one unless Bluetooth connectivity between it and the phone is obstructed. With MOTOACTV, there's a discrete LED indicator that lights up above the display If there is one thing that both smartwatches lack is ability to display time on standby. You need to press a button on both to display the very detail that makes them a watch to begin with – time.
WINNER: Aside from the ability to play music on-the-go, Motorola MOTOACTV has better hardware overall.
Verdict
Sony SmartWatch may have a versatile design perfect for everyday use regardless of the occasion. But if you want a reliable Android-compatible smartwatch, MOTOACTV is the better option. It is more sturdy and highly functional, offering the same features as Sony SmartWatch but with the ability to store and play music as well as assist you during exercise routines.
If you're worried about the price, the cheapest model of Motorola MOTOACTV is the 8GB variant which sells for $199 which is just $50 more than Sony SmartWatch. Trading off that amount of cash is worth it given its advantages.