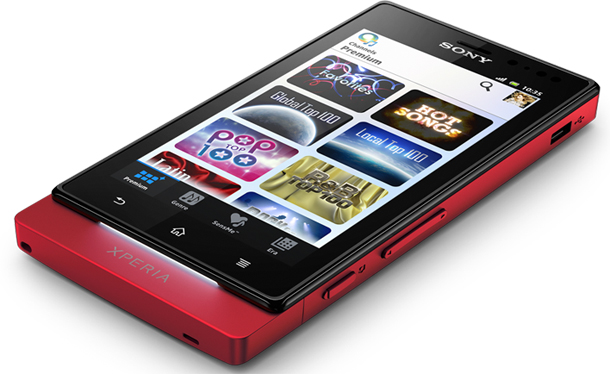 SmartTag, Floating Touch display, and NFC technology – these are three of the most interesting specs and features of Sony Xperia Sola. Apart from that, Sony did a good job in naming it. We're pretty sure you're not as fond with their single-letter devices like Sony Xperia S, P, and U. Of course, a good name doesn't necessarily mean it's a great device. But you won't be disappointed with Sola.
Design
Sony Xperia Sola closely resembles the Xperia NXT series in that it has the same design elements – and that's a good thing. It has the same rigid edges, sharp corners, and an unmistakeable rectangular shape. Adding to its beautiful design is a soft-touch finish that makes it pleasing to hold. It is about the size of Samsung Galaxy Ace 2 but there's a significant difference in thickness. The phone weighs extremely light at just 107 grams. Sola is offered in black, red, and white. Also worth noting is the dedicated camera shutter on the side – a spec which most Android smartphones lack.
The only thing we don't like about it Xperia Sola is the display bezel. It is thicker than usual and – at least from my point of view – might fool you into thinking you can slide it up to reveal a QWERTY keyboard. Other than that, it has a great design and premium build quality.
Hardware
The display has a satisfying 3.7-inch screen, 480 x 854 pixels, and 265 ppi. Screen resolution is therefore above average so photos, videos, and text are crisp. Pixels are hard to discern with just the naked eye. Blacks aren't as vivid as they are with S-LCD and AMOLED panels. However the display is bright enough for operation under the sun. The handset is powered by a 1GHz dual-core processor called NovaThor U8500. Paired with 512MB RAM, it offers smooth performance on most occasions. It's shipping with Android 2.3.7 Gingerbread on-board but an Ice Cream Sandwich update is on its way.
Peeping from behind is a 5MP camera with LED flash and autofocus. It can record 720p HD videos with video light and continuous autofocus. For juice it relies on a 1320mAh battery and for storage, it has 8GB internal memory and a microSD slot expandable to 32GB. Connectivity options include Bluetooth 2.1 EDR, WiFI 802.11 b/g/n, microUSB 2.0, and NFC technology.
Features
The screen can detect your fingers from a distance. When surfing the web, one of your fingers can act as a virtual mouse cursor for hovering over links. This technology is called Floating Touch and one of the key features of Sony Xperia Sola. The built-in NFC sensor inside the phone is another one of its key features. You can use it for wireless payments and for interacting with SmartTags. SmartTags changes your profile settings minus the hassle.
To illustrate the usefulness of SmartTags, let's say you don't want to be notified about messages or calls when driving. You can assign a silent profile to a SmartTag and stick it on the dashboard. Next time you go for a drive, you can set your phone to silent simply by detecting the SmartTag. Because they have stickers, you can stick them anywhere you please – be it in your bedroom or at the office.
Performance
Running 3D games on Sony Xperia Sola is surprisingly flawless. There is a slight lag when using a live wallpaper though but in most instances, operation is smooth and slick. Benchmark tests show it outperforms Motorola Defy Mini and Samsung Galaxy Mini 2 on Quadrant Standard, AnTuTu, and NenaMark2.
Verdict
Sony Xperia Sola is one of the best midrange handsets we've reviewed. It combines innovative features and hardware that ranges from satisfying to impressive yet it doesn't come out as an expensive option. If you're looking to buy an affordable smartphone that goes beyond the limitations of low-end choices, you won't regret grabbing one.