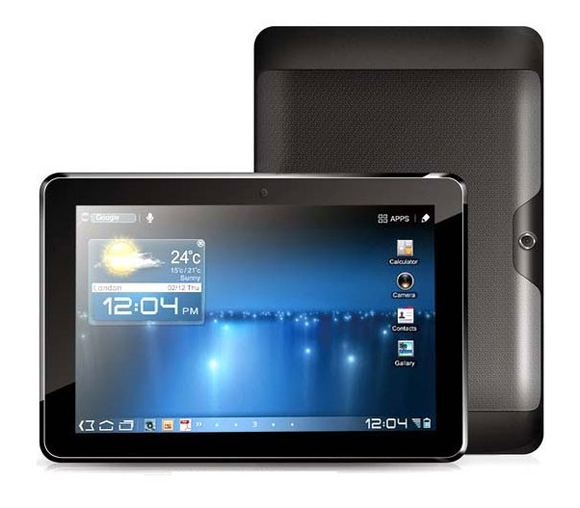 ZTE announced V96 at this year's Mobile World Congress. It is a 10-inch tablet running Android 4.0 Ice Cream Sandwich but was never shown off – not even a prototype. ZTE V96 was unheard of again until the recent CTIA 2012 where it was finally revealed. Everyone got their grubby hands on it and in all honesty, it looks really good. But we're not sure how to feel about its specs, particularly the display.
Interestingly enough, ZTE showcased two models of V96 at CTIA 2012. One had a textured back that was bordered by soft-touch plastic in opposite ends. The other model had a smooth aluminum back and a more premium feel. ZTE representatives present at the event kept their mouth shut about these variations and whether or not they'll be headed for different regions.
Going back to ZTE V96, it has a 10-inch screen with QXGA display with 1280 x 800 pixels. Bad news is, QXGA translates to just 149ppi – that's half the pixel density of Samsung Galaxy S3. A lower density means pixels are more visible to the naked eye. So when you read text, view images, or play videos on V96 it wouldn't be as pleasing. To make things worse, the glossy panel is highly reflective and attractive to fingerprints and smudges, making it even more difficult to view the display especially under bright lights.
It's a good thing that ZTE opted for the dual-core Snapdragon S4 with V96. Several benchmarks show it outperforms the quad-core Tegra 3. ZTE V96 also gets 5-megapixel and 2-megapixel rear and front cameras, a microSD card slot for expandable memory, and a full-sized SIM slot.
Other specs include 1GB RAM and support for tri-band 42Mbps HSPA+ support and quad-band LTE – including AT&T's 4G network. All in all, the specs of ZTE V96 – except for the display – hit the right spots. But there's nothing to wow about. ZTE V96 may have gotten us excited at MWC 2012 as a 10-inch tablet running Ice Cream Sandwich. But even if it were to sell for $219 like Ematic's eGlide XL Pro 2, we're not as excited about it anymore and neither should you. If it were to launch with a better display, perhaps that should sway everybody's mind.