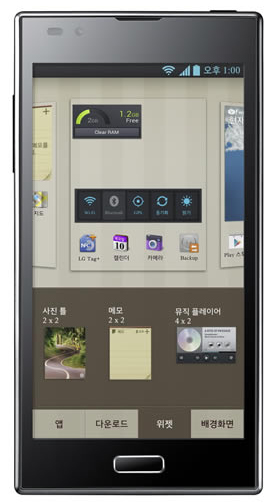 LG Optimus LTE 2 is a high-end 4G smartphone with 2GB RAM. It has a clear advantage over LG Optimus 4X HD in that it has 4G connectivity. Aside from these two, the phone still has a lot to offer despite its minimalist design. Our complete review of its design and specifications encapsulates all of its best assets without missing out on its down-side.
Design
Its candy bar form factor is to-die-for. You can choose white and black versions of the phone as soon as it's available. Personally, I find it more attractive than Samsung Galaxy S3 and HTC One X – only because I'm not a fan of their curves. It looks classy from the front, back, and sides with its sharp corners, silver accent, and overall clean appearance. One thing we didn't like about it is the physical home button below the display. It's kind of Gingerbread-esque and Samsung-ish. Quite frankly, I don't understand why they didn't go for the same capacitive buttons on Optimus 4X HD. Even though it tips the scales at 145 grams – making it heavier than SGS3 and HTC One X – this was a sacrifice LG made for its healthier battery. We're just not sure if it was worth the compromise. It's still thin though, which is relieving to know. As a matter of fact, it measures 8.9mm; only 0.3mm off Samsung Galaxy S3.
Specifications
Specifications
LG Optimus LTE 2
Display
4.7 inches, IPS LCD, 1280 x 720 pixels, 312 DPI, scratch-resistant glass
Processor
1.5GHz dual-core Snapdragon S4
RAM
2048 MB
Graphics Adapter
Adreno 225
Storage Space
16GB built-in, microSD card slot expandable to 32
Camera(s)
8MP rear-facing with autofocus, LED flash, geotagging, and 1080p video recording; 1.3MP front-facing
Connectivity Options
Bluetooth 4.0, WiFi 802.11 b/g/n/a
microUSB 2.0
NFC, DLNA, MHL, GPS
HSPA, 4G LTE
Sensors
Accelerometer, gyroscope, proximity, light
Battery
2150 mAh
Dimensions and weight
134.7 x 69.5 x 8.9 mm, 145 grams
Operating System and Software
Android 4.0 Ice Cream Sandwich, Optimus UI 3.0, Quick Memo, Camera voice control

As you can see, a lot is going around inside LG Optimus LTE 2. For starters, it has a huge screen with IPS LCD which features wide viewing angles. You can play videos or look at images without having to worry if your friends see them clearly from the sides. The only consequence of this technology is that it encourages prying eyes of unwelcome viewers. Pixel density is quite impressive and accounts for its vivid display.
Another notable spec inside the phone is its Snapdragon S4 processor. While it is essentially a dual-core CPU, it has been proven several times to offer better performance than the quad-core Tegra 3 in 2 out of 3 benchmarks. Coupled with 2 GB RAM, the phone is slick and very well capable of multitasking or simultaneously running apps at the same time. While this could chomp up battery life faster than usual, Ice Cream Sandwich does have a less battery-invasive architecture. Besides, the phone only has a dual-core processor and a beefy 2150 mAh battery. I suppose all three is enough to make it last nearly a day of light to moderate use.
While internal storage is limited to 16GB, there is a microSD card slot capable of supporting up to 32GB of expandable storage – a spec where HTC One X failed us. The 8MP camera on the back takes above average photos especially in well-lit places and the outdoors. It's good to know it can record 1080p videos; a standard of high-end smartphones. You can stay connected with friends and family using the 1.3MP front-facing camera for video calls. Meanwhile, all available connectivity options like Bluetooth 4.0 and WiFi N are at par with today's technological advancements. Just as its name suggests, the phone's best feature is 4G connectivity. LTE is not yet a standard but it is the best this world has to offer as far as internet speed goes.
Verdict
LG Optimus LTE 2 is the best Optimus 4G phone that LG has to offer. Although stuck with a dual-core processor, it is stuck with Snapdragon S4 which is the best dual-core CPU used in Android smartphones. It combines many of today's best specs including a massive screen, 4G LTE connectivity, Ice Cream Sandwich, Bluetooth 4.0, and WiFi N. It also has the biggest RAM yet which makes the phone great for heavy multitaskers. Offered at about the same price as its competitors, it is worthy of being compared to them. In fact, we already reviewed it versus Samsung Galaxy S3, HTC One X, and iPhone 4S.