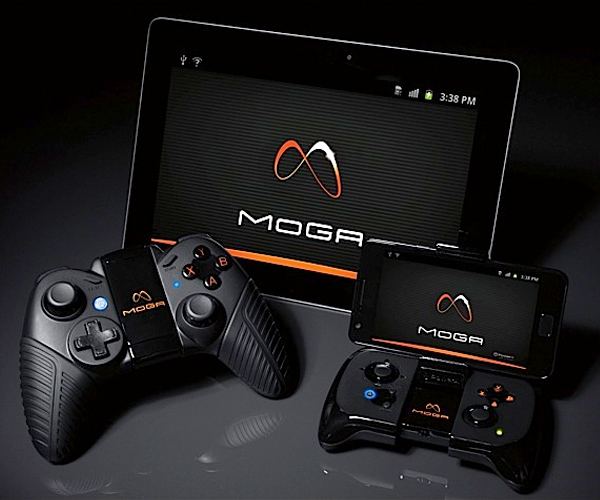 We've seen the announcement of PlayPad and PlayPad Pro last week. Both have an advantage over their competitors in that they're optimised for Tegra devices. Power A's MOGA controller belongs to the same category of gaming products but offers much more. Like Nyko PlayPad and PlayPad Pro, MOGA still turns smartphones and tablets into dedicated gaming handheld consoles. But while others scramble to make gaming easier for you, Power A developed a system for downloading MOGA-optimised games. Huge game publishers like Atari, Bandai, Gameloft, MachineWorks, Namco, SEGA, and Ratrod Studio Inc. already have its back and are scheduled to release MOGA versions of their top titles.
The controller is extremely portable and about the size of an iPhone 4S, only thicker. You might think this comes at the expense of control buttons feeling cramped but it isn't like that at all. Controls and analog sliders may be small but they are spaced just right. Above the control buttons is a flip up smartphone holder. Once extended, you can clasp any smartphone to it – even phones as large as Samsung Galaxy Note. The integrated mount secures smartphones with rubberized pads. These pads tightly grip on to your phone to keep it from slipping. For users who play games on tablets, there's also a full game pad.
MOGA only works on devices running Android 2.3 Gingerbread or higher during its release in the second half of 2012. An iOS version of the controller shouldn't be far behind though. A mix of classic games and modern titles will be released for MOGA by the end of the year. Listed below are the games confirmed for the controller:
• Atari's Greatest Hits (e.g. Asteroids, Battlezone, Centipede)
• Duke Nukem 3D
• Dungeon Hunter 3
• Mike V: Skateboard Party
• N.O.V.A. 3
• PAC-MAN
• Painkiller
• Purgatory HD
• Rise of Glory
• Six-Guns
• Sky Gamblers
• Sonic The Hedgehog 4 Episode II
• Virtua Tennis Challenge
MOGA might create an impact on mobile gaming, or it may not. Despite the system behind it, it's too early to foretell its success. Nonetheless, it is clear that MOGA controller is an attempt to bridge the gap between console and portable gaming. And it could very well be the best mobile gaming controller yet.