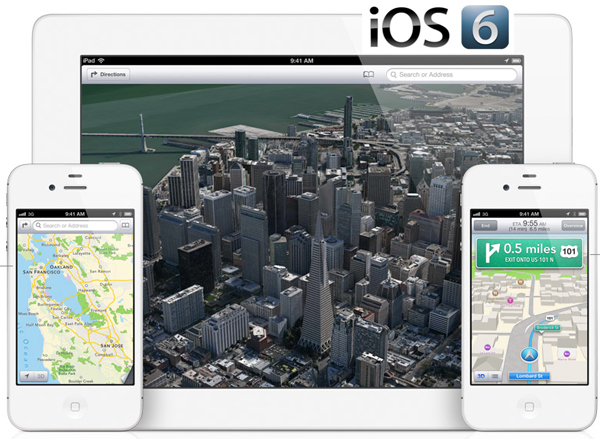 Apple unveiled iOS 6 at WWDC and it brings loads of surprises. While a few upgrades were introduced, the keynote was mostly about the new features sewn into iOS 6. Many of them are applications while others were independent functions deeply integrated its system. Together, they add functionality to compatible devices including iPhone 3GS, iPhone 4, iPhone 4S, iPad 2, the new iPad, and iPod Touch 4.
Maps with turn-by-turn navigation
Apple clearly wants Google out of its hair so they launched their very own Maps application and kicked Google Maps out into the curb. The app is Apple's propriety mapping solution and offers practical features like turn-by-turn navigation, integration of traffic information, and 3D image rendering called Flyover. Android users are already familiar with turn-by-turn navigation but this is the first time Apple included it on iOS. Know which roads to take, avoid traffic, zoom out of the map to know where you are in a city, and find out your estimated time of arrival at the pre-determined destination. Ultimately, Maps will replace your traditional in-car navigation system. Before you get too excited, Maps is only compatible with iPhone 4S, iPad 2, and the new iPad.
Reply features for iPhones
Throughout the years, functionality of iPhones remains virtually unchanged. iOS 6 finally upgrades that by adding two reply features – Reply With Message and Reply Later. Both appear as buttons when you receive incoming calls. If you opt to Reply With Message, you will be prompted to choose from four reply options – one of them gives you the leverage of writing your own custom message. If you choose to Reply Later, you'll be asked to set a reminder when and where to call back. Say you are driving back home and happened to miss a call. You can set a reminder to return the call when you get home in an hour.
Do Not Disturb
Peacefully sleep through the night or attend meetings without any disturbance with Do Not Disturb. When switched on, your device won't notify you of messages, calls, or alerts by lighting up, ringing, or vibrating. You can exclude people from this feature, be it a close friend or a family member. This will come in handy during emergency situations.
Facebook integration
After seeing complete Twitter integration on iOS 5, you shouldn't be surprised to see Apple integrate Facebook into their next-generation mobile platform. Simply sign in to your Facebook account via settings and from there, you can easily Like and update your Facebook with statuses. Post photos on Facebook directly from your device's Camera Roll, share a web page from Safari, and do a whole lot of other things.
Passbook for collecting coupons, passes, and tickets
Passbook is a new iOS app that organizes your boarding passes, coupons, and ticket applications. Instead of going through all your apps to search for them, Passbook unites them in a single place. The app integrates with your lock screen so whenever you come near a place, you will be notified of existing coupons you can avail. After you consume one, Apple destroys it on-screen using a virtual card shredder.
Guided Access
Apple was thoughtful enough to consider autistic children on iOS 6. Parents, teachers, and caretakers of children dealing with autism can benefit from Guided Access, a new feature integrated into the platform. When switched on, the iDevice will adopt a fullscreen, single-app mode to keep autistic children focused and help them learn in a single-app environment. Institutions like museums can also benefit from this new feature, limiting access to a single app that complements the learning environment.