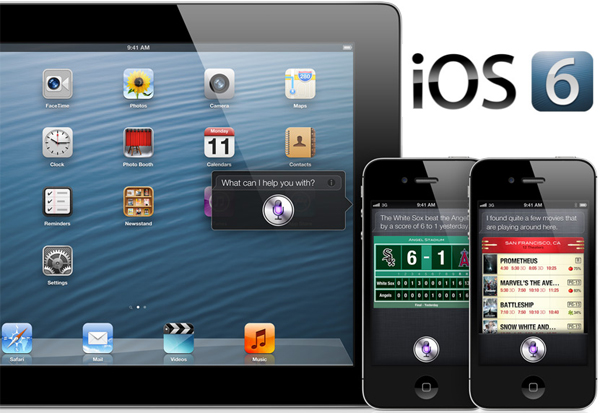 New features aside, iOS 6 brings with it an upgraded Siri, Photo Streams, Safari, FaceTime, and the native Mail application. With the exception of FaceTime, each and every one of them received more than one upgrade to make your iDevice smarter and more functional.
Siri brushes up on sports, movies, and local restaurants; gets new features
Apple extends Siri's compatibility to the new iPad after it was originally limited to iPhone 4S. Secondly, it gets its much-needed update on iOS 6 and now supports queries related to dining, sports, and movies. The virtual assistant gained knowledge of the five most popular sports – baseball, football, soccer, hockey, and of course, basketball, providing graphical information of player and team statistics on-screen. With the subsequent integration of Yelp, Siri can give you reviews of nearby restaurants, average price of menu items, and other detailed information. Film tidbits like actors and directors are powered by Rotten Tomatoes and in addition to these, you can find out which movies are playing nearby or watch movie trailers via Siri.
One key feature that Siri lacked was the ability to launch apps. Now, you can open any app using Apple's virtual assistant. Its inability to tweet or post Facebook status updates was another thing. iOS 6 adds these features to Siri.
Share Photo Streams to friends
Photo Streams enabled you to share photos across their Macs and iOS devices since iOS 5. With iOS 6, you can now share photos with friends. Whenever you send photos to them, they'll receive a notification. Friends can also leave comments on your photos. Shared photos can be viewed using the Photos app for iOS, Aperture or iPhoto on Macs, and Apple TV. And because it supports other platforms, your friends can also view photos on the web browser using their Windows PCs.
FaceTime over 3G and 4G
We ranted about FaceTime three months ago and how it couldn't establish connections across high-speed 4G networks. While it shouldn't stop you from getting the new iPad, you just have more reason to get one. The latest iOS update adds FaceTime support for data so users can make and receive video calls over 3G or 4G.
Pull to refresh Mail, attach photos and videos easily
The native email app of iOS was in desperate need of an update and iOS 6 responds to that call. Pull to refresh to get new messages, attach videos and photos to a message directly from the app, and mark contacts as VIPs to stay up-to-date on important emails. Attached password-protected Microsoft Office documents can be opened from the app too.
Safari lets you read offline content, introduces Smart App Banners
Safari enjoyed from a few upgrades on the last iOS update. iOS 6 simply picks up where it left off by allowing offline access of Reading Lists. Web pages will be downloaded and cached into your iDevice so you can read them later, even without an internet connection. A new feature called Smart App Banners is also injected into Safari. When you visit a websites with an available iOS app, a banner will appear on top of the page. Clicking it will redirect you to the website's official iOS app at the App Store.