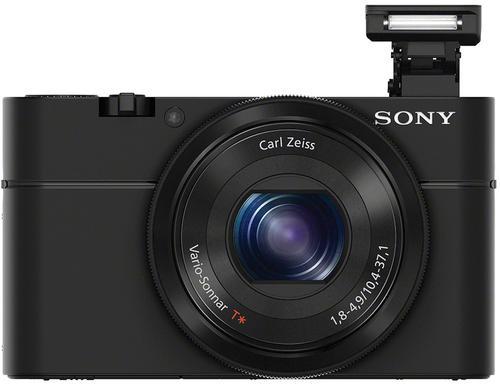 Point and shoot cameras have fallen out of favor these days, with ILC's of all kinds (compact, professional, affordable, etc.) getting the spotlight. But with all their features and performance, ILCs and DSLR's just can't compete with fixed-lens point and shoot cameras when it comes to size: the latter are much more compact.
Sadly, that also means that they have less space for the sensor and the lens, which are the most important components when it comes to the quality of photos and videos the camera can achieve. Compact point and shoots have been getting a lot better over the past few years, though, and today you can get a very small camera with an impressively high picture quality. One of the latest examples of such a camera is the Sony Cyber-shot DSC-RX100, which packs a 1 inch sensor inside a body that fits in the palm of a hand.
Design
The camera has a pretty unassuming design – there's nothing special about it at a first glance… or second, for that matter. It's has a simple black body with a big display on the back and lens housing on the front, plus the usual camera controls in the usual places. What makes it stand out is the quality – the whole body is made of aluminum, which makes it feel very sturdy. Of course, it's most important characteristic is its size: the RX100 is very small for what it packs inside – it measures only 102 x 59 x 36 mm, with the lens housing being just as big as the camera's height. It's a wonder that the batter and pop-up flash even fit inside!
Hardware features and performance
The hardware features are pretty darn good for such a small camera. The 1 inch sensor is the same size as Nikon's own 1 series of Inter-Changeable Lens cameras, and four times larger than any other sensor used in a point and shoot, which is very impressive. The sensor is made by Sony specifically for this camera (and possibly future models), and has 20.2 effective Megapixels to work with, as well as the Exmor R backlight technology that makes low light shots faster and clearer.
To take full advantage of the new sensor, Sony also used the newest BIONZ image processor, which has exceptional response times while still keeping the picture crystal clear. Videos also benefit from the new processor, with Full HD video being shot at 60 FPS and being very sharp – you would never even guess that it was filmed with a pocketable camera. You can view everything you shoot on the 3 inch display or on the big screen using the micro HDMI port. The battery should be able to last about 330 shots, which is average among point and shoots, but almost unbelievable in the RX100 (it's just so small).
Price and availability
Sony says that the new Cybershot RX100 will be available in about a month, however the price leaves a lot to be desired – you'll be paying $650 if you want to get the smallest camera with the biggest sensor on the market. That's quite a high price, for which you can easily afford an entry-level ILC or a semi-pro camera with fixed lens – but the trade-off might be worth it for some.