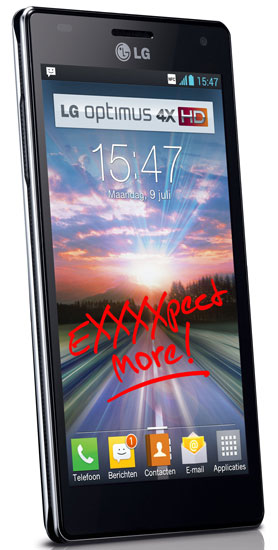 The much-anticipated LG Optimus 4X HD is now available for purchase in Europe and it is LG's major update since announcement of the Optimus 2X in 2010. Its predecessor (Optimus 2X) didn't gain much fanfare compared to its dual-core rivals even though it was the earliest to be released. LG Optimus 4X HD is the company's latest attempt to penetrate the quad-core market as a cheaper alternative to their current flagship phone, Optimus LTE II. But is it really enough to compete with the big boys or will it be overshadowed by its rivals or perhaps, its own brother?
Design and build quality
When compared to Optimus 2X, it's evident that LG has stepped up to the task of producing a polished product. LG Optimus 4X HD has a clean-cut design with straight edges and slightly curved corners. Instead of four, it now has three capacitive buttons below the display much like what the Ice Cream Sandwich platform was designed for. The back is slightly curved which makes it easy to handle but its leather-like texture feels cheap. Then again, this is the only disappointment I have about its design. It's also worth noting that the back cover looks elegant with the camera and flash on the corner and the small loud speaker grille on the bottom left.
The right edge of the phone is clean but there's a volume rocker on the left side. On the top side are the power/lock button, a 3.5mm jack, and a tiny secondary microphone. Finally we have the main microphone and microUSB port on the bottom which allows for HD TV output. All buttons are barely noticeable because they blend with the silver rim around the edges. They are, however, solid for pressing which gives Optimus 4X HD a desirably premium feel. And because it's mostly made of plastic, the phone is thin and lightweight but still feels solid nonetheless.
Hardware and specifications
When we take a look at the screen, the second-generation IPS display is impressive for the most part. It's brighter than AMOLED and has a wide viewing angle. The massive 4.7" screen with 1280 x 720 pixels is more than adequate for a pleasurable viewing experience. These specifications also entail crisp text and sharp images. Unfortunately, the Gorilla Glass covering it is too reflective under sunlight and bright lights. That means it's almost impossible to clearly see the display in these circumstances.
Internal storage is limited to 16 GB but with the micro SD card slot, you can expand memory by up to 32 GB. The 1 GB RAM pretty much says it's a slick multitasker but doesn't drain battery as quickly as LG Optimus LTE II which has twice the Random Access Memory. The phone supports Bluetooth 4.0 with A2DP, WiFi 802. 11 a/b/g/n, and can act as a WiFi hotspot. Even though it can only connect to 2G and 3G networks, Optimus 4X HD does have a built-in NFC chip to make up for this lack. Powering the phone is NVIDIA Tegra 3 a.k.a. 4-PLUS-1. The quad-core chip is set to 1.5 GHz and has ULP GeForce for its graphics processor. As one might expect from a high-end 2012 release LG Optimus 4X runs Android 4.0. Whether or not it will be upgraded to Jelly Bean is unknown but highly likely.
The camera on the back has an 8MP lens which can take 3264 x 2448 pixel photos. It has autofocus, a LED flash, and can record 1080p HD videos at 30 frames per second. Compared to a Samsung camera, LG captures better videos mainly because it focuses well. The 1.3MP camera can snap decent self-portraits or small group shots and is good enough for video chat. The browser supports both HTML5 and Adobe Flash which is a relief considering the split likeability of users for the two. The dedicated microphone has active noise cancellation which blurs out any unwanted noise, ensuring a clear conversation.
User interface
Optimus UI 3.0 is highly customizable. You can select a main page for the home screen, add and rename folders, change folder colors, and of course add widgets. Ice Cream Sandwich enables you to resize widgets. The grid line should serve as your guide. Applications may be rearranged in alphabetical order on the apps drawer, anytime you wish. Apart from apps, you can place entire folders on the dock so there's plenty of room for applications down there. What's great is that you can even change their icons! The user interface which LG implemented on the lock screen is really cool as well. When trying to unlock the phone, you can see what's underneath the lock screen through the sliding circle.
In summary, the ICS-based Holo Theme is integrated throughout the system but LG tweaked it so that it looks clean. Like HTC Sense, it draws its influence from light-colored backgrounds. These light colored hues are contrasted with grey and ash blue to give you a professional and color-co-ordinated feel. Such influences can be seen on the Phonebook, Contacts, Messaging, and all other system applications.
Battery life and performance
The propriety SiO+ battery technology means that it gets additional juice of up to 6% out of its 2150 mAh battery pack. It truly lives up to our expectations during a battery test wherein the phone lasted 40 hours on standby, 7:40 hours on 3G talk time, 4 hours on web browsing, and 4:15 hours on continuous video playback. The removable battery of LG Optimus 4X HD is by far the largest found in a quad-core phone.
Conclusion
LG has truly stepped out of its way by releasing Optimus 4X HD. At first glance, you wouldn't suspect it to be an upgrade of the Optimus 2X which failed us in many ways. If I had to choose from this and the overly curved Samsung Galaxy S3, I'd choose it every time. And this is not just because of its looks but rather, its fully customizable UI and impressive battery life.