Pro-gamers are always on the lookout for the coolest accessories and one of them is a great pair of gaming headsets. While you're at it, you might as well look into the best especially if you own an Xbox 360 or a PS3. Wireless gaming headsets are not new to us but they get better and better and this year is no different. Claiming the top spot this 2012 are the offerings of Astro Gaming, Turtle Beach, and Tritton. Find out which is the best in a head-to-head review of their flagship wireless gaming headsets – A50, Ear Force Tango, Ear Force XP500, and Warhead 7.1 – where we get to compare each of their advantages and disadvantages.
A50 Wireless Headset (Astro Gaming)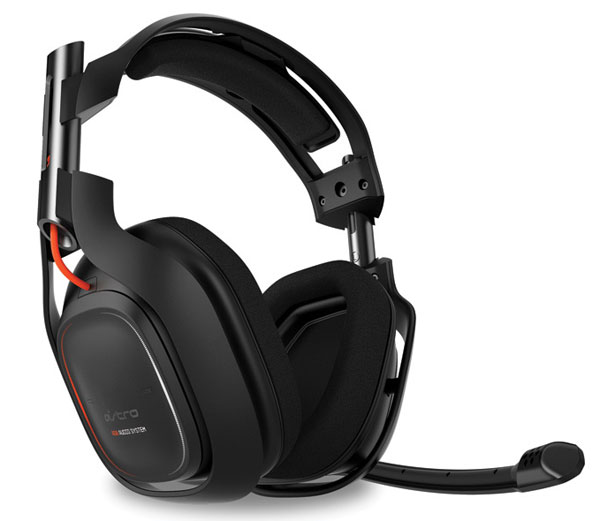 The A50 Wireless Headset features Dolby 7.1 surround sound system for an enhanced gaming experience.
PROS
This time around, Astro Gaming ditched the absurd belt pack and decided to cram the controls, radios, and battery in the left earcup. Despite this, it has an even weight distribution on both earcups, making it comfortable to use. Not to mention its robust build quality. Although made of plastic, its frame is flexible enough to withstand snags and breaks.
Volume controls are intuitively placed on the back of the right earcup and become more familiar with each use. The volume wheel has a wide range and you can choose from three sound profiles including treble and bass boost. Switching between profiles doesn't create static. The mini-USB charging port, microphone, and 2.5mm jack are located on the opposite earcup so the wires won't get in the way of the controls. The wireless headset produces a loud and lossless sound for a totally immersive gaming experience. The uncompressed nature means it delivers CD-quality audio.
CONS
The "wireless" interface is lost when collaborating via Xbox Live since you'll need to attach a wired cable. While it won't interrupt volume controls, the wire can certainly disrupt your gameplay. Performance-wise, expect to encounter interruptions in the sound signal especially when using the headset out-of-the-box. Astro Gaming does say a firmware update should fix it. Another disappointment is its limited actual battery life of 6 hours with microphone.
PRICE: $300
Ear Force Tango (Turtle Beach)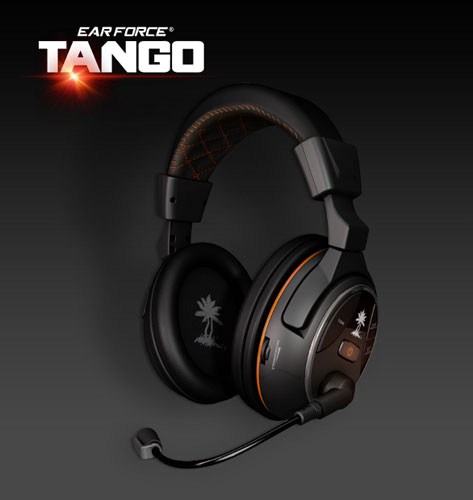 The wireless gaming headset connects to Xbox 360 and PlayStation 3 via Bluetooth and features Dolby Surround Sound 5.1. It bears the mark of Call of Duty: Black Ops II for avid followers of the first-person shooter.
PROS
Ear Force Tango has an exceptional build quality and promotes comfort. The underside of the headband is cushioned and earcups are made of memory foam. You can choose from 9 custom audio presets that optimize audio for both games and chat. Among its unique features is Sonic Lens with Sound Field Expander for adjusting the scope of your sound field. Ear Guard with Blast Limiter is another distinct feature to the headset and lessens the degree of deafening sounds like gunshots and blasts. Furthermore, you can disguise your voice and hear yourself speaking so you can adjust your tone. But what would really fancy Call of Duty fans are the interactive voice prompts recorded in the voice of COD characters.
The headset has a dual-band WiFi (2.4/5GHz) which eliminates interference. It even has a dual-pair Bluetooth which allows you to chat, answer calls, or stream music in-game. Turtle Beach offers a fully wireless experience with Ear Force Tango as you can wirelessly chat via Xbox Live and PSN. It also produces high quality sound and can last up to 10 hours on battery. You can, however, charge it while playing although the wire will probably get in your way.
CONS
Our only gripe with Ear Force Tango is that it is limited to Dolby Surround Sound 5.1. Similarly-priced gaming headsets already offer 7.1. Thus, there is a noticeable difference in sound quality compared to 7.1 which has two additional audio channels.
PRICE: $300
Ear Force XP500 (Turtle Beach)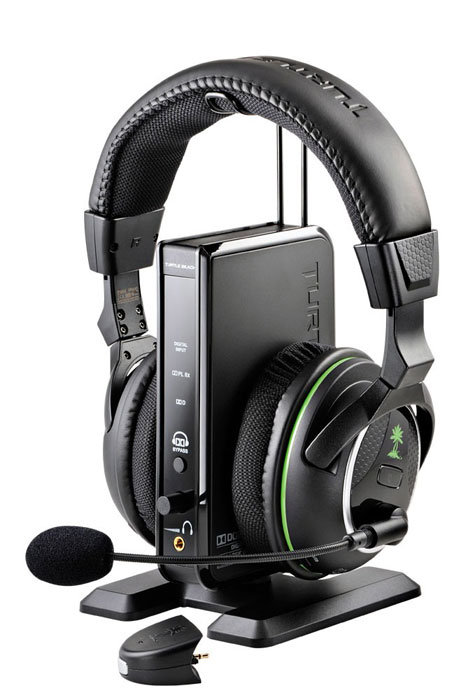 Another premium offering by Turtle Beach, Ear Force XP500 comes in Dolby 5.1 or 7.1 Surround Sound. It won't appeal to COD fans as much as Ear Force Tango would but it's much more of a bargain given its features. It is optimised for Xbox 360 and PS3 but the wireless headset can be used with any compatible game console.
PROS
Ear Force XP500 has a whopping 18 presets for gaming, chat, and mic audio. You can choose between Dolby Surround Sound 5.1 and 7.1 which have 6 and 8 audio channels respectively. When wirelessly chatting on PSN or Xbox Live, the Sonic Silencers eliminate background noise. Like A50, it delivers uncompressed and lossless audio for high-quality sound. Most of its features are similar to the COD headset. Apart from wireless chat, it also has dual-pairing Bluetooth for in-game conversations and microphone monitoring where you get to hear the loudness of your own voice. Sonic Lens, Ear Guard, and interactive voice prompts are three more similarities.
Dynamic Chat Boost is distinctive of XP500 and allows you to better hear other players.
CONS
PRICE: $270
Warhead 7.1 (Mad Catz and Tritton)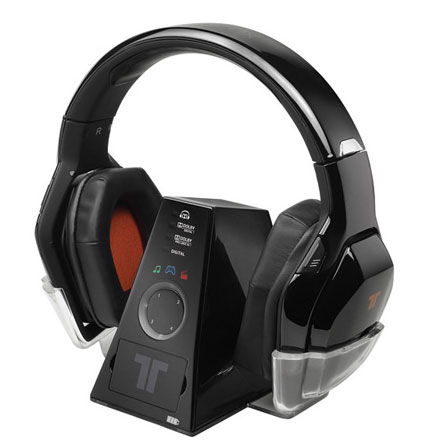 Warhead 7.1 is the latest top-notch wireless gaming headset with Dolby 7.1 Surround Sound. It is built exclusively for the Xbox 360 and therefore limited among its users.
PROS
The futuristic design of Tritton headsets is still evident on Warhead 7.1. While some don't fancy its exaggerated angles, it does have a one-of-a-kind look. It's also worth noting that it still has a great build quality as one might expect from a premium gaming accessory. Earcups are removable and they don't cause much sweating. The audio system is easy to set up and the headset offers the best battery life we've seen on a headset of this caliber. Warhead 7.1 can last up to 17 hours with the voice monitoring feature and mind you, the package includes two batteries.
Users have the option to choose from four Dolby simulations – Digital EX, Pro Logic 2X, and Digital. During a wireless connection, no issues were experienced mainly because of the 5.8GHz radio chip. It has the least staticky microphone amongst competition and has never-before-seen 50mm drivers. Xbox 360 users will surely love its indicators as they match those displayed on the game console.
CONS
One thing we wished Mad Catz and Tritton skipped is the overly glossy finish of the Warhead series. Not only does it make Warhead 7.1 easily scratched and smudged but cheap as well. Seriously, who would want an expensive gear look cheap? Its design is also less flexible and less comfortable compared to headsets of the same league. And though it has an impressive battery life, you'd have to charge them on separate occasions since there's only one charging slot on the available snack.
To make matters worse, Warhead 7.1 doesn't produce sound quality that matches Turtle Beach and Astro Gaming headsets. It's true that you can choose from four EQs for music, game, and movie optimisation as well as normal mode; but there's not much difference if you set a mode. That being said, audio is really sloppy if you switch to normal mode. Since it is optimized for Xbox 360, the headset can only be used for this game console.
PRICE: $300
Verdict
Warhead 7.1 would have been a steal for $300 only it produced sound quality; if not the best, at least enough to compete against Astro Gaming and Turtle Beach. We wouldn't mind its glossy finish or the fact that we can only play it on an Xbox 360. Between Ear Force Tango and Ear Force XP500, there's no choosing for Call of Duty fans since the choice is clearer than daylight. However, Ear Force XP500 is a still and hits all the right spots.
This leaves us with the two best contenders in this review – Ear Force XP500 by Turtle Beach and A50 by Astro Gaming. Both are compatible with Xbox 360 and Playstation 3. Even though Ear Force XP500 is cheaper by $30, the price difference of these two is an inadequate decision point. Instead, we need to look into other factors. In that case, Ear Force XP500 is still the best companion any pro-gamer could have because it lasts longer on battery, offers great features, and sticks to the wireless interface that these headsets are supposed to have.