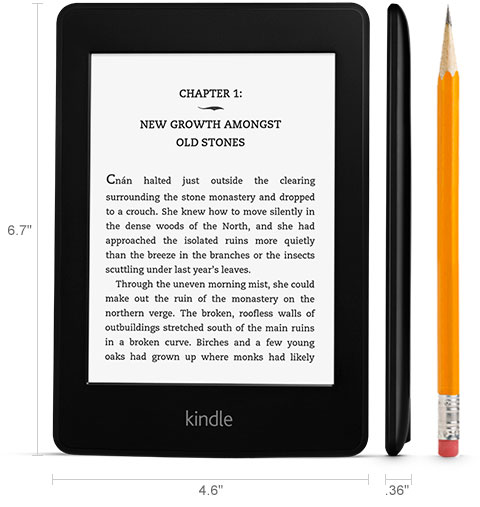 Even though tablets are becoming cheaper and get better displays pretty much every quarter, a lot of people still prefer eReaders for their books, magazines, sites and other written content. It's easy to see why they're still pretty popular: they're still a lot cheaper than your average tablet, they have great E-Ink displays that are almost as good as paper for reading and save a lot of battery life (eReaders can last weeks as opposed to hours for tablets) and they're extremely thin and light.
Amazon has made a killing with their Kindle eReaders, and this year they're continuing to deliver new products for the niche. Along with the larger and more expensive Kindle Fire tablets, the company has just announced the Kindle Paperwhite – an almost paper thin and light eReader that improves upon the predecessors and comes at a very affordable price.
Design
The Kindle Paperwhite is a really dull looking device. It's not ugly, but it's definitely nothing to be impressed by or even take a second glance at. It's just a small black object that goes unnoticed – perfect for those who don't want to stand out, that's for sure. The eReader is very thin and light – it's only 9.1mm thick and weighs 213 grams, which is just slightly more than the Galaxy Note and half the weight of the Nexus 7, for comparison. There's really nothing worth of note besides the display on the Paperwhite.
Hardware features and performance
The display itself is the most important part of the Kindle Paperwhite, even though it's not immediately noticeable when you first see the device. Amazon has equipped the new reader with a 6 inch E-Ink display with an XG resolution (1024×768 pixels, 212 DPI) that is frontlit, so you're getting an equally great reading experience during the day and night. The eReader comes with integrated Wifi and an unspecified amount of onboard storage space, but Amazon also offers a 3G enabled version and cloud storage for all your eBooks and digital magazines.
Perhaps the most impressive hardware specification is the battery life – this device can last up to 8 weeks of continuous use with the backlight on – yes, you read that right, although we still need someone to actually verify this claim, as it might be just a marketing ploy by Amazon. But even if it lasts half the time, it's still pretty great.
Technical specifications
| Specifications | Amazon Kindle Paperwhite |
| --- | --- |
| Display | 6 inches, 1024×768 pixels, E-Ink technology, 212 DPI, GlowLight frontlight |
| Camera(s) | None |
| Connectivity Options | Wifi, HSPA+ (optional) |
| Battery | Up to 8 weeks of continuous usage with backlight on |
| Dimensions and weight | 170.2 x 116.8 x 9.1 mm, 213 grams |
| Operating System and Software | Android OS, customized user interface by Amazon |
Software
There's not a lot known about the software, and there's nothing much to say about it – we know that the Kindle Paperwhite is running a heavily customized version of Android and that's about it. Everything is tailored towards reading, so you get the best experience in that at the expense of everything else. Audio books can also be played pretty comfortably, though.
Price and Availability
The new eReader will be available soon at a price of $119 – not quite the $99 of the predecessor, but nonetheless an acceptable price. The 3G model will cost $179, which is not that reasonable – add $20 and you can get the Nexus 7. Still, if you want the best E-Ink reader on the market, the Kindle Paperwhite should be your first consideration.
image source: Amazon