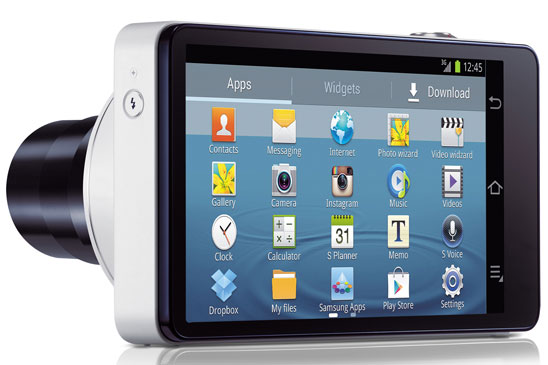 Touch screens and Android are pretty much everywhere nowadays, and they really go hand in hand when it comes to usability on mobile devices. Most of the smartphones and tablets on the market today use Android as an operating system, and the OS is quickly moving towards other devices that were previously considered "dumb", such as TVs, set top boxes, gaming consoles and digital cameras.
The latter category is especially interesting considering the fact that smartphones have been getting better integrated cameras every day, and manufacturers have actually started using Android as an OS for full-fledged cameras. The best example of such a camera is Samsung's new Galaxy Camera, which packs a very powerful smartphone (with a caveat, though), and a very decent point and shoot camera in one weird hybrid package.
Design
On the outside, the Galaxy Camera looks a whole lot like someone took a smartphone and a camera and glued them together. The back only has a big 4.8 inches display and nothing more, while the front has only the lens and a range sensor. On the top there's the shutter release button coupled with a zoom dial and the power button – the design is truly minimalistic, with the flash being hidden under a pop up cover. The camera is pretty easy to use and hold, although the touch screen does require a bit of training to get used to, but it's nothing one can't handle, especially if you're already using a smartphone.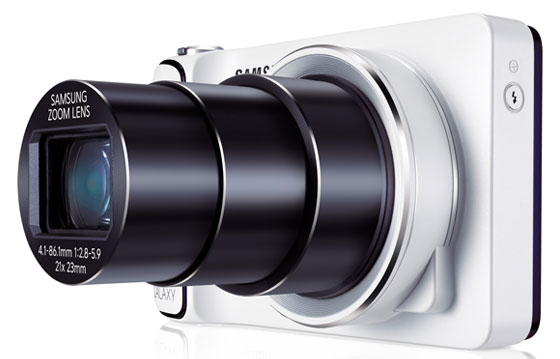 Hardware features and performance
The hardware of the Samsung Galaxy Camera is most interesting – it's a full-fledged smartphone and camera, which is a very unique combination, indeed. The camera part consists of a 16.3 MP sensor with a 23 mm wide angle lens and 21x optical zoom and image stabilization – pretty standard for a modern point and shoot. The smartphone guts are actually more impressive than they should be: there's a quad core Exynos 4 SoC inside, with the processor running at 1.4 GHz, aided by 1024 MB of RAM and a quad core Mali-400MP GPU. That's faster than most smartphones on the market and right up there with the Galaxy S3, iPhone 5 and other high end devices!



The 4.8 inch display has a 1280×720 pixles resolution and even though it's no Super AMOLED, it's still very nice for taking pictures and editing them right on the device. The other hardware specs are also more smartphone than camera: the Galaxy Camera has 8 GB of onboard storage space that can be expanded using a micro SD card, Wifi N, Bluetooth, GPS, USB and HDMI out, all the usual sensors and even a 3G modem! Strangely, it does not have an actual phone feature, but I'm sure that it can be hacked in by the modding community.
Technical specifications
| Specifications | Samsung Galaxy Camera |
| --- | --- |
| Display | 4.8 inches, 1280×720 pixels, Super Clear LCD, 306 DPI |
| Processor | Exynos 4 Quad, 1.4 GHz, quad core |
| RAM | 1024 MB |
| Graphics Adapter | Mali-400MP, quad core |
| Storage Space | 8 GB of onboard memory, micro SD card slot (up to 32 GB cards supported) |
| Camera(s) | 16.3 MP, 21x optical zoom, wide angle 23mm lens, optical image stabilization, Full HD video recording at 30 FPS |
| Connectivity Options | Wifi N, Bluetooth, 3G/4G, GPS, USB, HDMI out |
| Sensors | Accelerometer, gyroscope, light, magnetometer sensors |
| Battery | Li-Ion, 1650 mAh |
| Operating System and Software | Android 4.1 Jelly Bean |
Software
The Galaxy Camera also uses a full version of Android 4.1 Jelly Bean as its OS, coupled with Samsung's own camera apps that make it easy to shoot photos and video and adjust the settings in any way you want – in fact, the device is more flexible in that regard than any point and shoot camera.
There's also access to the apps market, so you can expand the functionality to much more than digital imaging – you can play games, browse the Web, edit video and audio, edit documents and more! That's definitely impressive and it makes the Galaxy Camera a great choice for anyone who wants the most flexible all-in-one device with a bias towards photography in their pocket.
Price and Availability
Samsung has not said anything about the availability or price of the Galaxy Camera, but by the looks of it, the device will be coming to market by the end of the year – the pricing will most likely be very high, on par with high end smartphones, although it's probably going to be lower than the Galaxy S3 – we're looking at around $400-500. Quite a lot, but then again, there's probably a niche for it, too.