Asus is pretty much the king of Android tablets at the moment, but that shouldn't stop them from releasing new (and hopefully innovative) products. One of last year's highlights from the company was the Padfone – a smartphone that had its own tablet dock – probably inspired by Japanese mecha animation, the phone literally slides inside the tablet and docks to form a larger device.
It's a pretty interesting concept, but it doesn't seem to have taken hold – I believe the reason is that you still have to have/carry two separate devices, the larger of which is a deadweight when you're actually using the phone. This year, Asus is going in the other direction with the FonePad, which as you could guess by its name, is a tablet that has all the functions of a phone. The design is not as crazy as the Padfone and it actually has its merits, which is probably why it already has a competitor (Samsung's Galaxy Note 8.0). But let's take a closer look at the FonePad and see what it has to offer.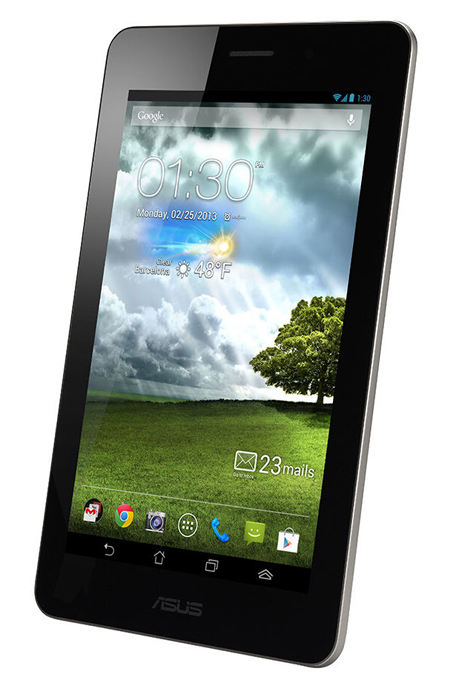 Design
The FonePad looks pretty unassuming on the outside – it's basically a 7.0 inch tablet, after all. It's got a great build quality and nice design, though – probably because after the Nexus 7, Asus needed to step it up a bit in order to compete with Google (and their own product, ironically). The FonePad has an aluminum back cover (available in gray or gold) and a Gorilla glass sheet on the front, with only a plastic strip at the top breaking the unibody image. Needless to say it looks and feels great – you won't guess it's a $249 tablet (with 3G and smartphone capabilities) at a first glance.
Hardware features and performance
The hardware had to take a backseat because of the low price point, but the FonePad still has some attention worthy specs. The 7.0 inch display has a standard 1280×800 resolution and looks very much like the Nexus 7's screen, probably because it uses the same IPS LCD panel. The colors and brightness are great and the viewing angles are near perfect.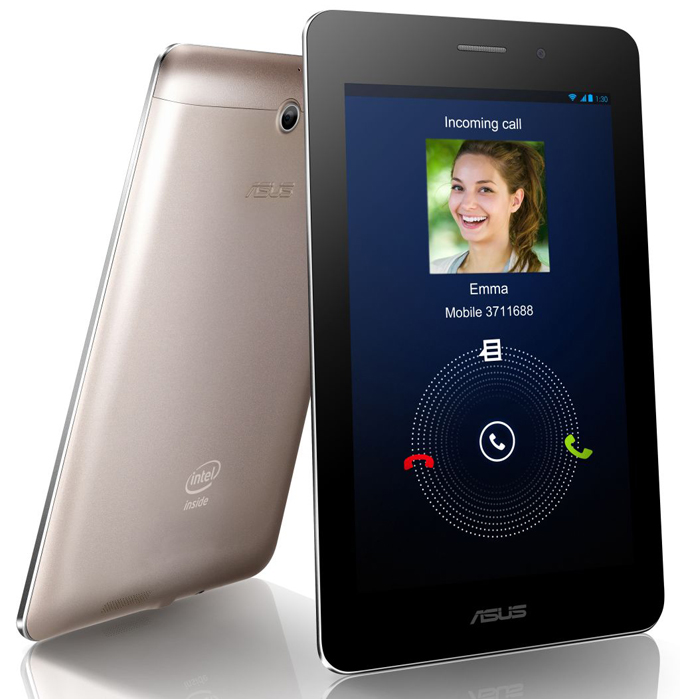 The choice of a processor is interesting – The FonePad is powered by Intel's Lexington platform, which includes a 1.2 GHz processor (1 physical core + 1 virtual thanks to Hyper Threading), the PowerVR SGX543 GPU and 1024 MB of RAM – a bit on the slow side compared to nowadays' devices (including the quad core Nexus 7), but more than enough to run any Android apps without issues – I even think it'll be able to run a full x86 Linux OS or Windows 8 (modders take note!) without problems.
The storage space includes 8 or 16 GB of onboard memory, a micro SD card slot and 5 Gb of lifetime free storage on Asus' own Webstorage Space cloud service – not a bad offer, especially if 4G LTE will become cheaper in the near future. There's a 3.0 Megapixels camera on the back that lacks an LED flash but has support for 720p video recording, and a 1.2 Megapixels camera on the front.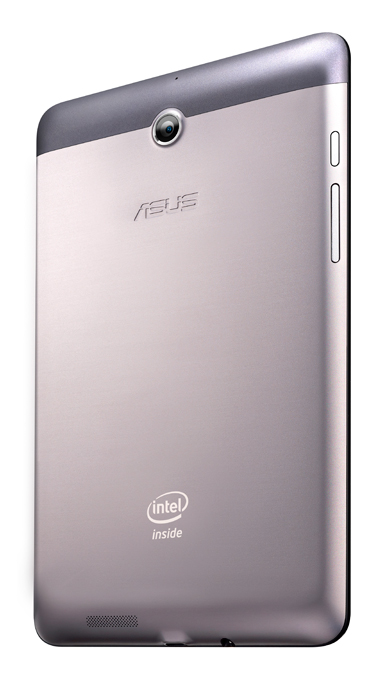 Connectivity options include Wifi N and Bluetooth 3.0, GPS/GLONASS, a micro USB port and of course HSPA+ 3G that supports up to 21 Mbps download and 5.76 Mbps upload speeds, as well as full voice/SMS features – it's basically a smartphone in that regard. That's the FonePad's shtick – you can make calls using any SIM card, preferably with a Bluetooth headset, but you can use the integrated speaker and mic if you don't mind looking absolutely ridiculous :-).
The battery life is actually pretty good for a 7.0 inch phone – the Li-Po 16 WHr unit can last up to 9 hours of continuous use, at least according to Asus.
Technical specifications
| Specifications | Asus FonePad |
| --- | --- |
| Display | 7.0 inches, 1280×800 pixels, IPS LCD, 216 PPI pixel density |
| Processor | Intel Atom Z2420, 1.2 GHz, single core (two useable cores with Hyper Threading) |
| RAM | 1024 MB |
| Graphics Adapter | PowerVR SGX543 |
| Storage Space | 8/16 GB, micro SD card slot (micro SDXC cards supported), 5 GB lifetime free storage on Asus Webstorage Space |
| Camera(s) | Back – 3.0 Megapixels with support for 720p video recording; Front – 1.2 Megapixels camera |
| Connectivity Options | Wifi N, Bluetooth 3.0, HSPA+ 21/5.76 Mbps download/upload, GPS, GLONASS |
| Sensors | Gyroscope, accelerometer, magnetometer, proximity and light sensors |
| Battery | Li-Po, 16 WHr, up to 9 hours of continuous use |
| Dimensions and weight | 196.4 x 120.1 x 10.4 mm, 340 grams |
| Operating System and Software | Android 4.1 Jelly Bean |
Software
The Asus FonePad runs Android 4.1 Jelly Bean out of the box and should have an update to the latest version available very soon. The user interface hasn't been changed from its default look, although there are a few custom widgets and apps that you'll only find on an Asus. Overall, the experience is great – the x86 Atom is doing a great job at running Android, with menu navigation, Web browsing, video playback and games all being smooth as butter.
Price and Availability
The FonePad is coming real soon (to Europe first) and will cost $249 for the base version, with the 16 GB model going for $299. That's a really good price – keep in mind that this is a 3G-enabled 7.0 inch tablet that can also make voice calls, it can really be an all-in-one device for those who don't want to carry a separate phone and tablet. At this price, you can forgive the slightly sub-par specs (although the Nexus 7 doesn't even have a camera on the back or micro SD card slot, for example) and enjoy the great build quality and features having known you've got the best bang for the buck.