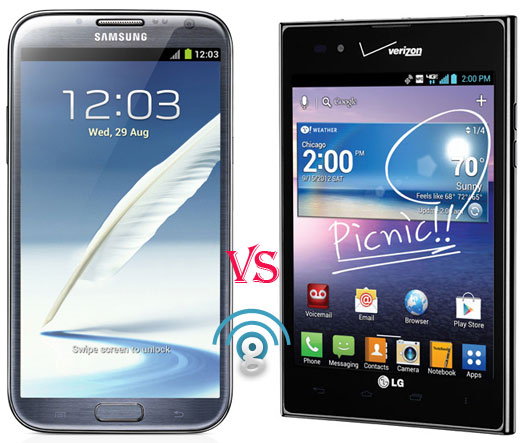 The Samsung Galaxy Note is one of the most popular smartphone/tablets on the market, and just recently, the company has released its successor, the Galaxy Note 2, which is pretty much a by-the-book evolution of the first model, with just enough new features to make it worth buying and even upgrading to.
There actually aren't all that many competitors to the Galaxy Note, which is surprising seeing as it's very popular and it's been around for almost a year now. One of the more notable competitors is LG's Optimus Vu, aka LG Intuition on Verizon, which has been released a couple of months ago and is pretty popular in South Korea. As the LG Intuition is just being released in the US, it's a direct competitor to the Galaxy Note 2, since the first Note is being phased out. Let's compare the devices and see if LG has any chance of competing with the king of phablets.
Design
Both the Galaxy Note 2 and the LG Intuition are big smartphones – there's no denying that. However, the Note 2 is the more graceful phone, with its 16:9 format 5.5 inch display. At 80.5mm width, it's quite hard to hold with one hand, but it's manageable (and even borderline comfortable if you have big hands). That's not the case with the LG Intuition – because of its 4:3 format 5.0 inch display, the phone is a whole 9mm wider than the Note 2 at 90.4 mm, and that is noticeable when you try to hold it – it's just not possible to operate with one hand!
That's why the Intuition should be treated as a small tablet instead of an over-sized smartphone, which the Galaxy Note 2 seems to be marketed as. Aside from that, both devices have a great build quality, with the LG Intuition feeling sturdier thanks to its metal frame and textured plastic on the back. The Note 2 is not bad either – if you held the Galaxy S2 or S3 in your hand, you know how it feels. It certainly won't break apart in your hands or pocket.
Hardware features and performance
The hardware part is where the LG Intuition is quite a bit behind the Galaxy Note 2. That's understandable since the Optimus Vu has been launched half a year ago, but LG could've opted for a more powerful processor at the very least (it's not like they can't – the Optimus 4X HD has been rocking the Tegra 3 for a while now). Still, the Qualcomm MSM8660 isn't exactly a slowpoke, either – with its dual 1.5 GHz cores, Adreno 220 GPU and 1024 MB of RAM, it can pull through most apps with ease.
But it's definitely not as fast and more importantly, future proof as the Galaxy Note 2's Exynos 4 Quad SoC, which has four cores running at 1.6 GHz, a quad core Mali 400 GPU and a full 2 GB of RAM – this thing will be high end for quite a while. The Galaxy Note 2 beats the LG Intuition in the storage space department, too: it comes in 16, 32 and 64 GB models and it has a micro SD card slot for up to 64 GB more, which is definitely better than the 32 GB of on-board memory on the Intuition.
The 5.5 inch display on the Note 2 is not only larger, but also better than the 5.0 inches on the LG on account of the non-PenTile Super AMOLED matrix, as well as the 1280×720 resolution. The LG Intuition is still pretty respectable, though, and the 4:3 format and 1024×768 resolution is a bit better for taking hand written notes. Speaking of notes, the Galaxy Note 2's stylus can be hidden inside the phone itself, while LG opted to have an external stylus (called the "Rubberdium") shipped with their phone – undoubtedly, the former is more comfortable and desirable.
And last, but not the least, the Galaxy Note 2 has a larger 3100 mAh battery, which should last well over the 10 hour mark and is a welcome improvement over the previous model's 2500 mAh unit. The LG Intuition still touts a small for its size and specs 2080 mAh battery, which they say should last for up to 9 hours of continuous use – not the best choice for a serious user.
Technical specifications
| | Samsung Galaxy Note 2 | LG Optimus Vu |
| --- | --- | --- |
| Display | 5.5 inches, 1280×720 pixels, Super AMOLED LCD, 267 DPI | 5.0 inches, 1024×768 pixels, HD-IPS LCD, 256 DPI |
| Processor | Exynos 4 Quad, 1.6 GHz, quad core | Qualcomm MSM8660 Snapdragon, 1.5 GHz, dual core |
| RAM | 2048 MB | 1024 MB |
| Graphics Adapter | Mali-400MP, quad core | Adreno 220, dual core |
| Storage Space | 16/32/64 GB models, microSD card slot (up to 64 GB cards supported) | 32 GB of onboard memory |
| Camera(s) | Front – 2.0 MP camera with HD video; Back – 8 MP camera with Full HD video support | Front – 1.3 MP camera; Back – 8 MP camera with Full HD video support |
| Connectivity Options | Wifi N, Bluetooth 4.0, GPS, NFC, micro USB, HDMI out, DLNA, Wifi Direct, HSPA+ 21/5.76 Mbps, 4G LTE 100/50 Mbps | Wifi N, Bluetooth 3.0 EDR, NFC, GPS, micro USB, HDMI out, DLNA, HSPA+ 14.4/5.76 Mbps, 4G LTE |
| Sensors | Gyroscope, accelerometer, light, proximity, magnetometer, barometer sensors | Gyroscope, accelerometer, light, proximity, magnetometer, sensors |
| Battery | Li-Ion, 3100 mAh | Li-Ion, 2080 mAh |
| Dimensions and weight | 151.1 x 80.5 x 9.4 mm, 180 grams | 139.6 x 90.4 x 8.5 mm, 168 grams |
| Operating System and Software | Android 4.1 Jelly Bean, Samsung TouchWiz Nature UX, Samsung apps and customizations | Android 4.0 Ice Cream Sandwich (with OTA 4.1 update), LG interface customizations |
Price and Availability
Both the Samsung Galaxy Note 2 and the LG Intuition will be arriving by the end of November, but the Intuition should be here sooner. Seeing as they'll both be available on Verizon, there's really no way that LG can sell more units than Samsung – I wonder if people will even notice the device, actually.