Asus has been the go to name in the tablet market for quite some time now, and even though there are a lot of other great manufacturers around making some great Android tablets, the company's Transformer series has been at the top of the sales charts ever since the first model was released.
Now that Windows 8 is out and is slowly making inroads into the tablet market (while also replacing Windows 7 on desktops), Asus wasn't going to let the opportunity of acquiring\ yet another piece of the market slide – after all, they made a name for themselves by making the best netbooks around, all of which ran Windows.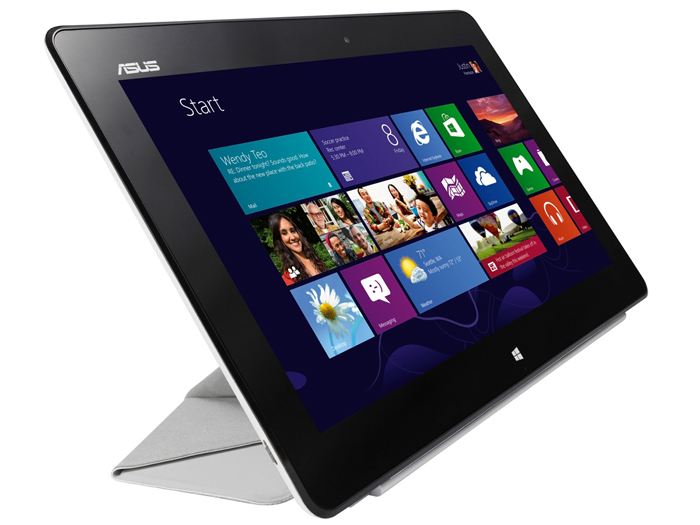 The company has announced their first Windows 8 tablet, the VivoTab, last year and this year they've introduced two more devices bearing the same name but aimed at different niches – the VivoTab RT and VivoTab Smart. The first one is of course, an ARM-based device running Windows RT, while the latter is the far more interesting Atom-based tablet aimed at the consumer market. I believe the VivoTab Smart is one of the best choices if you want a feature packed, yet affordable Windows 8 tablet right now – read on to see why!
Design
The Asus VivoTab Smart is not the most premium feeling tablet on the market, but it's still very well built and I doubt anyone will question its sturdiness when they hold it in their hands. The front is fully taken by a sheet of strong scratch resistant glass (Asus didn't confirm whether it's Corning's ubiquitous Gorilla Glass, though), and the rear features a plastic cover that comes in two colors, white and black, and is also scratch resistant.
We've already seen this kind of construction on the Samsung Galaxy Tabs – and they hold up pretty well so far. The use of plastic makes the tablet lighter, but of course it won't feel as pleasant as the aluminum iPad or even Asus' own ARM-based Transformer Infinity.

The TranSleeve keyboard is just the TranSleeve Vivo that comes with a slim and compact Bluetooth keyboard + touchpad and of course costs more. If you want to fully use Windows 8, it may be worth the price.
Hardware features and performance
Despite having the lowest price among Windows 8 tablets, the Asus VivoTab does not skimp when it comes to hardware features and performance. Inside this tablet, you'll find the same high quality components that are used throughout all current Windows 8 tablets. The 10.1 inch display is pretty respectable even though it only has a 1366×768 resolution. It has an IPS LCD panel and has great colors, near perfect viewing angles, as well as excellent brightness and contrast – I have a strong feeling this is the same screen used on the ThinkPad Tablet 2.
The processor used is of course Intel's Atom Z2760 – the same one found on all other Windows 8 tablets. With its two 1.8 GHz cores and Hyper-Threading, it is more than enough for any day to day applications, both for the Metro UI and legacy x86 software. The PowerVR SGX545 should be good for any video playback and games, as well – just don't expect it to render anything in AutoCAD. To round it up, there's 2 GB of onboard LPDDR2 RAM – not the best choice for Windows 8, but good enough for most people.
The Asus VivoTab Smart surprises when it comes to storage space, unlike most other tablets: it's got 64 GB onboard, a micro SD card reader AND 32 GB of free cloud storage on Asus' own Web Storage services – it will only be free for 3 years, though, but you have no obligation to continue using it once it switches to paid, so you can just quit using it then. The important thing is having a fast Internet connection to upload and download all your files.
The VivoTab Smart's other features include Wifi N, Bluetooth 4.0, GPS, NFC, micro HDMI and USB out, all the usual sensors, a 25 WHr battery that will last around 8 hours and two cameras – an 8 Megapixels shooter on the back with LED flash and a 2.0 Megapixels unit on the front, both of which support 1080p video recording.
Technical specifications
| Specifications | Asus VivoTab Smart (ME400) |
| --- | --- |
| Display | 10.1 inches, 1366×768 pixels, Super IPS LCD, 155 PPI pixel density |
| Processor | Intel Atom Z2760, x86, 1.8 GHz, dual core with Hyper-Threading (4 useable cores) |
| RAM | 2048 MB LP-DDR2 |
| Graphics Adapter | PowerVR SGX545 |
| Storage Space | 64 GB SSD, micro SD card slot (supports micro SDXC cards), 32GB on Asus WebStorage (free for 3 years) |
| Camera(s) | Back – 8 MP with LED flash and 1080p video recording; Front – 2 MP with 1080p video recording |
| Connectivity Options | Wifi N, Bluetooth 4.0, GPS, micro USB and HDMI out, NFC |
| Sensors | Light, magnetometer, gyroscope and accelerometer sensors |
| Battery | 25 WHr internal Li-Po battery – up to 8.5 hours of use |
| Dimensions and weight | 265.5 x 171 x 9.7 mm, 580 grams (tablet only) |
| Operating System and Software | Windows 8 |
Software
The Asus VivoTab Smart comes with Windows 8 onboard – not the limited ARM-based Windows RT, but the full version of 8 that runs on desktops, laptops, Ultrabooks and now tablets. The Metro UI is great for use with a tablet's touch screen, and even the desktop mode has larger buttons and spaces that can be used more easily with your finger.
The interface has no customizations – you are free to install your own apps and customize it yourself (to its limited extent – only the colors and wallpapers can be changed pretty much). Compared to Android and iOS, Windows 8 is slower, but the difference is minimal – the ability to run all the desktop apps you may be used to by now is a tremendous advantage.
Price and Availability
The biggest advantage the VivoTab has over the competition is that even though it's got a good quality build and top of the line hardware inside (well, if you don't count the Surface Pro with its Core i5 CPU… and 3 hour battery life), it is still very cheap – you can get it for only $499, the same price you'd pay for an iPad or Android tablet. For the specs and Windows 8, that's a great price – it finally makes the OS a contender for the average user. The tablet will be available by the end of spring, so if you were waiting for an affordable Windows 8 slate, this could be it.