The tablet market is growing at an amazingly fast pace and by the looks of it, the trend won't stop any time soon. In fact, estimates show that tablets will overtake laptops in less than two years, which is why Intel and the many laptop/desktop manufacturers are struggling so hard to enter the new market.
On the software side, Apple's iOS and Google's Android rule things – however those who have been in the industry for more than a decade know that Microsoft's Windows has the longest recorder history on mobile devices, and with Windows 8 they've finally made the comeback they were talking about for years.
Microsoft didn't stop at the OS this time, either – they're releasing their own hardware that will both help them get into a whole new market, as well as act as a reference point for all the other tablet and Ultrabook manufacturers that prefer Windows as their OS of choice. The ARM-based Surface is a bit of a hit or miss device, but we'll give it a pass since it's new territory for Microsoft.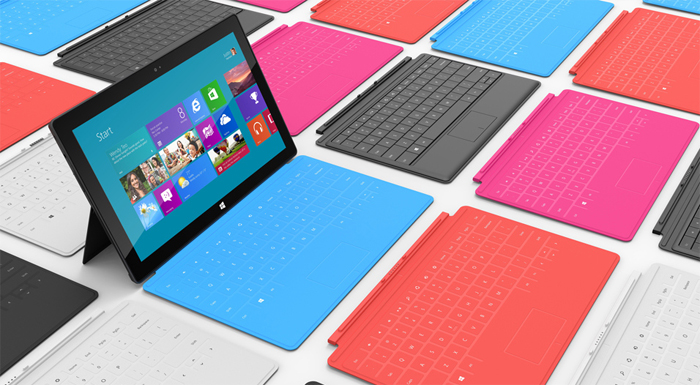 The Surface Pro, on the other hand, is the best Windows tablet (and indeed, just tablet) to date, and it sets a new milestone of quality and features that other companies will no doubt try to reach, as well. Let's take a closer look at it and see exactly why it's the current king of Windows tablets.
Design
The Surface Pro is at the top of the hill when it comes to design and build quality – Microsoft has paid a lot of attention to the details, resulting in a very nice and polished product that anyone would be proud to show off.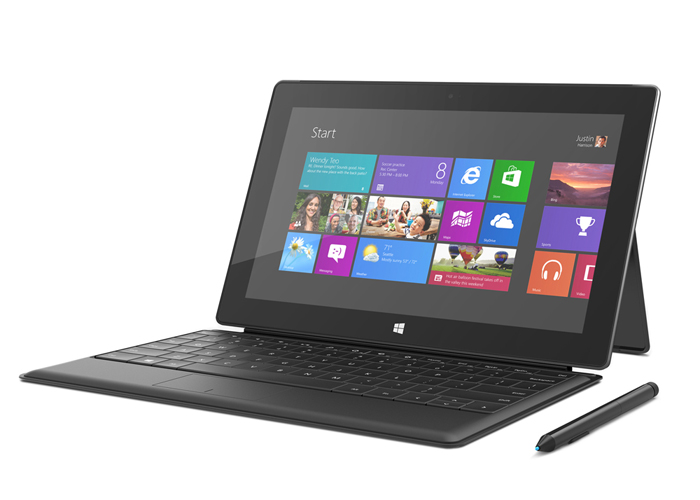 First of all, considering what's inside, the Surface Pro is a very small device, being only slightly bigger (at 27.5×17.3cm) and thicker (at 13mm) than most of the current 10.1 inch tablets, as well as the iPad. It's quite heavy at 910 grams, but again, the performance is unmatched, plus the all metal construction takes its toll – I have no doubt Microsoft could've made it lighter if they used plastic all around like Samsung typically does.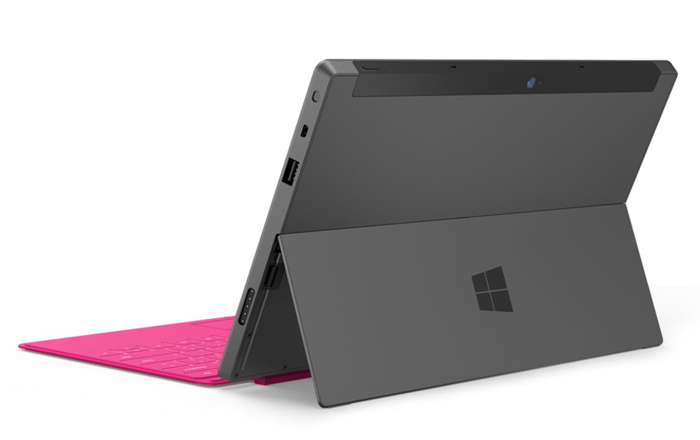 The housing (dubbed VaporMg) is molded out of a magnesium alloy and has a matte, slightly textured dark titanium finish that is applied using PVD (Physical Vapor Deposition, hence the VaporMg name) technology, which makes it practically scratch-proof – you're much more likely to bend the device than scratch it if you drop it. The front is taken up by the display, while the sides are slanted towards the back, making accidental button presses very hard. All the buttons and ports are on the sides, with the back featuring only the built-in kickstand.
An interesting design is the fan vent – it's so cleverly disguised that you'll never notice it. Can you guess where it is?
It's the whole upper half of the back cover – the air comes in and out through the millimeter thin grill around the sides, while the kickstand hides the fact that there's a vent by taking the blame for the extra thickness. That's very ingenious, and it's what allowed Microsoft to use Ultrabook-grade hardware inside a 10 inch tablet. Oh, and in case you're wondering – the Surface Pro is not actually fanless: it has two fans in fact, they're just very quiet.
Hardware features and performance
The hardware is the main attracting point of the Surface Pro – this thing packs some serious power, which makes it the tablet of choice for anyone who needs to do actual work on the go instead of just checking emails. It can also double as a pretty good gaming console that runs some of the best titles of the past decade.
The first thing you see is the screen, and it does not disappoint: the panel inside the Surface Pro is a custom sized 10.6 inch, 1920×1080 IPS LCD unit, which looks better than the pathetic 1366×768 TFT LCDs that make up the majority on mobile devices running Windows 8. It's slightly behind Apple's Retina Display, but the resolution is more than enough for the pixels to be unnoticeable, plus you gain a whole inch in overall viewing surface. The Wacom digitizer lets you use a stylus for taking notes, drawing and for precision work – it's very accurate, as well as pressure sensitive.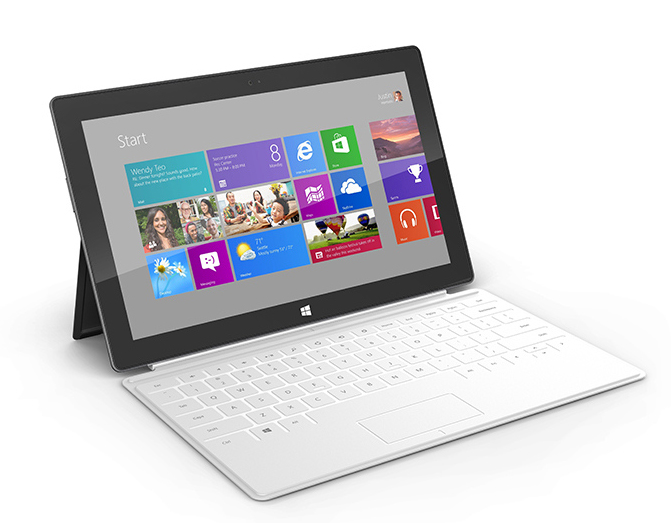 The processing power is provided by an Intel Core i5-3317u processor, which has two physical cores (and a whole 4 usable cores thanks to Hyper-Threading) running at 1.7-2.6 GHz depending on the load, heat and power usage. It also comes with Intel's unabridged HD Graphics 4000 GPU, which is capable of running most games released pre-2007 at high settings and FPS (so goodbye productivity if you install Portal) and of course any new games designed for the Metro UI.
When it comes to memory, there's 4 GB of DDR3 RAM running in dual channel configuration, a 64 or 128 GB SSD onboard, as well as a micro SD card slot that you'll most likely want to use to store all your data since Windows 8 and x86 software in general take up a lot of space and simply need the faster SSD drive.
The rest of the specs aren't all that impressive: there's the usual Wifi and Bluetooth adapters, GPS, mini DisplayPort, 1x USB 3.0 port, two 1.2 MP HD cameras on the front and rear and a 42 WHr battery that is supposed to last up to 4.5 hours of use, but that heavily depends on what it's used for – if you make heavy use of the Wifi, processor or GPU, you'll need to recharge in less than 3 hours. Very disappointing, but that's the tradeoff for such high performance.
There's also the optional keyboard, which is really a must have – it's ultra slim and even has a touchpad, but the main point is that you'll be able to write more comfortably wherever you are. It is quite expensive, though.
Technical specifications
| Specifications | Microsoft Surface Pro |
| --- | --- |
| Display | 10.6 inches, 1920×1080 pixels, IPS LCD, 208 PPI pixel density |
| Processor | Intel Core i5-3317u, 1.7 GHz (up to 2.6 GHz with Turbo Boost), dual core with Hyper Threading (4 useable cores) |
| RAM | 4096 MB DDR3 in dual channel mode |
| Graphics Adapter | Intel HD Graphics 4000 |
| Storage Space | 64/128 GB SSD onboard, micro SD card slot (with support for micro SDXC cards) |
| Camera(s) | Front and rear facing 1.2 MP cameras with support for 720p HD video recording |
| Connectivity Options | Dual band Wifi N, Bluetooth 4.0, USB 3.0, mini DisplayPort, GPS |
| Sensors | Light, magnetometer, gyroscope and accelerometer sensors |
| Battery | Li-Ion, 42 WHr battery, up to 4.5 hours of continuous use |
| Dimensions and weight | 275 x 173 x 13 mm, 910 grams |
| Operating System and Software | Windows 8 |
Software
The Surface Pro runs (and was specifically designed for) Microsoft's own Windows 8, as I already mentioned, and the whole experience is like something you'd only expect from Apple. The UI is very fast, you can easily work in both Metro and desktop modes, and of course, you can run any Metro or legacy apps you want. You can even install Ubuntu if you want, although I believe there would be issues with the drivers. But Windows 8 is an excellent OS on this tablet.
Price and Availability
Obviously, any device with such an impressive resume will cost a lot, and the Surface Pro is no exception. The 64 GB model goes for $899, with the optional keyboard selling for $120 and the 128 GB model going for $999. For a tablet, that's expensive, but if you compare it with any Ultrabook (to which the Surface Pro is actually closer specs-wise), the price actually makes sense. The device has been on pre-sale for a while now, and the shipments kept being delayed, but since March, 12th, they started shipping on schedule.
In conclusion, I have to say that the Surface Pro is a tool for professionals, enthusiasts, corporate users and other tablet manufacturers – average users should really look elsewhere or just wait until a competitor outs something more affordable.