Nikon is one of the world's top brands when it comes to professional digital cameras, lens and equipment, and there's a reason for it: their high level DSLRs have consistently been the most feature packed and reliable, used by thousands of professional photographers all around the world.
Meanwhile, their consumer cameras are definitely lacking – people pay for the brand, but discover that their new Nikon has even less features than the cheaper competition. They've been working hard to improve the situation, though, and the latest models have achieved a pretty good balance when it comes to features and price.
Still, if you're a beginner photographer and you want to get an inexpensive Nikon that is easy to use and not as complicated as a full-fledged DSLR with inter-changeable lens, the company's Coolpix P-series (intended for beginners and amateur photographers on a budget) are the only cameras that will do the job. The latest addition to the line is the Coolpix P520 – a feature packed semi-pro camera that offers most of the things you'll need to get started with photography without wasting a ton of money.
Design
Design wise, the Coolpix P520 is nothing special – it's your usual DSLR-like body without a lens mount. The camera has some nice rounded lines that do stand out from the competition, which is currently experiencing some retro fever it seems. The P520 looks modern, and that's pretty refreshing.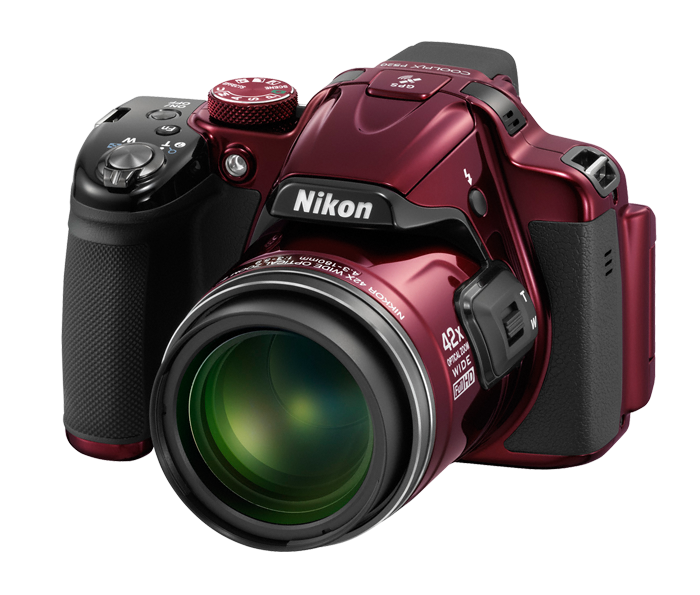 Right off the bat, you'll notice the large lens barrel – it needs to be that way because of the insane 42x zoom – it's rare that you see this on a semipro. On the back, there's an equally large 3.2 inch display that is fully articulated – you can turn and rotate it however you want, which gives you a wide range of possibilities when taking photos.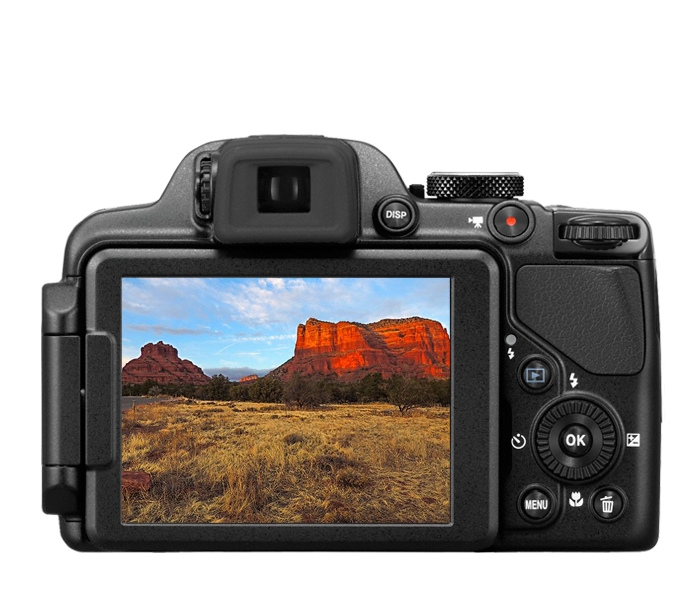 The controls are laid out in a manner similar to previous P cameras, and not unlike Nikon's professional DSLRs – the Coolpix P520 is a great camera if you're planning on stepping up to a more expensive Nikon in the future.
Photography Features
The Nikon Coolpix P520 has an average sized 1/2.3" sensor, which nonetheless outputs some great quality photos thanks to its 18.1 Megapixels, lens-shift image stabilization (which also works when recording video), 4.3-180 focal length (35mm equivalent) and 80-3200 ISO sensitivity. The integrated EVF has 201,000 pixels, which are nearly indistinguishable at its size, so it's very comfortable to use.
Worth noting are the 7 frames per second continuous shooting speed, which is a lot for this kind of camera, 1/4000 seconds fast shutter speed (8 seconds is the slowest it can go, though), and 99 focus area that should make it very easy to create the perfect scene when using the camera on manual settings.
Sadly and surprisingly, there is no hot shoe for external accessories – I get that Nikon intended the P520 to be used as a standalone camera and they want you to buy their higher price professional products, but a hot shoe would've been very helpful for those who want to hone their photography skills. In place of the hot shoe, you can find the pop up flash, GPS receiver and dual microphone array.
Video recording features
The Coolpix P520 is an excellent choice for video recording, as well. Not only can its 18.1 Megapixel sensor provide an impressive image quality (with fast autofocus, image stabilization and quiet zoom during shooting), but the 3.2 inch display can also help with monitoring, especially when you're self-recording. The camera supports most of the existing popular resolutions, starting from VGA and going all the way up to 1920x1080p at 30 FPS or 1920x1080i at 60 FPS.
The phone video format 960×540 resolution is also interesting – if you're shooting a video intended to be watched on a smartphone, this is a great way of taking advantage of its whole screen (though I think 1280×720 is going to be a better choice for most phones and tablets).
Connectivity and Battery
Connectivity wise, it's safe to say that the Nikon Coolpix P520 has it all. Not only does it have the usual USB and HDMI out, but it also has an old school analog AV out port, GPS receiver, and an optional Wifi adapter. You certainly get a lot of flexibility with connecting the P520 to external devices (it might even make up for the lack of a hot shoe).
All that wireless power can tie in pretty heavily with the battery life – the Li-Ion rechargeable pack is rated for 200 shots, but if you're leaving the GPS always on and using Wifi, you better take another couple of batteries with you as I don't think they will last even 150 shots like that. Sadly, there is no DC connector that would allow you to run the camera off mains power, either, so you are stuck with recharging batteries.
Technical specifications
| Specifications | Nikon Coolpix P520 |
| --- | --- |
| Sensor | BSI-CMOS, 1/2.3", 18.1 effective Megapixels |
| Lens and optics | Fixed lens, 4.3-180mm focal length, 42x optical zoom, manual focus, image stabilization |
| Display/viewfinder | 201,000 dot 0.2" electronic live view viewfinder with -4 to +4 diopter adjustment, 921,000 dot articulated 3.2" display |
| Photography features | 4896×3672 maximum resolution, 99 focus areas, motion detection, ISO 80-3200, full auto mode, 7 frames per second high speed shooting, 1/4000-8 second shutter speed, built in flash |
| Video recording features | MPEG-4 or H.264 format, stereo audio recording, 1920×1080 or 1280×720 resolution at 30 FPS |
| Storage | 15 MB internal memory; SD/SDHC/SDXC card slot |
| Connectivity Options | USB out, HDMI out, AV out, GPS, optional Wifi adapter |
| Battery | Li-Ion rechargeable battery, 200 shots per charge |
| Dimensions and weight | 125.2 x 101.6 x 84.1 mm, 550 grams |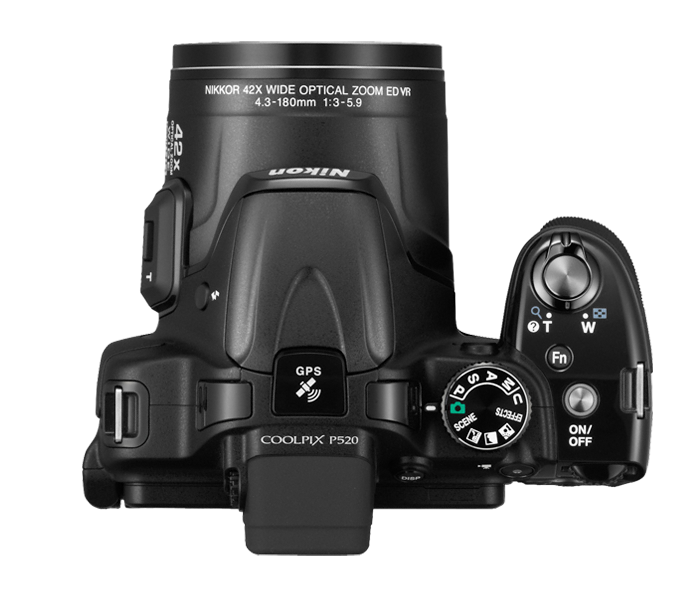 User Interface
The user interface is nothing special – it's simple, dark and it gets the job done. There are no pretty pictures in the background or heavily animated menu entries – but you don't need them anyway on a professional camera (and it really helps you cope with the even more spartan UIs on professional DSLRs). The display is not touch enabled, which is actually a good thing since you'd most likely end up accidentally touching it and ruining your whole experience with the camera.
Price and Availability
The Nikon Coolpix P520 is coming to stores at the beginning of spring, and it will cost a very comfortable $430 – that's a great price for a great semipro camera from Nikon that has all the features a beginner photographer might need. If you're a Nikon fan or just want a high quality versatile camera for photos and videos alike, be sure to check it out.