Dell has been on a pretty successful streak these past few years, releasing some of the best products for consumers and business users alike, including monitors, desktop workstations and laptops. They've also dabbled into the mobile world, and while their smartphones didn't sell especially well, they were among the highest quality devices on the market (the Dell Venue Pro comes to mind, with its practical and durable, albeit chunky design).
The company seems to be set on continuing this, and to show that they're serious, the founder Michael Dell (with help from investors Silver Lake Partners and Microsoft) has purchased back all of the company's shares, effectively bringing full control back to the company – usually, this is a sign that they will focus more on their products and innovation instead of trying to please shareholders with an ever-increasing bottom line.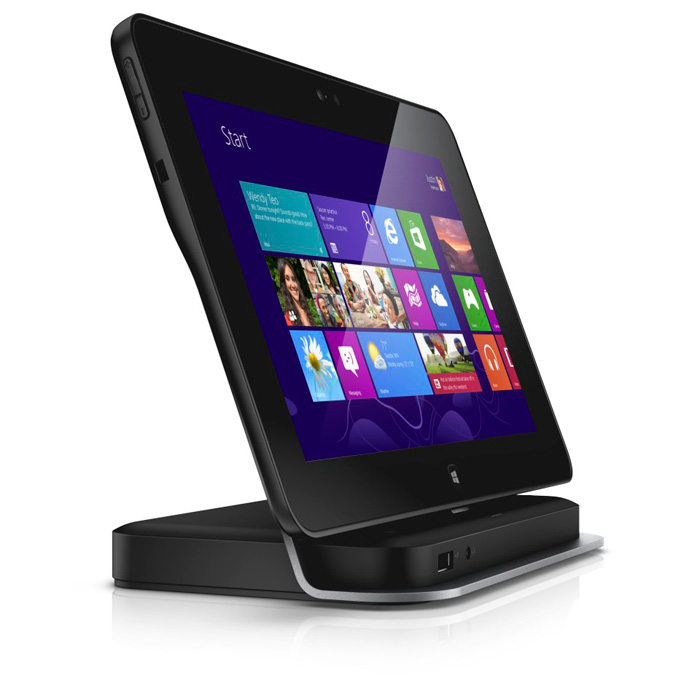 On the tablet market, Dell has just released the Latitude 10 – an Atom-based Windows 8 business-oriented device that has quite a few features that will attract the attention of professionals and consumers alike. It comes as a follow up to the pretty good Latitude ST, and it's been improved in pretty much every way. Let's take a closer look at it and see what makes it the perfect business travel companion.
Design
The Dell Latitude 10 is a very well designed tablet, both from a build quality and a practical use stand points. The whole device has a magnesium alloy frame, with a strong Gorilla Glass 2 on the front and a soft touch finish on the back and sides – this thing won't scratch or damage easily, which is perfect for those who travel a lot or use it in the field. One of the most important design features is the removable battery – you can take it out and pop in the new one in literally two moves, just like the batteries on the cellphones of old or gun magazines.
This makes it very easy to continue working anytime, anywhere, although you will have to carry an additional battery – as an alternative, you can also get a 4 cell battery that is thicker and protrudes from the tablet, but also lasts twice as long (up to 18 hours of continuous use – and Dell is being quite honest here). It does depend on what you're doing, though.
Strangely, the Latitude 10 doesn't have a keyboard dock (which is all the fashion nowadays), but Dell does offer a separate desktop dock with several useful ports (including Ethernet – a rarity with tablets) and a wireless full size keyboard and mouse that should be much better than your average keyboard dock (but which do take more space).
Hardware features and performance
The Dell Latitude 10 uses a fairly standard for Windows 8 tablets 10.1 inch IPS LCD display with a 1366×768 resolution – it's not comparable to the Full HD displays on the latest Android tablets or Apple's Retina Display, but it gets the job done. The colors are great, the contrast and brightness are enough to view anything outdoors and the viewing angles are near perfect – just what a user needs.
The performance of the Latitude 10 is not up to par with the Microsoft Surface Pro, but then again neither are other tablets. The Intel Atom Z2760 (which is also used on every other new Windows 8 tablet) is more than enough for standard tasks like email, Web browsing, document editing and viewing video. It's got 4 cores (2 physical and 2 virtual thanks to Hyper Threading) that run at 1.8 GHz, 2 GB of DDR2 RAM and the PowerVR SGX545 GPU – the latter is kind of weak compared to even Intel's HD 3000, but it does work well even when outputting Full HD to an external display.
On the practical side, the Dell Latitude 10 comes with a full size SD card reader that supports SDXC cards (in addition to 64 or 128 GB of onboard storage) and a full size USB 2.0 port, which is actually fully powered and can run a 3G modem or external hard drive by itself without problems, unlike the Lenovo ThinkPad Tablet 2.
The Latitude 10 doesn't skimp on the cameras, either – it's got the standard 8 MP with LED flash on the back and 2.0 MP camera on the front combo, with the former supporting 1080p video recording and the latter being limited to 720p HD. Other specs the usual Wifi N, Bluetooth 4.0, a micro USB and a micro HDMI out ports, as well as an optional GPS and HSPA+/4G LTE adapter. There's also support for a stylus, which you'll have to buy and carry separately – it may be worth it if you really need it, though.
Technical specifications
Specifications
Dell Latitude 10
Display
10.1 inches, 1366×768 pixels, IPS LCD, 155 PPI pixel density
Processor
Intel Atom Z2760, 1.5-1.8 GHz, dual core (4 useable cores with Hyper Threading)
RAM
2048 MB
Graphics Adapter
PowerVR SGX545
Storage Space
64/128 GB SSD, SDXC card reader
Camera(s)
Rear – 8 Megapixels camera with LED flash and support for 1080p video recording; Front – 2 Megapixels with support for 720p video recording
Connectivity Options
Wifi N, Bluetooth 4.0, USB 2.0 port, micro USB port, HDMI out
Optional: GPS and HSPA+/4G LTE
Sensors
Gyroscope, accelerometer, magnetometer and light sensors
Battery
Removable battery
Standard 2 cell battery: 30 WHr, up to 8 hours of continuous use
Optional 4 cell battery: 60 WHr, up to 18 hours of continuous use
Dimensions and weight
With standard battery: 274 x 176.6 x 10.5 mm, 658 grams
With high capacity 4 cell battery: 15.9 mm thickness and 816 grams
Operating System and Software
Windows 8
Software
The Dell Latitude 10 comes with Windows 8 Pro installed, and there's not that much bloatware on it – a good sign for any Windows powered device. You can run Metro apps, as well as standard desktop software without issues, and working with the interface is pretty easy on a touch screen thanks to the slightly oversized menus and buttons in desktop mode.
Price and Availability
The Dell Latitude 10 is already on sale and it can be purchased in its basic configuration for only $499 – a very affordable price for such a device. That makes it a better choice than just about any other Windows 8 tablet (even the Lenovo ThinkPad Tablet 2). The Productivity Dock will cost you $100 by itself, and the price rises quite steeply if you want the full package with a 128 GB SSD, two batteries and the stylus, keyboard and mouse (you can use any keyboard and mouse, by the way – it's Windows, remember?). Still, the price is more than acceptable for a high quality tablet that offers everything you'd need for work and more.