Sony's cameras aren't all that popular with professional photographers, but that's mostly because of the lack of good advertising campaigns. While enthusiasts and pros alike go gaga for Nikons and Canons, Sony silently lives in the background with their Alpha series DSLRs and some of the best sensors on the market. The company has been making inroads into the beginner enthusiast market for a while now with their NEX cameras, and this year, they've also started to dabble in the compact pro niche.
Along with the very expensive and niche specific Cybershot RX1 (which has a full frame sensor, fixed lens and very high precision), Sony also announced the DSC-RX100 – a more affordable compact camera for enthusiasts and professionals who need a good camera for everyday use that would not compromise on the features and quality. Being one of the first such cameras from Sony in almost a decade, it's interesting to see just how well it can compete on the current market.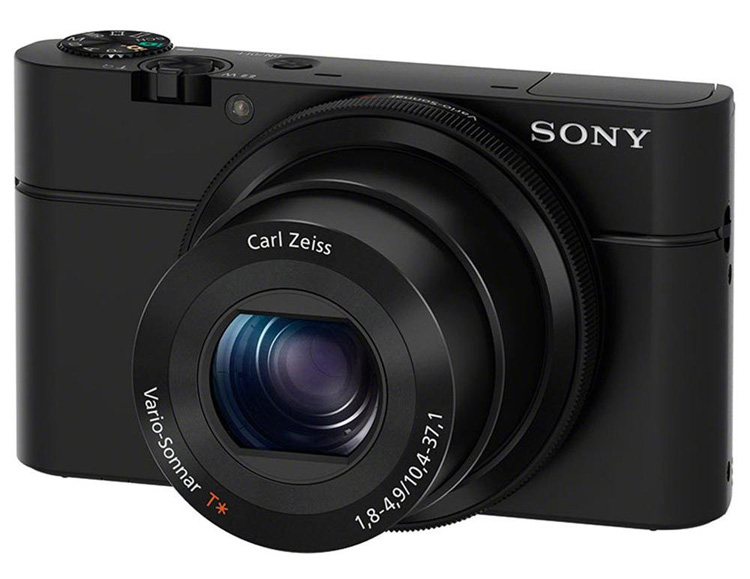 Design
The RX100 is a well-made camera, with an all-aluminum body and a classic design – it won't attract attention, but it will get the job done. The lens is retractable, and when it's off, the RX1 doesn't look any different than a simple point and shoot – at 102x59x36 mm and 240 grams, it's very small and light and perfect for carrying in your pocket. The pop-up flash may seem a bit flaky at first, but it's actually pretty sturdy and won't break off (unless you drop the camera right on it). It can't be opened manually, though – you need to use the flash mode button for that. There is no hot shoe on the top, so you won't be able to use accessories with this camera, but that's to be expected of a compact pocketable camera.
Photography Features
The main selling point of the Sony RX100 is its 1.0" sensor – twice as large as any similar compact camera, and although it's not as good as a Four Thirds sensor or the full frame beast in the RX1, it's still an excellent performer. The sensor has 20.2 Megapixels to work with, and together with the fixed lens it provides a 28-100 focal length (35mm equivalent), a 3.6x zoom (might not seem like much, but it's enough for most tasks), 25 focus points with manual and autofocus, a 5cm macro mode (which is quite impressive), built-in image stabilization (including during video) and a control ring that can be used for multiple functions (customizable in the menu). There are plenty of manual options, but if you want to, you can leave everything to the camera's intelligent auto mode – it works amazingly well.
Video recording features
The RX100 might actually be a better video camera than most hand held compact camcorders. The combination of a large sensor, good lens and great internal processor makes it perfect for video recording on the go, but it can also work as a main or backup camera in your studio/office. Autofocus and image stabilization works during video recording, there are two microphones to record audio (although you still might want to use an external recorder) and the camera supports 1920×1080 resolution at 60 FPS progressive, as well as lower resolutions, of course. The footage really looks like something taken with a much larger camera.
Controls and User Interface
The controls on the DSC-RX100 are laid out in much the same way as on the RX1 and many other compact cameras. The top holds the hidden flash, dual microphone array, zoom and shutter release button, the on/off button and the PASM dial, which freely rotates between modes in any direction. The right side has the USB port that is used for transferring files and charging the battery (there is no external battery charger in the package – only a USB charger), and on the bottom there's the battery/memory card compartment and the HDMI out port (which is obviously not useable with a tripod). The back has the 3.0" display (with a WhiteMagic LCD panel – higher brightness and lower power consumption), the usual 5 way dial pad and 4 buttons for navigation and use.
The user interface is geared towards seasoned photographers as opposed to newbies – there are no easy tooltips and pretty backgrounds – it's all text and left-right-up-down navigation. That is pretty much a telling sign that the RX100 is not made for beginners – although it's not that hard to get accustomed to the menu if you want to have one camera for all your learning needs instead of switching from one camera to another.
Technical specifications
| Specifications | Sony Cyber-shot DSC-RX100 |
| --- | --- |
| Sensor | CMOS, 1.0" (13.2 x 8.8 mm), 20.2 effective Megapixels |
| Lens and optics | Fixed lens, 28-100 focal length, 3.6x optical zoom, 25 focus points with auto & manual focus, image stabilization, 5cm macro mode range |
| Display/viewfinder | Fixed 3.0" TFT LCD with WLED backlight |
| Photography features | Pop-up flash, F1.8-F4.9 aperture, 1/2000-30 seconds shutter speed range, auto mode, 10 FPS continuous shooting, ISO 100-25600, 5472×3648 maximum resolution |
| Video recording features | Autofocus and image stabilization while recording, stereo dual microphones, AVCHD or MPEG-4 format, 1920×1080 at 60 FPS Progressive, 1440×1080 at 30 FPS, 1280×720 at 30 FPS and 640×480 at 30 FPS resolutions |
| Storage | SDXC and Memory Stick Duo card slots |
| Connectivity Options | USB 2.0 out, micro HDMI out |
| Battery | Li-Ion, Sony NP-BX1 pack, external charger, 330 shots per charge |
| Dimensions and weight | 102 x 59 x 36 mm, 240 grams |
Connectivity and Battery
As mentioned, the Sony Cybershot DSC-RX100 only has a USB and HDMI out ports. It accepts both SD and Memory Stick cards through the same slot, but there's really no reason to choose the latter anymore, as SDXC UHS cards are plenty fast and are much cheaper per GB of storage.
The battery is the same NP-BX1 Li-Ion pack used on Sony's other compact cameras, including the RX1. Compared to the RX1's 270 shots per charge, the RX100 can last 330 – much better and it may be just enough to avoid having to carry another battery. The fact that you can charge the battery in the camera may be a plus, but I really wish Sony would've included an external charger, as well – for charging multiple batteries at once.
Price and Availability
The RX100 has just been released and it goes for $649 – much less than the $2800 asking price for the RX1. The Sony RX100 is therefore a great choice for professionals and enthusiasts who want a high quality travel camera with no compromise on the photos, as well as beginners who want to have just one camera before they go for a true dSLR. People who travel and need good video capabilities in a small package should also pay attention to the RX100 – it's a great alternative to some of the compact camcorders out there (which cost nearly the same).