Professional cameras have been shrinking in size for the past half-decade, and the process has only accelerated since we completely got rid of actual mirrors inside digital SLRs. Today, the traveling photographer has a lot of products to choose from if he wants a compact, yet still fully functional camera that can deliver the same quality as its bigger counterparts. The Fujifilm X100 was another milestone in compact pro cameras, and this year Sony decided to enter the game and up the ante.
Sony has actually introduced two new models – the Cyber-shot RX100 and RX1 professional fixed lens compact cameras, with the former being the more affordable model and the latter being the expensive, truly interesting device. Today we take a closer look at the Cyber-shot RX1 and find out exactly why it's the most serious compact pro camera on the market.

Design
The RX1 looks just like any other point and shoot camera, which is pretty much the whole point – this camera is the wolf in sheep's clothing of the photography world. Pretty much the only thing that stands out is the lens, which is non-retractable and looks oversized for the small body. The size and weight are really impressive – the RX1 is only 113x65x70 and weighs 482 grams – small enough to take it anywhere without the need for even a special bag (though you'd probably want to use one for such an expensive device).
The whole body is made of metal, and it feels very sturdy – you know right away this is a quality product, and it will withstand any kind of environment, which means that you'll be able to take it anywhere for even the most extreme photo shoots.
Photography Features
The biggest selling point of the RX1 is its full frame sensor – it's really surprising that it even fits inside the camera! It is a modified version of the sensor used in Sony's new Alpha A99 dSLR, with the differences being in the missing on-sensor phase detection elements, as well as the lack of focus tracking and peaking – all of which were omitted on the RX1 to get the best precision and picture quality. It's got 24.3 effective Megapixels and a 35mm focal length. The shutter can take continuous photos at 5 FPS and it can open/close as fast as 1/4000 of a second or stay open for up to 30 seconds, depending on your needs.


The sensor is really unmatched in this class and the Carl Zeiss Sonnar T lens, which has 8 elements in 7 groups, with 3 "advanced aspherical" elements, plays a major role in achieving that unique quality. The lens is of course fixed and has several manual control rings – aperture (from f/2 to f/22 in thirds of f-stops), focal length (30cm-infinity to 20cm macro) and a manual focus ring, and all of the rings are easy to operate.
The main drawbacks of the RX1 are the missing viewfinder (you only get the 3.0" LCD to work with, but you can attach an EVF accessory to the hot shoe), lack of optical zoom and lack of image stabilization, but if you're the kind of photographer who spends $2800 on this camera, you probably will appreciate the image quality more. The apparently missing flash is there – it's actually hidden inside the body and pops up whenever you need it.
Video recording features
Believe it or not, the RX1 is actually a great camera for shooting video, too – as long as it's the studio/stationary kind, because the fixed lens is really not good at dynamic adjustments for any action scenes. The picture quality is great though, and the camera supports 1080p and 720p video recording at 60 FPS and has a stereo microphone array – it would be perfect for any events like tech conferences or live seminars, for example. You can also use it in a studio with ease – with an external audio recorder, this camera can provide the same quality as a dedicated camcorder, as long as you don't need zoom anyway.
Connectivity and Battery
There isn't much to the connectivity part of the RX1 – the camera wasn't made to be an all in one wonder, with Sony focusing exclusively on the photography quality. There is the basic HDMI and USB out but nothing more. The storage space is provided by either a SD or a Memory Stick card (Sony includes them both because they own the latter).
The battery, as expected, lasts quite a lot less than a similarly sized point and shoot camera – you'll only get up to 270 shots per charge, so better get a few backup batteries if you want to be out in the field for a while. The RX1 uses the same NP-BX1 battery pack as other compact Sony cameras, so you won't overpay for them. If you don't want to carry a charger around, you can charge the batteries in the camera itself – a useful feature for a travel-oriented camera.
Technical specifications
| Specifications | Sony Cyber-shot RX1 |
| --- | --- |
| Sensor | CMOS, full frame 35.8×23.8 mm, 24.3 effective Megapixels |
| Lens and optics | Fixed lens, 35mm focal length, no optical zoom, no image stabilization, manual focus, 25 focus points |
| Display/viewfinder | Fixed 3.0" TFT LCD display, 1,229,000 pixels |
| Photography features | 6000×4000 maximum resolution, full manual controls, auto modes, 1/4000 to 30 seconds shutter speed range, built in flash, 5 FPS continuous shooting |
| Video recording features | 1920×1080 @ 60p, 1440×1080 @ 30p, 1280×720 @ 30p, stereo microphone array, MPEG-4 or AVCHD format |
| Storage | SDXC and Memory Stick slots |
| Connectivity Options | USB and HDMI out |
| Battery | Li-Ion, Sony NP-BX1 pack, external charger, 270 shots per charge |
| Dimensions and weight | 113 x 65 x 70 mm, 482 grams |
User Controls and Interface
The controls on the RX1 are laid out in a logical manner – with the main PASM and exposure dials on top along with the shutter release button, which has a threaded connection for cable release and is paired with the on/off switch. On the back, there's the control/navigation 5-way button, as well as menu, function and delete buttons. The flash has its own on/off button right above the display, next to the playback button. To the side, there's a video recording button that lets you start/stop recording right away, which is a surprise on this camera.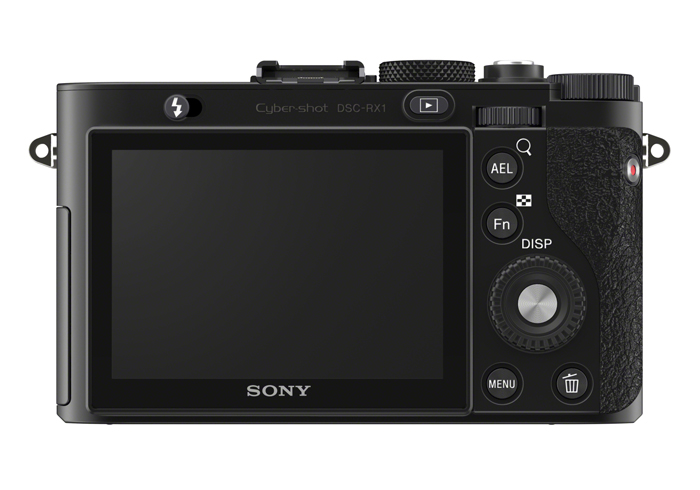 The user interface on screen is pretty spartan, with white text on a black background making up most of the experience. There's no need for any flashy backgrounds and pictures, as the camera is aimed and will most likely be used only by seasoned photographers, so there's really nothing bad about it – it's just your standard menu, with easily accessible options using the 5-way pad.
Price and Availability
The Cybershot RX1 went on sale a while ago, but even for what it offers, it's quite expensive at $2800 (and 2800 pounds in the UK). The full frame sensor is great, but even with a high quality fixed lens, the options are really limited when you think about it. If this was an ILC, it would be a game changer, but as it is, it's a compact camera for a limited number of professionals who can afford it.