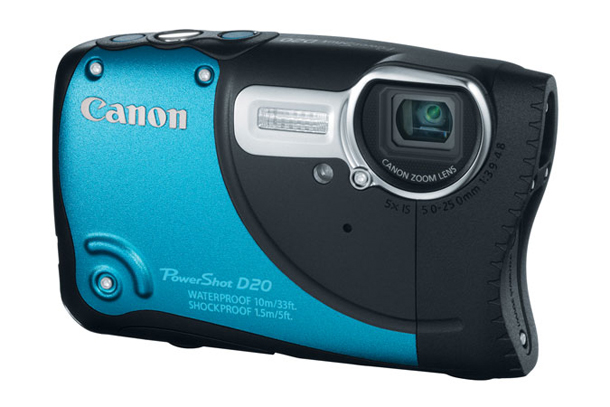 Adding to the list of rugged, summer-proof cameras is Canon PowerShot D20. Besides being able to withstand up to 10 meters of water submersion, it is tough enough to sustain 1.5-meter drops without any damage. PowerShot D20 can handle temperatures of up to -10C too which makes it freeze-proof and resistant to harsh winters. Really, it is one of the few cameras you can take with you wherever and no matter.
Design
First thing you'll notice with Canon PowerShot D20 is its unconventional shape. One of the shorter sides is shaped like the tail of a fish. The second thing that stands out is its two-tone pattern. You can choose from black and yellow, turquoise, or silver. Control buttons adopt the same bright colors allowing easy navigation even when taking photos underwater. We like the fact that it has no protruding parts – everything is intact. So if you place it in your pocket or bag, it won't get snagged with anything else that's in there.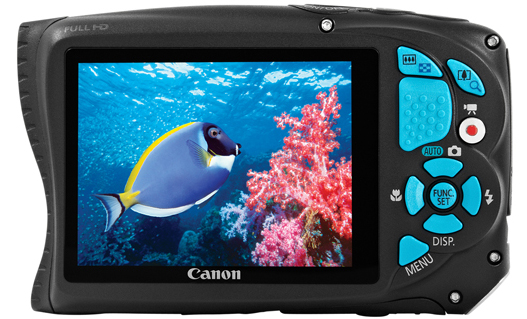 PowerShot D20 lives up to Canon's claims as it survived a 1.5-meter drop and water submersion. Although not as tough as Fujifilm FinePix XP170, it will come in handy during trips to the beach or the outdoors. Unlike its predecessor, it's easier to carry around because of its compact and lightweight design. It measures 112.3 x 70.8 x 28mm and weighs only 228 grams.
Hardware
PowerShot D20 has a 12.1-megapixel sensor with 5x optical zoom. The additional 4x digital zoom enables you to push it to 20x magnification. It has an equivalent focal range of 28-140mm on a 35mm camera and an aperture ranging from f/3.9 (wide angle) to f/4.8 (telephoto). For a compact shooter, an ISO range of 100 to 3200 is good. Shutter speed ranges from 1/1600 of a second to a full second during auto mode. Switching to an alternative shooting mode allows you to extend shutter speed to 15 seconds. If you decide to set the camera on timer you'll need to rest in on a flat surface or use a tripod to keep it still. Absence of a viewfinder isn't anything new. Anyway you can check the 3-inch display on the back for framing and reviewing photos. Screen brightness can be adjusted to five different levels.
Images produced have a maximum resolution of 4000 x 3000 pixels. Camera cropping and enhancing with algorithms cause slight deterioration but overall, image quality is acceptable. PowerShot D20 can shoot HD videos with 1920 x 1080 pixels at 24 frames per second or 1280 x 720 pixels at 30 fps. Canon also offers two high-speed modes for video shooting, allowing you to record 320 x 240-pixel footages at 240 fps and 640 x 480-pixel videos at 120 fps. The GPS chip built into the rugged camera means photos are immediately geotagged when taken.
Performance
What really strikes me about PowerShot D20 is that it captures color with great accuracy regardless of environment. For still shots, you can choose from five primary shooting modes and 17 scenes. You might notice some chromatic aberration when taking photos at wide angle. This tends to happen in images with sharp contrasts. Details aren't entirely crisp but generally great. If you take photos of monochromatic subjects for example, you can still tell details apart; like the petals of a flower or steps of a staircase. At maximum sensitivity, noise is pronounced and it's almost impossible distinguish details. When sensitivity is set to a minimal ISO 160, there's still some noise on images which was a letdown.
Canon PowerShot D20 takes impressive 1080p videos. Motion is captured smoothly and color reproduction is accurate. The lens doesn't make much noise when zooming during video capture. Unfortunately, the wind filter fails to do its job in suppressing wind noise. It can, however, capture audio clearly and cleanly – including quiet noises.
Verdict
PowerShot D20 is one of the best compact cameras that's waterproof, shockproof, and freezeproof. Sure enough, it's in the league of rugged shooters like Sony Cyber-shot DSC-TX20, Olympus TG-1 iHS, and the aforementioned Fujifilm FinePix XP170. It's a great companion for travelers who are adventurous by heart.