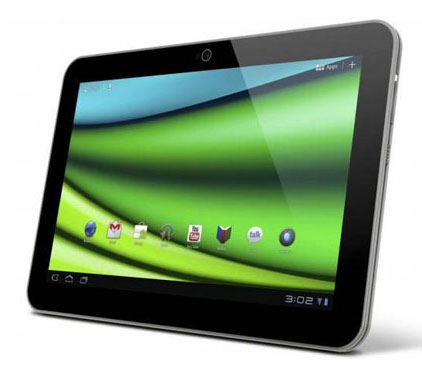 Toshiba Regza AT200 is the lightest and thinnest 10.1-inch tablet in the market. The new iPad couldn't even match up to it in both aspects. If we set aside its freakishly compact body, Regza AT200 is just like any other Android tablet out there – highly functional and with a few advantages over iOS-powered iPads. But are its specs enough to be compared to the likes of Acer Iconia Tab A510 and Asus Tranformer Prime? With the cheapest model selling for USD $530, let's see if this tablet's specs and features are worth its price.
Design
Tablets are meant to be carried around which is why Toshiba Regza AT200 wins us over in this department. As a matter of fact, the new iPad looks fat compared to its 7.7mm-thick body. When compared side by side to Asus Transformer Prime, Samsung Galaxy Note 10.1, and Acer Iconia Tab A510 which is currently available for preorder in US and Canada, it looks more like a knife than a tablet. Regza AT200 is 100g lighter than the latest iPad and 30 to 50g less than 10.1-inch Android tablets currently on sale. While it doesn't seem to be much, try holding these tablets with one hand for a couple of minutes and you'd understand why its lightweight body makes a BIG difference.
Regza AT200 has an evenly surfaced back made of brushed magnesium alloy which, aside from having this plastic feel, also makes it a bit painful to hold when gripping from the sides. And we thought should you know it comes with a bulky charger and USB cable – a mismatch to its overall sleek design. The bulky charger is something we could live with but a sharp-edged back is hard to ignore.
Specs
Toshiba Regza AT200 has a dual-core processor – the biggest price we have to pay in case we opt for the thinnest and lightest tablet – and that's not all. It has a poor battery life running only 8.5 hours when placed on continuous video playback. Iconia Tab A510 is quad-core and yet it handles battery life pretty well, able to run 12 hours. Both tablets have similar 10-finger multitouch displays and 1200 x 800 pixel screens. Other specs include:
• Android 3.2 Honeycomb (update to Android 4.0 Ice Cream Sandwich available)
• 5MP rear camera with 720p video recording, 2MP front camera
• WiFi, Blutooth, and GPS
• Integrated speakers
• Headphone output
• micro-USB port for charging and media transfer
• microSD memory card slot
• micro-HDMI video output
Verdict
Not your all-around tablet – that's what we think of Toshiba Regza AT200. Too many relevant specs and hardware were traded off for its thin and lightweight design. Selling $530 for a 16GB model, it's better that you opt for Samsung, Asus, or Acer tablets with the same size. And while you're at it, throw in the new iPad in your list of tablets to consider. Even though it has a screen less than 10.1 inches, a slight difference in screen size is worth the sacrifice for a vivid display.