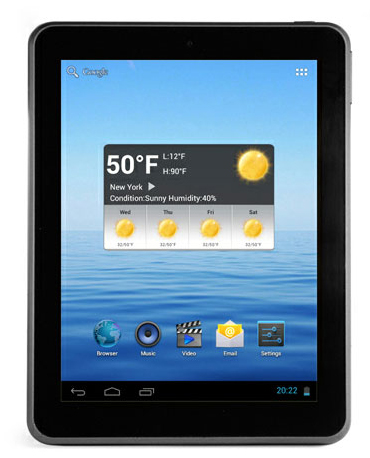 Adding to the long list of affordable tablets is Nextbook Premium 8SE but instead of the standard 7-inch screen, this one has an 8-inch display. It joins an existing line of tablet PCs by E FUN, a tech company based in Canada. The Google Nexus Tablet faces some serious competition with 8SE not just in size and specs but in pricing as well. E FUN is selling it for $169 – a mere $20 difference compared to Google's Kindle Fire killer.
Design
Nextbook Premium 8SE has an unmistakeable slab-like form. Upfront, it almost looks square if it weren't for the curved corners. It doesn't look too thick but it's not thin either. Edges are mostly flat which could make holding the tablet painful over time. The back has a matte finish and a slight curve to it. No physical or capacitive buttons in sight; 8SE relies solely on its ICS software for navigation. To sum it up, it looks fairly decent for a $170 tablet – much more decent if you compare it to the $150 XTex My Tablet 7.
Hardware
Nextbook Premium 8SE has an 8-inch capacitive touch screen with 800 x 480 pixels. It isn't the first time we've seen a tablet of this size but still, people looking for something in-between an ebook reader and tablet PCs will appreciate it. It runs a barely-skinned version of Android 4.0 Ice Cream Sandwich which you can update OTA. The slate lacks a rear camera but that isn't a rare find on affordable tablets. Anyway, you can still make video calls and take self-portraits with the 0.3MP camera on the front. You just have to get used to its poor quality. Other specs include a 1GHz processor and 512MB RAM.
4GB worth of internal storage is built into the tablet but that won't be enough for keeping all your music and videos! Fortunately, Nextbook Premium 8SE has a microSD slot with up to 32GB of expandable storage. The slate is capable of connecting to WiFi 802.11 b/g/n and features Adobe Flash 11 support. It also has a speaker and a G-sensor which makes it suitable for gaming purposes. Judging by its specs alone, one can easily tell it's an all-around tablet – and an affordable one for that matter.
Features
Apps like NOOK for Android (USA) and Kobo (Canada) are preloaded into Nextbook Premium 8SE so you can immediately buy ebooks online. Before you purchase one, make sure it is doesn't belong to the 25 free ebooks installed into the tablet. Utility apps like Advanced Task Killer (for killing active apps) and Astro File Manager (for complete access to files on internal and external memory) were also pre-installed in Premium 8SE. To view Microsoft documents, you can use Office Suite Viewer.
Verdict
When looking for an affordable all-around tablet, it might as well be E FUN's 8SE. The 8-inch slate does everything that an ebook reader can and a little something of what high-end slates are capable of. Besides, who can resist a $170 slate?