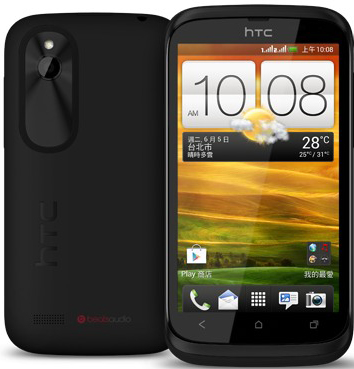 The HTC One series caught much fanfare with their ceramic screens and Beats Audio technology, even though they no longer included a pair of Beats Audio headsets per se. Since it already consisted of one option for each device category – from the low-end HTC One V to the mighty HTC One X – we knew they weren't going to add a new phone to the line. What we didn't know was that HTC was working on a dual-sim phone. HTC Desire V is the first dual-sim smartphone coming from the Taiwanese company and much to our delight, still has Beats Audio onboard.
Design
HTC Desire V is not a high-end phone, but it doesn't make you settle for sub-par quality or an unimpressive design. Like any HTC phone, it looks refined and polished. It has a unibody design typical of HTC phones but with a removable back cover. Design-wise, it looks like an elongated version of HTC Desire C from the front but entirely different when viewed from the back. The rear camera and flash are surrounded by a metal plate which makes it look more premium than it actually is.
In terms of weight and dimensions, HTC Desire V is closer to HTC One V. It weighs 114 grams and measures 9.3mm in thickness (dimensions 118 x 62 x 9.3 mm). A one gram difference from the HTC One V shouldn't get you excited though since you won't be able to tell the difference. The same could be said for its thickness, which by the way makes it 1mm thicker compared to its low-end cousin. Given its dimensions, it will easily fit in one hand. SIM cards can only be accessed by removing the back cover and the battery itself but everything else like the Power and Volume are conveniently located around the edges.
Hardware
The phone has an impressive screen size. With a display that measures 4 inches, it's just the right size for anyone who's NOT looking for an iPhone look-alike but isn't too comfy with anything larger. It is, however, limited to a WVGA display which only offers 800 x 480 pixels. Despite that the screen does look good enough for surfing the web and playing games without straining your eyes. A 1GHz processor single-handedly powers the phone which runs Android 4.0 Ice Cream Sandwich. It's more than enough for light gaming and slick enough to multitask. It has 4GB worth of storage built into it and a microSD card slot expandable to 32GB.
The 5-megapixel camera with autofocus and flash is a decent spec included in HTC Desire V but it doesn't leave much to be desired in the absence of a front-facing shooter. Without it, you won't be able to use the phone for video chat or taking self-portraits and small group shots. This would've been okay if the rear camera supported HD recording at all but this isn't the case. Despite these shortcomings, music lovers do have something to look forward to with its Beats Audio technology.
HTC Desire V has a much-needed 1650mAh battery. The phone does have two separate slots for SIM cards and because it supports dual-standby mode, you need all the extra juice to simultaneously stay connected to both networks. The two will appear as icons on the status bar, indicating the strength of their signal. When making calls or sending messages, you get to choose which number you'd like to use. SIM swappers will be thrilled by this feature since not all dual-SIM phones support dual-standby.
Verdict
HTC Desire V is an attractive smartphone with decent hardware but it's clearly not for everyone. Unless you find the need to use two SIM cards, it's not worth trading for its lack in features and specs. That being said, SIM swappers will find it a better option than Samsung Galaxy Ace Duos in specs, build quality, and design.