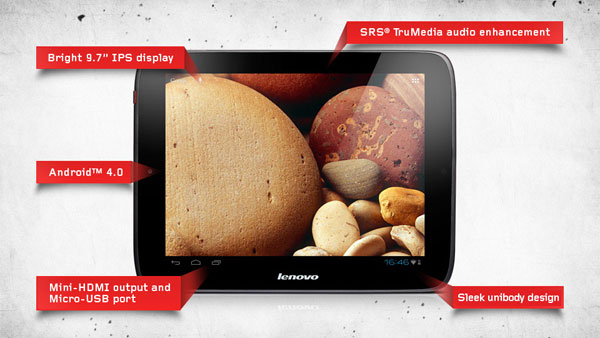 After almost an entire year of being mum, Lenovo has finally followed up its family of tablets with IdeaTab S2109. Despite being a recent release, it reminds us of the iPad 2 (2011) in many ways. Lenovo IdeaTab S2109 does cater to an entirely different market, particularly the media buffs who want to watch movies and TV series on their tablet. And with a low price point of $350, there's not much room for complaints even though it has a few shortcomings.
Design
While it has the standard 9.7-inch screen, IdeaTab S2109 creates the illusion of being smaller than most of its competitors. Perhaps this is because it has curved edges and round corners. It measures 8.9mm thick and a standard unibody appearance. It weighs considerably lighter than iPad 2 at 1.28 pounds. One bad thing about its design is that it easily gets smudged. Not to mention, quickly gets scuffed too. Lenovo probably knew this design flaw and decided to include a free silicone cover in every package. The textured back of the cover allows for an easier grip and added protection from scratches.
IdeaTab S2109 has nothing more than a 1.3-megapixel camera on the front, towards on the left side of the display. And like many tablets, its bottom edge has nothing on it. On the top side you'll see the microSD card, microHDMI, micro USB, and power connector ports all lined up. The left side is where you can access the microphone jack and power button. The four SRS surround sound speakers are on the back next to the Lenovo logo smacked in the center. As if that's not enough to advertise their brand, Lenovo also adds their logo on the bottom bezel of the display. But it's not like we haven't seen this in other tablet makers.
Hardware and performance
The IPS display on IdeaTab S2109 means that you can watch videos comfortably from weird angles. It has 1024 x 768 pixels which is considered an average spec at least, when compared to the whopping Retina display of the new iPad or even Acer Iconia Tab A700 which has 1900 x 1200 pixels. Even so, you could say that HD videos remain crisp and clear and colors are reproduced beautifully. It's not that impressive but it's not as washed out as one might expect. IdeaTab S2109 redeems itself with the four surround sound speakers on the back. They produce high-quality sounds that are both clear and audible. Although not enough to fill a medium-sized room, the speakers are advantageous in small and enclosed areas.
The front-facing camera performs well. It can even record 720p videos amidst a 1.3-megapixel limitation. Some users may find it disappointing that the slate lacks a rear camera but it is a growing trend among Android makers who want to sell their tablets at lower price points. Besides, using a 10-inch tablet to shoot photos and videos looks silly. However, its odd placement is questionable as you can obstruct the lens with your left hand. When making video calls or taking self-portraits, you have to be careful where you place your left hand while holding up the tablet.
Unlike most competitors, Lenovo IdeaTab S2109 is limited to a dual-core TI OMAP processor. It does have a 1 GB RAM which is sufficient for juggling several tasks at a time. The fact that it lags behind quad-core tablets doesn't much bother us since it has a dual-core CPU but the fact that it falls behind dual-core competitors like the Samsung Galaxy Tab 2 10.1 migh give you second thoughts.
The slow processor is noticeable when you boot the tablet where it takes about a minute to load. The same could be said when browsing the internet when loading web pages. Everything else is responsive though. For instance, flipping it from side to side would instantly switch between landscape and portrait views. When running multiple apps at the same time, no force closes and lagging took place. This goes to show that slow benchmark tests don't equate to poor real-world performance.
You can choose between 16 GB ($350) and 32 GB ($450) variants for internal storage.
Software
Released on the same month that Android 4.1 Jelly Bean was announced, IdeaTab S2109 is merely shipping with Android 4.0 Ice Cream Sandwich. Navigation is fairly smooth despite the hardware hiccups mentioned earlier. The user interface also has a clean build and a big leap from Lenovo's previous releases. It takes on the traditional Holo Theme for ICS which is mostly black, blue, and grey.
Numerous apps were pre-installed into the tablet including AccuWeather, Adobe Flash Player, App Shop, Documents To Go, Evernote, Go Keyboard, Lenovo People hub, Movie Studio, News Republic, Norton Security, ooVoo, PrinterShare, Skype, SugarSync, Voice Note, YouTube, and Zinio. If you want to disable any of them, you can do so by going to the device settings.
Battery life
IdeaTab S2109 has a poor battery life. It lasts 7 hours at most on continuous video playback which is a 3-hour difference from what Lenovo advertised. Unless you want your video marathon to be cut short, you'll have to keep it plugged.
Verdict
It's true that Lenovo made many sacrifices on IdeaTab S2109 for an attractive retail price. The company decided to skip a rear-facing camera, a quad-core Tegra 3 processor, and a design that easily gets smudged and scuffed. Then again, a rear camera is something you may never use and the dual-core processor – although slow at loading – does produce smooth usage on most occasions. Furthermore, the free silicone cover should help you protect the slate. The free protective case may not be enough to convince you in getting one but the $350 price tag surely will. And if you're really into watching movies on-the-go, it's a must have.