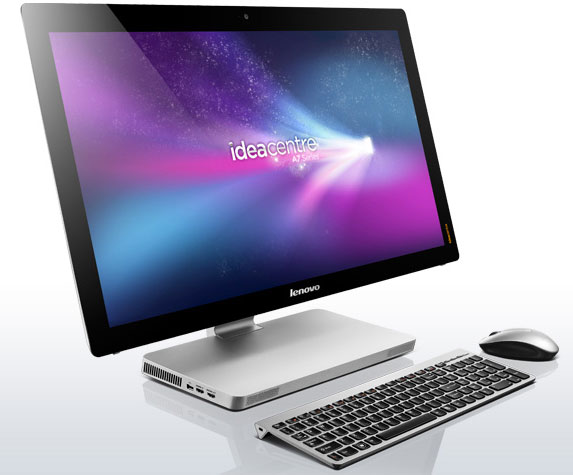 Desktop PCs are becoming exceedingly rare these days: you only get a tower if you need a lot of processing power – even if you want multiple external monitors, it's easier to just connect them to a laptop or even tablet than to get a whole new desktop computer. While desktops aren't going anywhere, the decreasing popularity mean that manufacturers had to come up with new ways of maintaining sales, and All-in-One PCs (aka AIO PC's) seem to be the best thing they could think of.
AIO PCs are definitely more comfortable to use and manage – everything fits inside one housing (well, inside the monitor, really), but at the same time you keep the performance and upgradeability that only desktops can offer. There aren't that many players in this niche, but their number is definitely growing. One of the latest newcomers is Lenovo, and their product may be one of the best one yet – the IdeaCentre A720 is a slim, touch-enabled AIO PC that will look great in any environment and can easily run any intensive apps you can think of.
Design
The new PC really excels at design – Lenovo has crammed everything into a very attractive piece of metal. Most of the usual computer components are located in the compact stand, but it's the display that takes the attention – the 27 inch unit is a perfect fit for anyone who wants a universal desktop computer for work and play. The display can be laid flat, as well as tilted up to 90 degrees, giving you a lot of flexibility – you can use it to surf the Web, watch movies, work in programs – either with the usual keyboard/mouse set or using the touch digitizer – this computer is a great competitor to Microsoft's Surface tablets and of course, HP's TouchSmart AIOPCs. The gray aluminum finish also looks very attractive – it reminds a lot of the iMac, which is what makes it even better.
Hardware features and performance
The hardware specifications of the new IdeaCentre A720 are pretty decent, although they're definitely not on par with the latest and greatest in desktop hardware. Obviously, not being restrained by power and cooling concerns, the A720 will do better than even the most powerful laptops, and that's exactly what AIO PCs are for. The IdeaCentre A720 comes with an Intel Core i5 or i7 quad core Ivy Bridge processor, up to 8 GB of DDR3 RAM running at 1600 MHz an up to 1 TB of storage space and an optional 64 GB SSD drive, as well as an optional NVidia GeForce GT 630M graphics adapter with 2 GB of video memory – this should be more than enough for intensive apps, although heavy gamers might not like the performance of the video card.
Connectivity wise, you get pretty much everything you'd expect from a desktop computer and more. The IdeaCentre A720 has 4 USB ports, an SD/MS card reader, HDMI out, Ethernet, a web camera with HD video and optional Wifi, Bluetooth and TV tuner adapters.
The 27 inch display looks good from a distance, but you'll definitely notice the pixilation of the 1920×1080 resolution when up close – that may be a bit annoying if you're sensitive to this, especially if you intend on fully utilizing the touch capabilities.
Technical specifications
| Specifications | Lenovo IdeaCentre A720 |
| --- | --- |
| Display | 27 inches, 1920×1080 pixels, TFT LCD, capacitive digitizer |
| Processor | Intel Core i5 or Intel Core i7, Ivy Bridge, quad core |
| RAM | Up to 8 GB DDR3 1600 MHz |
| Graphics Adapter | Integrated Intel HD Graphics 4000; optional NVidia GeForce GT 630M discrete GPU with 2 GB of video memory |
| Storage Space | Up to 1 TB of HDD space, optional 64 GB SSD |
| Camera(s) | Front facing 2 MP camera with HD video recording |
| Connectivity Options | 2 x USB 2.0, 2 x USB 3.0, SD/MS card reader, HDMI port, optional TV Tuner, Ethernet jack, optional Bluetooth and Wifi adapters |
| Dimensions and weight | 650 x 480 x 220 mm, 11.6 Kg |
| Operating System and Software | Windows 7, Lenovo Fun Zone, Power Cinema, touch-optimized games |
Software
Lenovo is shipping the IdeaCentre A720 with Windows 7 and some of their own software like Lenovo Fun Zone and Power Cinema, however you are mostly left to your own devices when it comes to customizing the software, which is definitely a good thing. I suspect the company will upgrade to Windows 8 when it comes out, since it's pretty much a perfect OS for this computer.
Price and Availability
The Lenovo IdeaCentre A720 is available for purchase from Lenovo's website and partners, however you'll have to pay quite a lot to get your hands on the slimmest and most attractive Windows AIOPC – the base configuration goes for $1849 going to $2099 if you want the extras included. Not exactly cheap, but pretty good for a fully decked All-in-One.