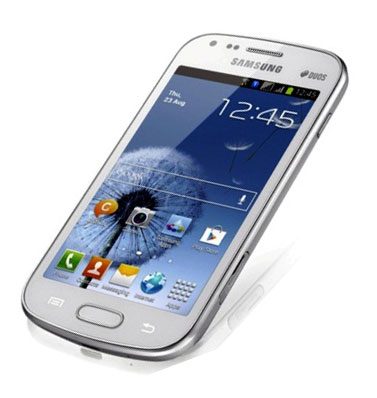 Despite there being quite a lot of users who need the functionality, dual SIM card smartphones have never really caught up with the big brands – it's still the Chinese companies who release such handsets, mostly for the internal market, but a lot of them find their way out of the country pretty fast.
Just recently have big companies started to address the need for good dual SIM phones in the western markets, and one of the latest smartphones to have the functionality is Samsung's Galaxy S DUOS.
Design
The DUOS has a very nice design that takes a lot of cues (well, pretty much all of them) from the Galaxy S III – it's got roughly the same shape, which fits very well inside your hand, and if you looked at it from afar, you could easily mistake it for the actual S3. The phone is quite a bit smaller thanks to the 4 inch display , but the thickness and weight are comparable. The back has only a glossy plastic cover and the camera, LED flash and speaker grill, while the front has a physical home button and two touch buttons right under the screen.
Hardware features and performance
The internal hardware is nothing special – Samsung is marketing this phone as a mid-range work horse instead of a high end device with all the bells and whistles, plus they had to preserve as much power as possible since the dual SIM functionality means dual GSM antennas, and that uses a lot of battery life. So, the processor is a low-power 1 GHz single core Qualcomm, aided by 768 MB of RAM. That's enough for most daily tasks, but don't expect this phone to run Shadowgun perfectly!
The 4 inch display has the good old 800×480 pixels resolution, which again, is more than enough for anything you'd want to use this phone for, but doesn't look as crisp and clear as the modern HD screens on other phones. The other specs are standard issue for any phone nowadays – you can see them in the table below:
Technical specifications
| Specifications | Samsung Galaxy S DUOS |
| --- | --- |
| Display | 4.0 inches, 800×480 pixels, TFT LCD, 233 DPI |
| Processor | Qualcomm MSM7227A, single core, 1 GHz |
| RAM | 768 MB |
| Graphics Adapter | Adreno 200 |
| Storage Space | 4 GB onboard storage space, micro SD card slot for expansion |
| Camera(s) | Back – 5 MP; Front – 0.3 MP |
| Connectivity Options | Micro USB, Wifi N, Bluetooth 3.0, HSPA, GPS |
| Sensors | Accelerometer, proximity, light and magnetometer |
| Battery | Li-Ion, 1500 mAh |
| Dimensions and weight | 121.5 x 63.1 x 10.5 mm, 120 grams |
| Operating System and Software | Android 4.0 Ice Cream Sandwich, Samsung Nature UX |
Software
Thankfully, Samsung hasn't skimped on the software like some other manufacturers (Motorola and Sony – I'm looking at you!), and that certainly improves the experience with an otherwise mediocre handset. The Galaxy S DUOS has the same Nature UX that the Galaxy S3 has, although some of the features have been left out in order to differentiate the phone from the higher end models. The operating system is Android 4.0 Ice Cream Sandwich with the full features set, which is great – users will really love the improvements over previous versions.
Price and Availability
The Samsung Galaxy S DUOS is coming this fall and it will be moderately priced – you're looking at an under $100 price tag, which is pretty good for a mid-range handset. The phone is perfect for those who want a dual SIM card device for everyday work that still looks stylish and has the latest software and features you can find on a modern smartphone.