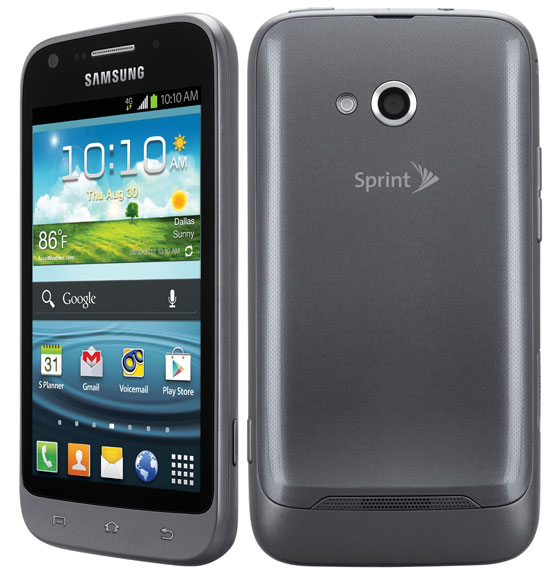 Everybody knows by now that Samsung is the leader on the smartphone market, with the only true rival being Apple (which is probably why they're suing each other like crazy). The company has a very impressive array of devices to offer in their Galaxy line, from the high end Galaxy S3 and Note 2 to the now midrange Galaxy S2 (which is still a very nice phone, by the way) and many lower end phones like the Galaxy Ace.
The latter category has been a bit overlooked these past few months, mostly because everyone was focused on competing with the iPhone 5 and since it turned out that the competition is far ahead of Apple's latest and greatest, companies have turned their eyes back to the affordable smartphones niche. Samsung's latest offer – the Galaxy Victory 4G LTE for Sprint – ups the ante for a budget phone and brings dual core performance and 4G LTE at a sub-$100 price for the first time.
Design
The Galaxy Victory may not be a shining example of great design, but it's still a pretty well-built smartphone that is comfortable to use. It's got the usual slab form factor, with the display on the front, rounded corners and glossy metallic gray back cover. The navigation buttons are a nice touch: they're located towards the edge of the phone on the main housing and have a chrome finish – you may confuse them for hardware buttons when in fact they're touch sensitive.
Despite the mostly plastic housing, the Victory feels really sturdy and thanks to the 12.7 mm thickness (which many would consider a downside), the phone sits really well in your hand. Around the sides, you'll notice the dedicated volume keys, dual-action camera button and a small door that hides the microSD card slot – and yes, it's hot swappable (off the top of my mind, the Droid RAZR is the only other phone that offers this).
Hardware features and performance
The hardware features is where the Galaxy Victory really shines: for the price, there's really nothing better on the market right now. If other manufacturers follow suit, we'll soon get dual core performance on low end handsets, which is simply great for all of the people who don't want to spend $600 on a powerful smartphone.
The Galaxy Victory's display is probably the only weak point, although that's really debatable. The phone has a 4 inch LCD display with a 800×480 resolution, which looks pretty mediocre – not as good as all the IPS HD and AMOLEDs out there, but it's manageable.
The other specs are great, though: Samsung has equipped the Victory with a Qualcomm MSM8960 dual core processor running at 1.2 GHz, with the Adreno 225 GPU and 1024 MB of RAM in tow – that's plenty enough for any tasks and it's comparable to most of the mid-high range phones released just a couple of months ago.
The device also has a 5 MP camera on the back with HD video recording, a 1.3 MP unit on the front, Wifi N and Bluetooth adapters, GPS, DLNA, HSPA+ and 4G LTE and even an NFC radio. The battery is a large 2100 mAh, which should last well over the quoted 8 hours in normal use, especially with the LTE radio off.
Technical specifications
| Specifications | Samsung Galaxy Victory 4G LTE |
| --- | --- |
| Display | 4.0 inches, 800×480 pixels, TFT LCD, 233 DPI |
| Processor | Qualcomm MSM8960 Snapdragon, 1.2 GHz, dual core |
| RAM | 1024 MB |
| Graphics Adapter | Adreno 225 |
| Storage Space | 4 GB onboard storage space, micro SD card slot |
| Camera(s) | Back – 5 MP camera with HD video recording; Front – 1.3 MP |
| Connectivity Options | Wifi N, Bluetooth 4.0, GPS, DLNA, NFC, HSPA+, 4G LTE |
| Sensors | Proximity, accelerometer, light, magnetometer sensors |
| Battery | Li-Ion, 2100 mAh, up to 8 hours of continuous use |
| Dimensions and weight | 121.9 x 63.5 x 12.7 mm, 139 grams |
| Operating System and Software | Android 4.0.4 Ice Cream Sandwich |
Software
The Samsung Galaxy Victory comes with Android 4.0.4 pre-installed, and although we wish it had Jelly Bean from the get-go, you can't really complain about Ice Cream Sandwich, either. An update to 4.1 is coming, of course, and in the meanwhile, you can enjoy Android's Face Unlock, Beam, encryption, Google apps and other features, as well as Samsung's Touch Wiz Nature UX that you've probably already seen on other Galaxy phones, including the Galaxy S3.
Price and Availability
The Samsung Galaxy Victory 4G LTE is a Sprint exclusive for now, and it's already available on the company's site and stores. The phone is definitely a good purchase at $99 if you consider all the features, but you'll probably want to consider something else if you like some style in your pocket.