Despite their financial troubles, Olympus still continues to release some very high quality cameras, which is a good thing, since we really don't want them to end up like Kodak (to be fair, they're most likely to be bought by some other conglomerate). Among the most notable Olympus cameras of the past few years are the consumer SZ-30MR, an excellent compact point and shoot that is packed with features and has an almost magical 24x optical zoom, and the XZ-2, a semi-professional camera that can easily take on many dSLRs when it comes to the picture quality and number of pro features.
The affordable SZ-30MR has proven to be a great purchase for any average user, while the XZ-2, as intended, has immediately attracted the attention of professional photographers who wanted a lighter camera for travel and off-duty work that would still not compromise on the features. In fact, the XZ-2 proved to be too feature-packed, and Olympus wanted something that beginner photographers could also use without being overwhelmed – the result was the XZ-10, a smaller version of the XZ-2 that does away with some features but makes it possible to carry the camera in any pocket.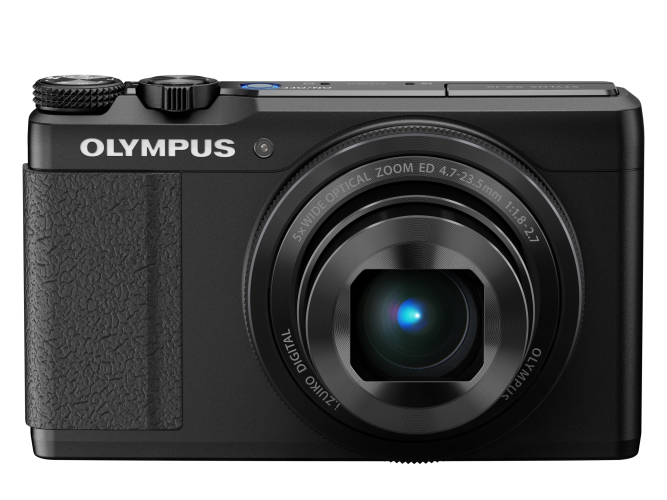 Design
The Stylus XZ-10 looks like a shrunk down version of the XZ-2, and that's exactly how Olympus intended it to be. The camera has the same retro design, with a metal housing keeping all of the hardware safe from the elements. The controls are laid out in the exact same manner as on the XZ-2, and even the pop-out flash is located in the same place.
At the same time, the XZ-10 is some 40% smaller than the XZ-2 – an impressive feat considering that most of the specs are very similar and the camera offers much more control over your photos than a lot of competing semi-pros, much less compacts that would fit into any pocket.
Of the things missing, the most obvious are the adjustable display and the hot shoe – too bad they had to do away with the latter, but then again, this is a camera that is meant to be used as is without any external accessories.
Photography Features
The Stylus XZ-10 is the ultimate travel camera – not only does it fit in any of your pockets, but it also packs enough features to make any other point and shoot green with envy. The sensor has 12.0 effective Megapixels, same as the XZ-2, only it's a bit smaller in size at 1/2.3".
The camera has a 5x optical zoom, a focal range of 26-130mm (35mm equivalent) and an aperture of f/1.8-2.7 – which according to Olympus, is the brightest aperture value in its class. The Zuiko lens is coated with the company's proprietary Zuiko Extra-Low Reflection Optical (ZERO) coating, which practically eliminates ghosting and lens flare – something that you'll really appreciate when taking photos in direct sunlight (like on the beach, for example).
The camera lets you take full control of the picture with its many manual modes – of note are the 1/2000-30 seconds adjustable shutter speed, focus adjustment ring around the lens (although it's a step-selector instead of a smooth rotation) and 35 focus points that give you a lot of liberty when adjusting the focus manually.
Video recording features
Along with being a great choice for taking photos, the XZ-10 is also an excellent video shooter. It's the perfect go to camera not only when you need to shoot some high quality video on the go, but also for video casts and simple video production. The above mentioned ZERO coating will work very well for video, too, and the XZ-10 has support for autofocus, zoom and image stabilization while recording.
The maximum resolution is 1920×1080 at 30 FPS, which is pretty much the best you can get right now, and more than enough for anything. The dual microphones on the top of the camera aren't all that special, but they do their job just fine – you can always use a compact external recorder (like the Zoom H1, for example) if you need better audio.
Connectivity and Battery
The Olympus Stylus XZ-10 may not have all the new connectivity options like GPS and Wifi, but it does have all the basics covered. It's got USB and HDMI output, and it even works with Eye-Fi wireless cards that slide into the SD card slot (you can transfer the photos from the small internal memory to your laptop right away). The HDMI output does not support LiveView, but to be fair, that would be too much to ask from a compact digital camera.
The battery is a proprietary Li-ion unit that needs its own charger, and there's no DC jack on the camera to use it continuously, which is a letdown. However, the small battery is rated for 240 shots (more than say, Nikon's P520 semi-pro), and with two or three of them, you'll never have to worry about running out of power.
Technical specifications
| Specifications | Olympus Stylus XZ-10 |
| --- | --- |
| Sensor | 1/2.3", BSI-CMOS, 12.0 effective Megapixels, 3968×2976 maximum resolution |
| Lens and optics | Fixed lens, 5x optical zoom, 26-130 focal length (35mm equivalent), manual focus, 35 focus points |
| Display/viewfinder | Fixed 3" LCD, 920,000 pixels, with touch digitizer |
| Photography features | F1.8-2.7 aperture, 1/2000-30 seconds shutter speed, built in flash, high speed continuous shooting, self-timer |
| Video recording features | MPEG-4 or H.264 format, stereo audio recording, 1920×1080 or 1280×720 resolution at 30 FPS |
| Storage | Provided via SD card (high capacity SDXC cards supported) |
| Connectivity Options | USB 2.0, HDMI out, optional Eye-Fi wireless SD card |
| Battery | Li-Ion, rechargeable, 240 shots per charge |
| Dimensions and weight | 102 x 61 x 34 mm, 221 grams |
User interface
I have to say that he XZ-10 has a very nice UI – very user friendly and much better than what you'd usually find on semi-pro and other cameras aimed at seasoned photographers. It's easy to navigate through, there are plenty of easily accessible auto features and the most used functions are also easy to use via the touch screen with a few taps. I believe Olympus has done a great job in this area.
Price and Availability
The Olympus Stylus XZ-10 will be available this April for around $549 – a great price for such a camera. It looks like this thing could easily replace the XZ-2 or Fuji's X1 and X100 in the pockets of professional photographers who need an unnoticeable, yet still feature packed camera for their getaways.