The large 5+ inch smartphone (aka phablets) niche is surprisingly popular, with Samsung's Galaxy Note leading the way and other manufacturers trying to repeat their unexpected success. But the Galaxy Note 2 wasn't that much of an improvement over its predecessor, and with most other companies going for 5.0 inch displays, LG felt the market needed a better phablets – so they announced the Optimus G Pro, a 5.5 inch monster of a smartphone (or tiny tablet if you prefer) that packs a Full HD resolution and enough processing power and features to rival any tablet currently on the market.

The device was planned for release in South Korea at first, but the announcement that it will be coming to the US came pretty soon after. Now that it's coming, let's take a closer look at it and see if it's really the Galaxy Note killer LG claims it to be.
Design
The Optimus G Pro has a solid design – however in my opinion it looks a little too much like the Galaxy Note 2 and the Galaxy S3. I guess it's hard to make a phone look more unique when you want to allocate as much space to the display and as little space to the stuff surrounding it, but LG (and other manufacturers for that matter) could use a unique quirk, like for example a wedge design like Sony's Tablet S or a more unique shape of the corners a la Nokia 7600 (or the older 7260). Or they could've just stuck with straight angle corners like they did with the L-series and got rid of the centered hardware home button.


I'm not saying the design is bad, though – while looking at it from the front people will most likely tell you "I see you've got a Samsung… oh, it's an LG?", from the back the LG Optimus G Pro stands out with the nice cube pattern – which is very similar to the one used on the Nexus 4 (also made by LG). The device is sturdy, too, with a Gorilla glass on the front, a strong removable plastic cover on the back and a metal frame inside that is visible around the housing and is thicker at the top and bottom.
At 150×76 mm, the Optimus G Pro isn't the smallest device, but it's not that large either considering the 5.5 inch display. The phablet has a 9.4mm thin profile that looks very nice and weighs 160 grams – not enough to cause any trouble or discomfort.
Hardware features and performance
Despite it coming out half a year later than Samsung's Galaxy Note 2, one can't deny that the LG Optimus G Pro has better hardware under the hood. The first thing you see is the 5.5 inch IPS+ LCD panel – made in-house by LG (which is a strong player on the market), with a resolution of 1920×1080, the highest in class. This screen is as good as you'd think it is – with its 401 PPI density and pretty much perfect viewing angles, you'll enjoy every minute of working and playing with the phone. Needless to say, it's even better than the iPhone 5's 4.0 inch unit, which is an impressive feat.

Next up is the new Snapdragon 600 platform from Qualcomm – featuring 4 cores with an improved design running at 1.7 GHz and the Adreno 320 GPU, this thing can take on any tasks without breaking a sweat. It's also got 2 GB of RAM to back it up, so you'll never notice any lag or slowdowns even in the most intensive apps and games.
Everything is fine in the imaging department, too, with the phone featuring a 13 Megapixels camera on the back with a backside illuminated sensor, LED flash and support for 1080p HD video recording, while on the front there's an additional 2.1 Megapixels unit that lacks an LED flash (though the screen can easily act as one if need be) but still retains the ability to record video in 1080p at 30 frames per second – the Optimus G Pro should be great for taking pictures, video and doing HD video chat from anywhere you are.
The G Pro also doesn't disappoint when it comes to storage space – there are a full 32 GB of memory onboard, as well as a micro SD card slot for expansion, so at the moment you can easily have 90 GB (accounting for the space taken up by OS files and pre-installed apps) of useable space at a pretty affordable price, and even more in the future.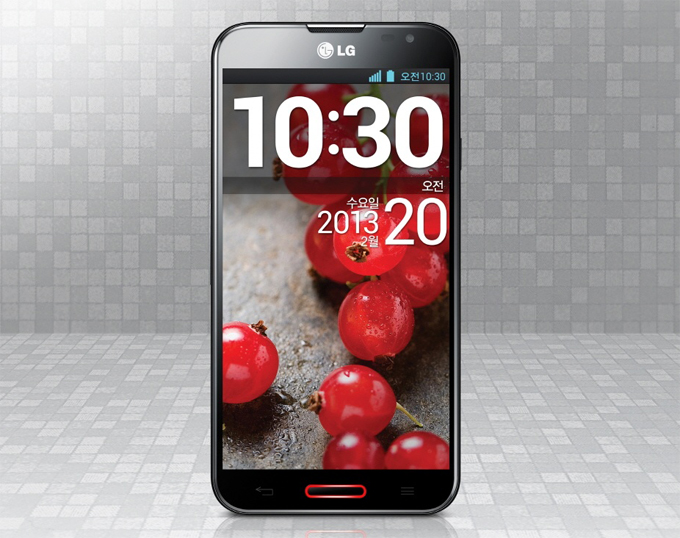 You can see the other specs in the table below – as you may notice, LG's new device has pretty much every technology on the market, except wireless charging, which is kind of a bummer. However, the good news is that with the removable back cover, it would be easy to add wireless charging in the future, provided LG or another company makes a compatible cover/charger. Meanwhile, the 3140 mAh battery that's inside the phone should provide enough juice to keep it running for a whole day's worth of heavy work – although that really depends on the settings (running 4G+Wifi at maximum brightness will obviously deplete the battery rather fast).
Technical specifications
| Specifications | LG Optimus G Pro |
| --- | --- |
| Display | 5.5 inches, 1920×1080 pixels, True HD IPS+ LCD, 401 PPI pixel density |
| Processor | Qualcomm Snapdragon 600 (APQ8064T), 1.7 GHz, quad core |
| RAM | 2048 MB |
| Graphics Adapter | Adreno 320 |
| Storage Space | 32 GB onboard storage space, micro SD card slot for expansion (micro SDXC cards supported) |
| Camera(s) | Back – 13 Megapixels camera with 1080p video recording; Front – 2.1 Megapixels with 1080p video recording |
| Connectivity Options | Wifi N, Bluetooth 4.0, GPS, GLONASS, micro USB and HDMI out, NFC, HSPA+, 4G LTE, DLNA, Wifi Direct |
| Sensors | Light, proximity, magnetometer, barometer, gyroscope and accelerometer sensors |
| Battery | Li-Po, 3140 mAh |
| Dimensions and weight | 150.2 x 76.1 x 9.4 mm, 160 grams |
| Operating System and Software | Android 4.1.2 Jelly Bean |
Software
Optimus G Pro will come with Android 4.1.2 Jelly Bean pre-installed, however an update to the latest version should be available right away. LG also has added a few customizations and software tweaks of their own – the home screen is slightly modified, the phone supports sensor-activated gestures, and it even has support for eye detection, which is used to pause/play videos depending on whether you look at the screen or not (just like the upcoming Galaxy S4) and probably other uses, as well.
Price and Availability
As of right now, the LG Optimus G Pro is only available in South Korea, but the company has already announced that the phone will be released in the US and Europe by the end of spring. The US model has already been demoed, as well, so it shouldn't be long before it comes to market. The price is going to be around $700, so it's definitely in line with other high end smartphones, as well as tablets. Overall, I'd say that LG did accomplish their mission to make the best phablet on the market – at this size, there's really nothing better out there, and there probably won't be until Samsung releases the Galaxy Note 3.