Perhaps the most important reason why Samsung is still at the top of the smartphones and tablet markets is that they never stop releasing devices – big, small, cheap, awkward and awesome – they've got it all covered and don't seem to know when to stop. One of their latest endeavors is going after Apple's successful (for completely different reasons, might I add) iPad mini, which is an 8-inch tablet that has proven to be very popular.
Samsung already has precedent here – they've had a couple of tablets sized between 7 and 10 inches already, but this time it's slightly different – the Galaxy Note 8.0 comes with a built in cellular radio that, get this, can make voice calls! Yes, it's pretty much the Asus FonePad, and while I wonder who came up with the idea first, the Note 8.0 is the clear winner when it comes to hardware. Let's take a closer look at it and see what it presents.
The Galaxy Note 8.0 has a very typical Samsung design – you'll recognize those round lines, clean finish and glossy plastic anywhere. While the device is pretty well built, it is still fully made of plastic and it still does not inspire confidence when holding it – I guess we should be used to it by now, but I always keep my hope up for Samsung producing a well-made metal smartphone or tablet that would not bend or even flex. I mean come on, even Sony's worst smartphones feel better built than Samsung's Galaxy S, how is that possible?
But I digress – aside from the apparent fragility of the Note 8.0, there's really nothing wrong with it – it's an awesome device that's relatively compact at 210.8 x 135.9 mm and very thin at 8.0 mm. It comes in several colors and has the usual Gorilla glass sheet on the front and scratch resistant glossy finish on the back.
Hardware features and performance
The hardware features are pretty good, but sadly they're not reflective of the price. First of all, there's the screen – 8.0 inches is great, but with a 1280×800 resolution and more importantly, a simple TFT LCD panel, it's really not that attractive. The Note 2 has a better screen, the iPad mini has a better screen and even the Asus FonePad has a better screen (the latter two are also cheaper than the Note 8.0!). The Galaxy Note 8.0's display has natural colors and great brightness, but the contrast and viewing angles are on the bad side of the scale.

The performance of the device, however, is top notch – thanks to the quad core Samsung Exynos 4412 processor running at 1.6 GHz, you'll never need to worry about lag or any performance issues again. The processor is complemented by 2048 MB of RAM and the Mali-400MP graphics adapter, all of which is on par with the fastest smartphones and tablets on the market.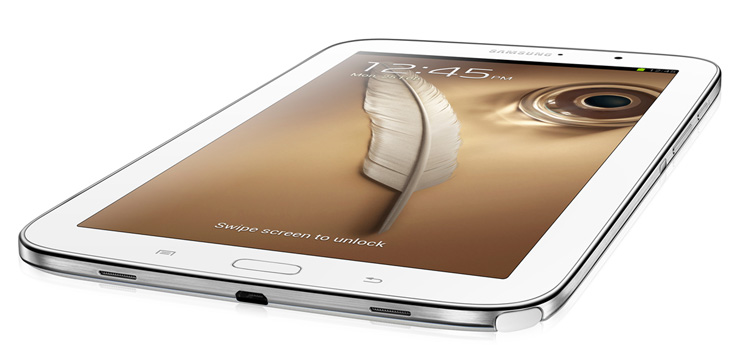 Storage space is provided by 16 or 32 GB on onboard memory, as well as a micro SD card slot for expansion – that should be plenty enough for most users, and I'd say the 16 GB version is a more budget friendly purchase. The Galaxy Note 8.0 has the usual two camera setup – there's a 5.0 Megapixels unit on the back that supports 1080p video recording (but sadly does not have an LED flash), and a 1.3 Megapixels shooter on the front that supports 720p video recording, which is just good enough for HD video chat.
The most important hardware feature of the Note 8.0 is of course, the stylus, which is tucked inside the housing and can be very useful for taking notes and even using the device – thanks to the S Pen software, it's very accurate and fast. Since it doesn't take up extra space, it's a welcome addition that many people will like.
Rounding up everything are the usual Wifi N, Bluetooth, GPS and HSPA+/LTE radios (there are also Wifi-only models that are missing the latter), a micro USB port with MHL support, the usual selection of sensors and a large 4600 mAh battery that is rated for up to 9 hours of continuous use.
Technical specifications
| Specifications | Samsung Galaxy Note 8.0 |
| --- | --- |
| Display | 8.0 inches, 1280×800 pixels, TFT LCD, 189 PPI pixel density |
| Processor | Samsung Exynos 4412, 1.6 GHz, quad core |
| RAM | 2048 MB |
| Graphics adapter | Mali-400MP |
| Storage Space | 16/32 GB, micro SD card slot (micro SDXC cards supported) |
| Camera(s) | Back – 5.0 Megapixels with support for 1080p video recording; Front – 1.3 Megapixels with support for 720p video recording |
| Connectivity Options | Wifi N, Bluetooth 4.0, HSPA+ 21/5.76 Mbps (select models), 4G LTE (select models), GPS/GLONASS |
| Sensors | Gyroscope, accelerometer, magnetometer, proximity and light sensors |
| Battery | Li-Ion, 4600 mAh, up to 9 hours of continuous use |
| Dimensions and weight | 210.8 x 135.9 x 8.0 mm, 345 grams |
| Operating System and Software | Android 4.1.2 Jelly Bean |
Software
The Galaxy Note 8.0 runs Android 4.1 Jelly Bean, with Samsung's traditional Touch Wiz customizations on top of it. Along with the usual Android features like Google Now and Android Beam, The Note 8.0 also has Samsung's own apps – pretty much everything we've seen on the other Galaxy Notes, including S Voice, S Pen, S Note, as well as a few new additions in the form of WatchON and AirView. The former lets you control your DVR or TV (and even watch the channels on the Note if you have a Samsung TV), while the latter lets you control apps (not all of them, sadly) with gestures without touching the display. Overall, the software is pretty good, although I don't think it's worth getting the Note 8.0 just for it.

Price and Availability
The Galaxy Note 8.0 launched last month, at a starting price of $399 for the Wifi-only model – yes, that is a pretty steep price considering that the iPad mini starts at $329. Even more puzzling is that the US is only getting the Wifi-only model for now, which is weird since the ability to make calls is a touted feature of the Note 8.0.
Regardless, this tablet is in a tight spot – for less money you can get the FonePad, while if you want a portable note taker with a cellular modem you can just go with the Note 2 (which also has a better display). Unless Samsung drops the price, the Note 8.0 isn't a very attractive purchase.