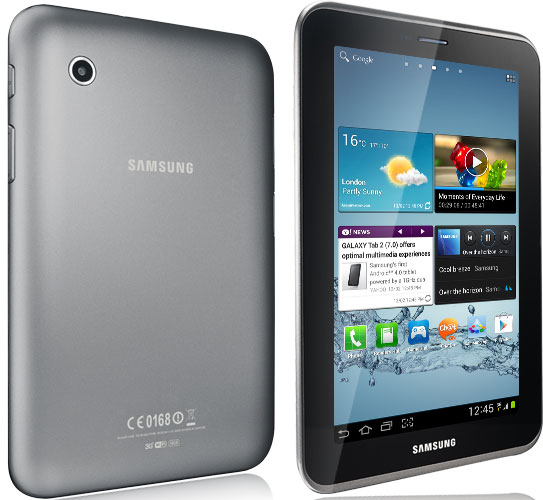 Samsung Galaxy Tab 2 7.0 now comes in a Student Bundle edition. The package is intended for students and includes the 7-inch tablet, a keyboard dock, and a USB adapter. Normally, the tablet and accessories would cost you a total of $350 but with Samsung's Student Bundle, you get a sweet price reduction of $100. There's nothing really different with the 7-inch Galaxy Tab 2 in the package but in case you've forgotten, we're going to give you a review of it along with the rest of the goods.
Samsung Galaxy Tab 2 7"
The tablet is a huge leap from its predecessor in both design and hardware. It is considerably thinner at 10.5mm and much lighter at 345g. We couldn't be happier that the glossy back is long gone and was replaced by a matte finish on the new model. Somehow, this helps keep the non-removable back cover free from scratches and smudges. Samsung also ditched the flat edges with curved ones, making the 7-inch tablet more comfortable to hold. The edges surrounding the display now have prominent faux metal embellishments. The power button, volume controls, and dual cameras are still on the same spots as the previous model. Resting on the bottom of the slate beside the charging port are dual speakers. There are no color options available for the Student Bundle and users will be limited to the white paint job.
Spec-wise, you get a 1 GHz dual-core processor with 1 GB RAM crammed inside it. The tablet features the same a 7-inch TFT (PLS) display with 1024 x 600 pixels as the previous model. The screen is clearly not as vivid as the AMOLED display on Galaxy Tab 7.7 but it would've been better if Samsung increased its resolution. Right on top of the screen is a VGA camera for video chat and self-portraits. The front-facing camera is a significant downgrade from the 1.3MP camera of Galaxy Tab 7. Around the corner on the back is a 3-megapixel camera for shooting photos and videos but there's no LED flash this time.
For memory, you can rely on the 8 GB internal storage and an additional microSD slot upgradeable to 32 GB. Samsung Galaxy Tab 2 7.0 is shipping with Android 4.0 Ice Cream Sandwich out of the box. It boasts battery life of around 8 hours based on real-world battery tests which compared to Samsung Galaxy Tab 7 is a 2-hour difference. Other specs include Bluetooth 3.0, GPS connectivity, and WiFi a/b/g/n. Also, it has a built-in IR blaster so you can use it as a remote control.
Keyboard Dock
Samsung is throwing in a white keyboard dock into the Galaxy Tab 2 Student Bundle. The full-sized keyboard has 83 keys and has all the basics including letters, numbers, function keys, and cursors. You can use the Shift, Fn, and Ctrl keys of the keyboard for more functionality such as music and video controls, internet access, adjusting the screen brightness, and selecting the Menu, Home, Back, and Search buttons on your tablet. The dock comfortably rests on the uppermost part of the keyboard which happens to be elevated at a comfortable level. You can simultaneously charge and sync the tablet while it is docked on the keyboard. The keyboard also has a 3.5mm Stereo Audio Line-out for plugging speakers or a pair of headsets.
Despite being a full-sized keyboard, it is worth noting that it has a svelte form factor. You can easily carry it around with you granted that you have a laptop bag to accommodate it. While you don't get to choose a color other than white, it perfectly suits the white tablet included in the Student Bundle. There are numerous document-creation apps available on Google Play Store with which students can take advantage of the keyboard.
USB Adapter
Apart from the white full-sized keyboard dock, Samsung also adds a USB adapter for the $249 Student Bundle. The USB adapter allows you to connect mice, flash drives, and keyboards to the Samsung Galaxy Tab 2 7". It is only available in black though which doesn't quite fit the mostly white package. To use the USB adapter, you have to attach it via the charging port so you won't be able to use it together with the dock keyboard.
The USB adapter will come in handy for increased functionality without much sacrifice on portability. The ability to use a mouse is a huge relief for browsing the internet – something that many students do for research. And the fact that you can directly transfer documents, presentations, spreadsheets, ebooks, and other files from PC to tablet is a priceless advantage of owning a USB adapter.
Conclusion
The Samsung Galaxy Tab 2 Student Bundle edition is a must-have for students. It's a great alternative for laptops thanks to its keyboard dock and USB adapter. It won't replace laptops anytime soon but it's a good start. Samsung takes that step by introducing this budget-friendly option.