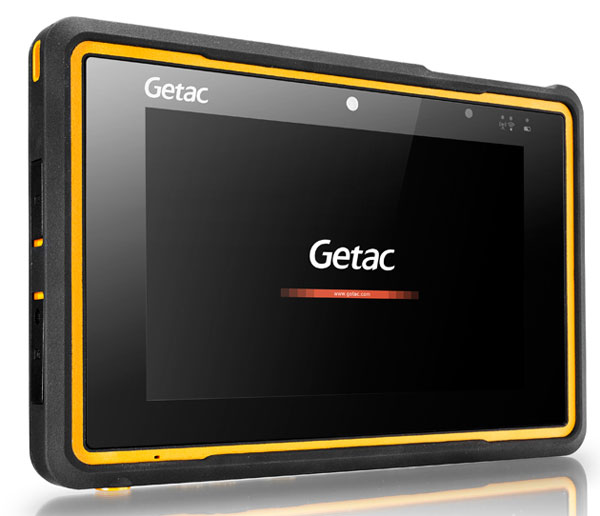 Android tablets are a dime and a dozen these days, and they're used in pretty much any area of life and work you can think of, from home entertainment devices to note taking tools and typewriters for traveling professionals. Pretty much all of the major kinks have been worked out by now, but there's one thing that most tablets still don't have: a good ruggedized body. Technically, it's not really necessary in most cases, but for a device that is supposed to be ubiquitous, it's almost a must.
The rugged tablet niche has been growing steadily for the past year, with lots of companies announcing slightly rugged tablets for everyday use, as well as fully rugged devices that can easily be used outdoors and in unfriendly conditions without breaking. One of the latest additions to the latter category is the Getac Z710 – a real rugged tablet that can be used comfortably anywhere you need it.
Design
The design of the Getac Z710 is typical of a rugged device – there's lots and lots of rubber everywhere and the manufacturer didn't pay much attention to the aesthetics of the slate, either. For a 7 inch tablet, the Z710 is quite large – as large as your typical 10 inch tablet and much thicker. The display sits comfortably in the center, surrounded by very wide bezels and covered by Getac's custom LumiBond glass, which integrates strong Gorilla glass with Getac's QuadraClear technology for the best outdoors visibility and protection. On the back, there's nothing but the housing for the stylus, which should come in handy when using the tablet with gloves. The left side has the SIM card and micro SD card slots, while the top and bottom house the control buttons and ports.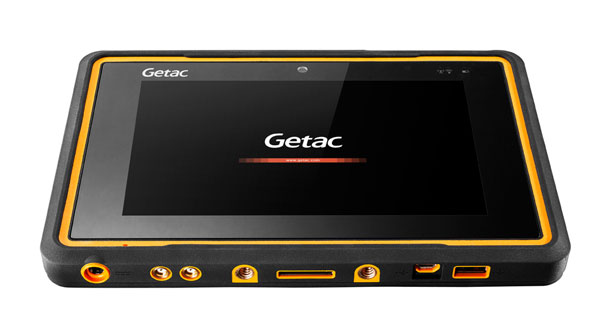 Hardware features and performance
The most impressive part of the Z710 is its rugged housing, which makes the device impermeable to water, dust, high and low temperatures (operating temperature is -20 to +50 degrees), as well as resistant to drops from relatively high altitudes (Getac guarantees it can withstand 26 drops from 6 feet without damage). That's definitely impressive, and difficult to achieve – usually, the front glass cracks pretty fast even on other rugged tablets.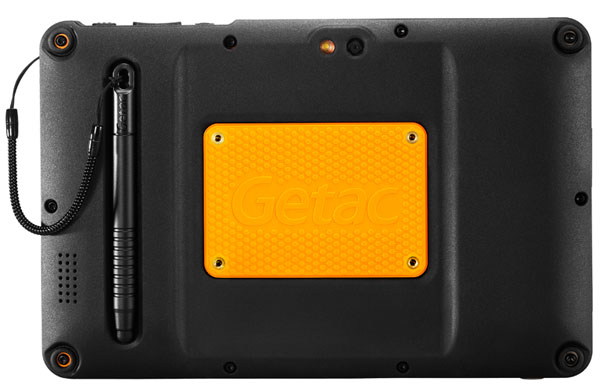 The other specs are not anywhere near as good, but they're not the worst, either. The display has a 1024×600 resolution, which looks pretty good on 7 inches, and the performance is provided by a dual core TI OMAP 4430 processor running at 1GHz and aided by 1 GB of RAM. There's also 16 GB of onboard storage space, two HD cameras, Wifi N, Bluetooth, GPS, an optional HSPA+ modem, as well as optional smart card and bar code readers. One noteworthy feature is the separate full size USB port with OTG capabilities, which means you can connect any USB accessories and they will be powered by the device and work without issues (useful for external flash drives, satellite modems, 3G modems, keyboards, etc.). The 7600 mAh battery should last up to 10 hours of use, which probably accounts for the 3G modem, too.
Technical specifications
| Specifications | Getac Z710 |
| --- | --- |
| Display | 7.0 inches, 1024×600 pixels, TFT LCD |
| Processor | TI OMAP 4430, 1 GHz, dual core |
| RAM | 1024 MB |
| Graphics Adapter | PowerVR SGX series |
| Storage Space | 16 GB of onboard memory, micro SD card slot (up to 32 GB cards supported) |
| Camera(s) | Back – 5 MP camera with HD video recording; Front – 1.3 MP camera with HD video recording |
| Connectivity Options | Wifi N, Bluetooth 2.1 EDR, GPS, HSPA (optional), smart card reader (optional), bar code scanner (optional), USB-OTG port, microUSB port |
| Sensors | Accelerometer, light, magnetometer sensors |
| Battery | Li-Ion, 7600 mAh, up to 10 hours of continuous use |
| Dimensions and weight | 218 x 142 x 27 mm, 800 grams |
| Operating System and Software | Android 2.3 Gingerbread |
Software
Rugged tablets are about getting things done, and as such, the Getac Z710 uses the old but trustworthy Android 2.3 Gingerbread. It's a very stable OS, but there's another reason they might've chose it over Honeycomb or Ice Cream Sandwich – it's easier to use in the field thanks to the big icons and menus, which are easy to tap on the 7 inch display. The Holo UI in Android 3.0+ is just too cumbersome to be practical when you're actually out in the field.
Price and Availability
Getac (an European company, by the way) hasn't said anything about the price or release date, but they did say they'll bring the device to the US and EU markets by the end of the year. I'm guessing it will have the same price point as most high end Android tablets and the iPad 3 – a reasonable price to pay for what you're getting.